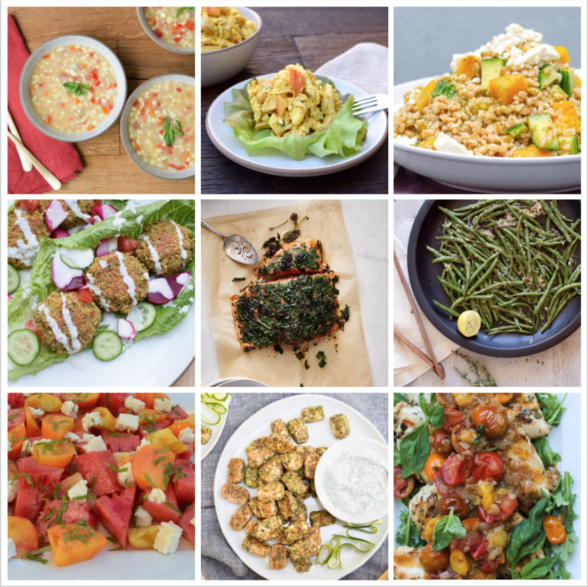 Just hanging out here in California, friends.  Just doing my best to stay healthy and sane.  That's about all I've got.  If you take my monthly online cooking classes, I am doing another FB live with you Saturday (August 1) at 10:00 am PT!  I am looking forward to our socially distant time together.  One thing I want to emphasize to everyone is that there is no better time to take a hard look at our diet and lifestyle.  There is no better time to ask ourselves what changes we can make to up our nutrition and lessen inflammatory influences in our lives.  I am doing that very thing and having this conversation with my family.  I'm sure it's no secret to anyone reading my blog that it starts with food!  Here's your dinner planner for the week:
Meatless Monday: Corn and vegetable chowder, tomato toasts (grilled bread with raw tomato, olive oil, basil)
Tuesday: curried chicken salad on lettuce cups, grated carrot salad with avocado
Wednesday: seared scallops (Quicker Than Quick), farro with golden beets and mint vinaigrette
Thursday: Baked falafel, tomato and cucumber salad with tahini sauce, lettuce wraps (pita for the kids) (you can also pan-saute the falafel if you don't want to turn on the oven)
Friday: Herbed sweet and spicy glazed wild salmon p. 247 from Quicker than Quick, roasted green beans with shallots and lemon, sautéed cauliflower rice
Saturday brunch: watermelon and tomato salad with feta
Sunday: zucchini tots, grilled chicken with cherry tomato vinaigrette
Here's what you can do ahead if it helps you:
Sunday:
Make stock
Wash lettuce
Cook chicken for curried salad
Make tahini sauce
Tuesday:
Cook farro
Roast beets
Soak chickpeas
My new cookbook, Quicker Than Quick, is here!  I have LOVED seeing all your creations of my recipes on Instagram. If you make any of my recipes, please tag me @pamelasalzman #pamelasalzman so I can check them out!  If you have 1 minute, would you mind leaving a review on amazon?  I would be so grateful, thank you!
Click here to learn more about my online cooking classes! Through the end of quarantine, choose any cooking class in the library for $20 with the code SINGLE20 and a subscription for future classes for $17  (normally $27/mo.) with the code CLASSES17.
Take a peek at my first cookbook "Kitchen Matters"!