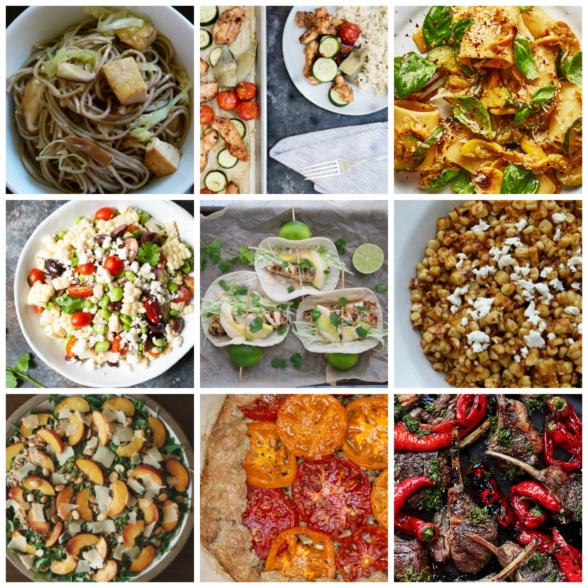 In case you missed any mention of it, I am celebrating a very big birthday this year.  Yikes.  It's coming up in October and I have mixed feelings.  Grateful for everything of course, especially my health and my family, but aging is a weird feeling for sure.  All good, but I decided I should celebrate such a milestone however I want and after a trip to Europe with hubs, what I really wanted was to go back to the Golden Door before school starts up again.  So I am leaving Sunday, returning to this magical place with one of my best girlfriends and her mom.  I cannot wait.  It is not a sponsored trip, in case you are wondering, but I will post on Instagram from there because that's where I'll be for 24 hours a day!
Speaking of retreats, come join me at a Wellness Retreat Sept 26-29 at the stunning Greenhorn Ranch outside of Tahoe.  It is the most beautiful property and it will be an amazing weekend.  I will be there the whole time and I will be teaching a cooking class of course.  Click here for more info.
If you subscribe to my online cooking classes, the August class has been uploaded and is ready for your viewing.  There's a lot of great info in this month's class and I am sure you will want to watch it a few times.  It should be uploaded to my site very soon for purchase if you are interested. The recipes are fabulous, too!
Here's your dinner planner for the week:
Meatless Monday: Stir fried soba noodles, roasted cauliflower with nori
Tuesday: Sheet pan chicken with a side of fresh greens tossed with my Everyday salad dressing 
Wednesday:  Summer Squash and Basil Pasta from Healthyish
Thursday: South American Roast Chicken with green sauce from my cookbook with solterito
Friday: Grilled fish tacos or chipotle cauliflower tacos, Mexican corn off the cob, cilantro lime slaw
Saturday Lunch: Arugula and farro salad with peaches
Sunday: Rustic Heirloom Tomato Tart with Gluten-Free Crust and Grilled Lamb Chops and Peppers from bon appetit
Here's what you can do ahead if you need to:
Sunday
Wash salad greens, herbs, and vegetables
Make dressings, sauces and marinades (did you know you can freeze non-dairy salad dressings and marinades?)
Monday
Season chicken
Friday
Cook farro
Make tart dough
Make salad dressing
I have LOVED seeing all your creations of my recipes on Instagram. If you make any of my recipes, please tag me @pamelasalzman #pamelasalzman so I can check them out!
Click here to learn more about my online cooking classes! If you like my recipes, you'll LOVE my cookbook!  If you have 1 minute, would you mind leaving a review on amazon?  I would be so grateful, thank you!