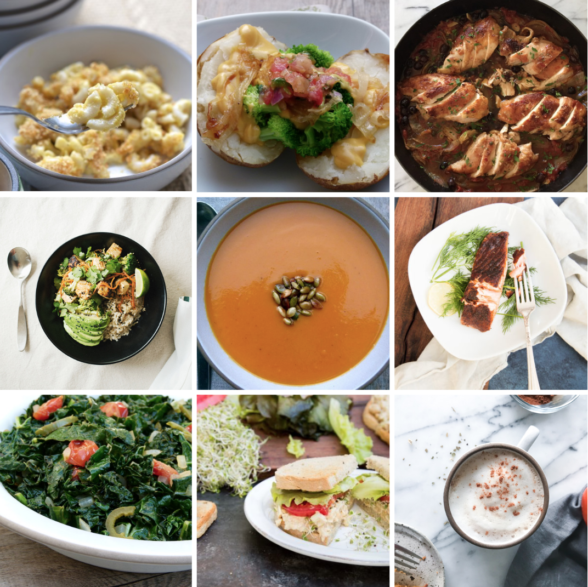 My younger daughter just came home for the weekend.  It's fall break and I am so excited to have her with us for a few days.  She's been cooking in her apartment at school but has already announced that she is so happy that I will be cooking all her meals for the next few days!  LOL.  It's nice to be needed, I guess!  This is a great time of year for produce with the tail end of the summer veggies (summer fruit is pretty much over) and the beginning of the cruciferous veg and winter squash.  There's a lot of choose from!
In other news, I had the pleasure and privilege of talking to Ann Romney about family, food, and the simple steps we can take towards more healthful eating. Mrs. Romney posted our conversation on her blog here on Thrive Global where she has a regular column on brain health.  I hope you enjoy it!
Here's your dinner planner for the week:
———————————————————————————————————————————————————————————————————————————————————————–
Meatless Monday: Vegan Mac and Cheese to which I am going to add steamed cauliflower and bake it all together.  I'm also going to double the sauce and use it tomorrow.
Tuesday: Baked potato night with steamed broccoli, sautéed mushrooms and onions, recipe here + mac and cheese sauce
Wednesday: Baked Chicken with Tomatoes, Olives, and Capers served with a simple fresh green salad
Thursday: Lemongrass Tofu Bowl from Sprouted Kitchen 
Friday: Sweet Potato Coconut Soup, Spice Rubbed Wild Salmon, sautéed greens (use this method)
Saturday Brunch/Lunch: Chickpea "Tuna" Salad in lettuce cups, optional to sip with an energizing Pumpkin Spice Yerba Mate Latte
Sunday: Slow Cooker Italian Pot Roast from my cookbook, serve with a fresh green salad (example here)
Here's what you can do ahead if you need to:
Sunday
Make Vegan Mac and Cheese sauce
Wash and prep all veggies
Make all dressings, marinades, sauces
Wednesday:
Make Sweet Potato Coconut Soup
Cook brown rice for Lemongrass Tofu Bowl
Make salmon spice rub
Here's a link to my previous dinner planners.
I have LOVED seeing all your creations of my recipes on Instagram.  If you make any of my recipes, please tag me @pamelasalzman #pamelasalzman so I can check them out!
Click here to learn more about my online cooking classes!
If you like my recipes, you'll LOVE my cookbook!