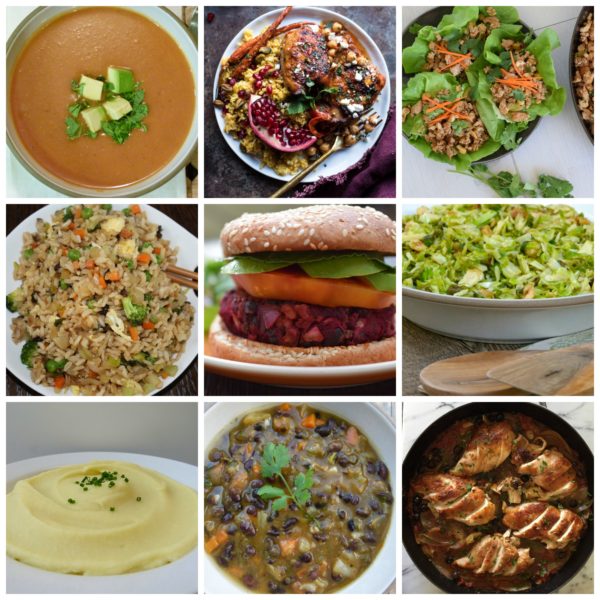 I am feeling a little holiday-ed out today, and I am grateful for a short break before Halloween comes around.  Do you have your costume yet?  I just put mine together.  Stay tuned!
I am going to Dallas this week to teach a class and the bonus is I get to see my daughters, too.  My eating the last few weeks has not been what I like it to be so I will try to refrain from hitting the typical BBQ joints while I'm there. 😉  Have  great week!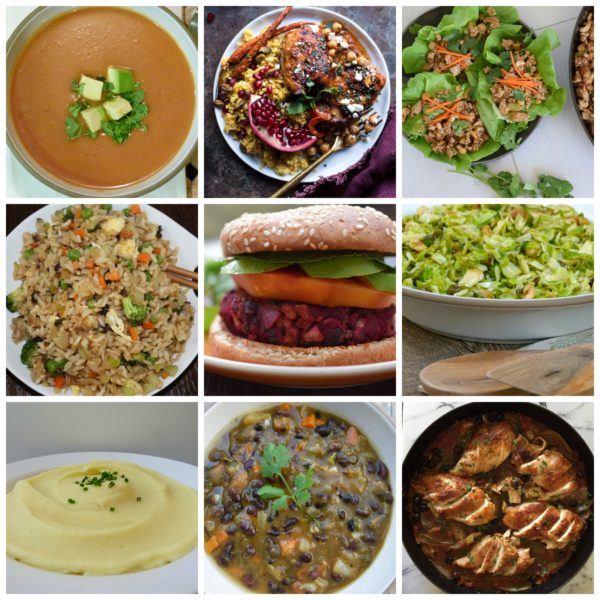 Here is your dinner planner this week:
Meatless Monday:  Tortilla soup, zucchini and cheese quesadillas (I might make some avocado toast for me instead)
Tuesday:  Slow cooker honey harissa chicken (I'm going to throw some carrots into the slow cooker, too) + jeweled pomegranate rice from Half Baked Harvest
Wednesday: Black bean and beet veggie burgers, salad with homemade ranch dressing
Thursday: Asian turkey lettuce cups, veggie fried rice or cauli-rice
Friday:  Roasted fish with olive oil, lemon, thyme, salt and pepper (Cod looks good right now – roast at 400 degrees, 8-10 minutes per inch of thickness), brussels sprouts hash, cauli-mashed potatoes
Saturday lunch: Black bean and pumpkin soup
Sunday:  Baked chicken with tomatoes (I'm going to use cherry tomatoes) and olives served over pasta or polenta, sautéed spinach
Here's what you can do ahead if that is helpful:
Sunday
Make stock for soups (recipes for veg stock and chicken stock)
Soak and cook black beans for burgers and saturday soup (freeze and defrost for soup)
Make rice for fried rice and refrigerate
Wednesday
Make veggie patties and refrigerate (cook the next day)
Prep brussels sprouts (wash, dry, thinly slice, refrigerate)
Prep cauliflower florets
Here is a link to all my previous dinner planners.