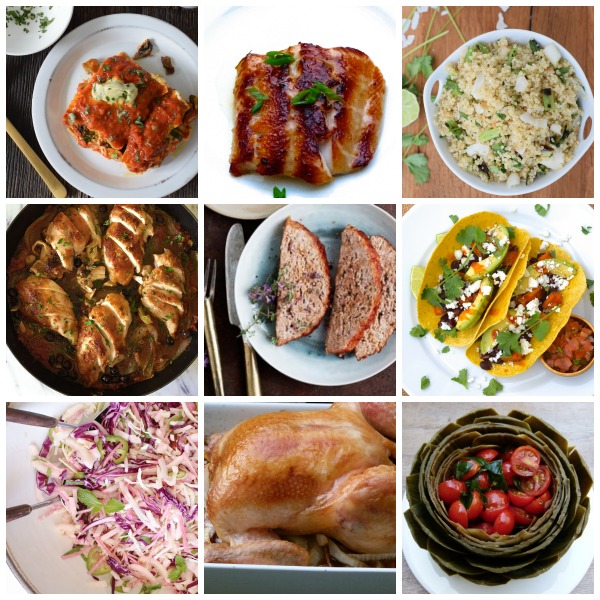 I hope you're having a nice weekend!  Depending on when you're reading this, I am either en route to or in Sonoma for Sunset Magazine's Celebration Weekend.  I am so excited since I am huge fan of Sunset Magazine and Sonoma is probably one of the most beautiful places in California.  Hubby is coming with me, too!  I am doing a live demonstration of a recipe from my cookbook, Kitchen Matters, which comes out on June 13th. (By the way, the pre-order price on amazon is only $13!!  The breakfast chapter alone is worth that!)
Crazy time of year with all the end of school year stuff.  Gotta stay organized!  Here's your dinner planner for the week ahead:
Monday: Hearty Vegan Vegetable Lasagna
Tuesday: Miso glazed cod, quinoa with toasted coconut and lime, roasted carrots (you can follow this recipe and skip the yogurt sauce)
Wednesday: Baked chicken with tomatoes, olive, and capers, cauli-mash
Thursday: Gwyneth's turkey meatloaf, green salad
Friday: Sweet potato and black bean tacos, guacamole, salsa, jicama slaw
Saturday: Leftover meatloaf sandwiches
Sunday: Whole roasted chicken with onions and potatoes (or carrots), steamed artichokes with tomato-basil salad
Here's what you can do ahead if you need to:
Sunday
Make marinara sauce (or use store-bought)
Roast veggies for lasagna
Make spice mix for sweet potato tacos
Wash salad greens
Make salad vinaigrette (Everyday Salad Dressing #2 is my favorite)
Monday
Make marinade for cod and marinate in the refrigerator for up to 24 hours
Make quinoa
Make dressing for quinoa
Toast coconut for quinoa
Prep your cauliflower into florets
Prep veggies for jicama slaw
Prep dressing for jicama slaw
Friday or Saturday
Salt your chicken when you get home from the market
Steam artichokes up to 2 days in advance and refrigerate
Here's a link to all my previous dinner planners.