After the cookbook shoot, I found myself with tons of fresh veggies and herbs that weren't used.  So this week I am playing a game with myself called, "How to Not Grocery Shop."  I've done this before and it's definitely a challenge to use only what I have on hand, but I also think it's kind of fun to force myself to get creative.  I am not expecting you to follow my wacky menu this week, so I put together a bunch of great summer dinners for you right here.  Let me know if you have questions about substitutions!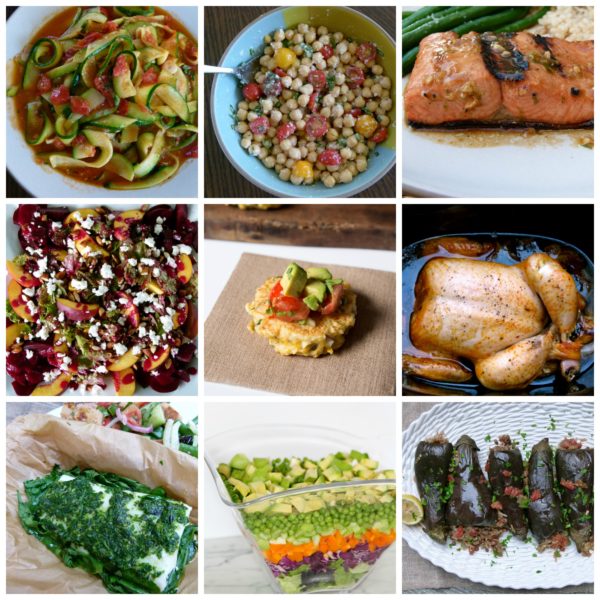 Here's your dinner plan for this week:
Meatless Monday:  Zucchini "pasta" + pasta, chickpea and deconstructed pesto salad (I prefer "zoodles" with some pasta.  So I would double the tomato part and add some cooked spaghetti to the zucchini noodles.)
Tuesday:  Lime-soy grilled salmon, sautéed corn, green beans with shallots (saute corn kernels with a little butter or olive oil and salt and pepper; blanche green beans and then shock in ice water; drain.  saute sliced shallots, then add green beans with salt and pepper)
Wednesday:  Marinated flank steak* from Elana's Pantry, summer salad with nectarines and goat cheese
Thursday:  Fresh corn cakes with avocado salsa, slow cooker whole roast chicken
Friday:  Halibut in parchment with summer herbs, Tomato, basil, mozzarella salad (sub avocado for the cheese for a dairy-free salad; drizzle with good olive oil, salt and pepper)
Saturday lunch: 7-layer salad (this makes a lot — halve the recipe if you're not a big group)
Sunday:  Lentil and rice stuffed baby eggplants, green salad with Everyday Salad Dressing #2
*Marinade: 1 1/2 cups orange juice, 1/4 cup ume plum vinegar, 1 T. toasted sesame oil, 1 T. peeled and minced fresh ginger, 1 t. minced fresh garlic, 1 pound flank steak
Here's what you can do ahead of time if you need to:
Sunday
Prep (wash, dry and cut) zucchini
make marinade for fish but do not add to fish
blanche green beans
roast or steam beet for nectarine salad dressing
Tuesday
marinate flank steak
wash lettuce for salads
make dressing for nectarine salad
salt chicken
Friday
prep vegetables for 7-layer salad
make blue cheese dressing
make everyday salad dressing #2
You can also make the eggplant recipe the day before and reheat it.  It is delicious at room temperature as well.
Here is a link to all of my dinner planners.