How sad is it that I never had an avocado until I was in college?  Not even guacamole.  I mean, what kind of a life is that? Fast-forward I'm-not-going-to-tell-you-how-many-years later, I eat avocados almost every day.  I am crazy about the texture and flavor, and they go with everything.  Avocados are so amazing for your health — the fats are the best kind, so fresh and pure.  Recently, a few people have asked me to share my skincare regimen.  I am thinking about writing a post about it, but until then, avocados are an incredible beauty food!   Avocados can promote supple skin because they moisturize from the inside out. They are also rich in glutamine, a powerful antioxidant which can help with anti-aging.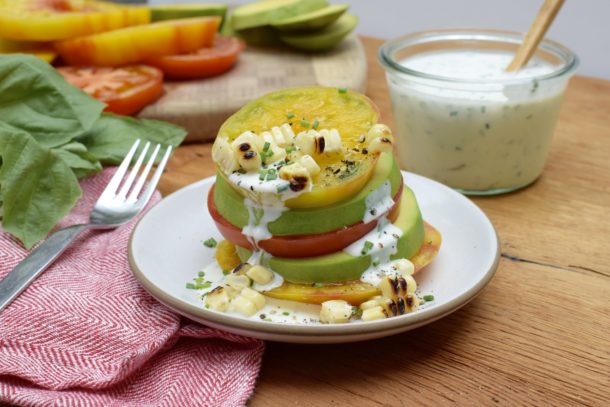 Living in Southern California, I am in avocado heaven.  Not only are there so many local farms that sell avocados, but there are so many different varieties available.  My favorite by far is the Reed, which I know I have mentioned on this site before.  It is the biggest avocado variety I have seen and when it comes to avocados, I say bigger is definitely better!  Look at that pit to flesh ratio — amazing, no?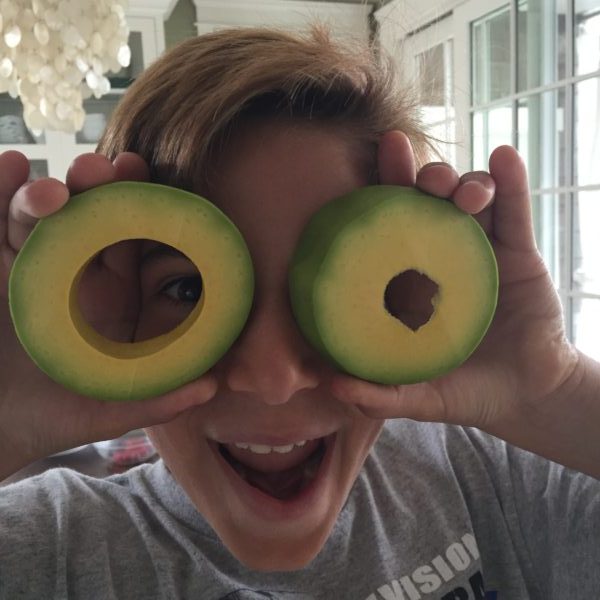 Avocado is one of the most versatile foods I know.  Although I most often chop it into a salad or puree it in a smoothie, I also love layering it with tomatoes and basil in a salad, like a Caprese without the cheese.  These tomato and avocado stacks are a really easy, but different salad idea.  Instead of layering the tomatoes and avocados, you stack them.  Of course, if you wanted to, you could overlap them on a platter.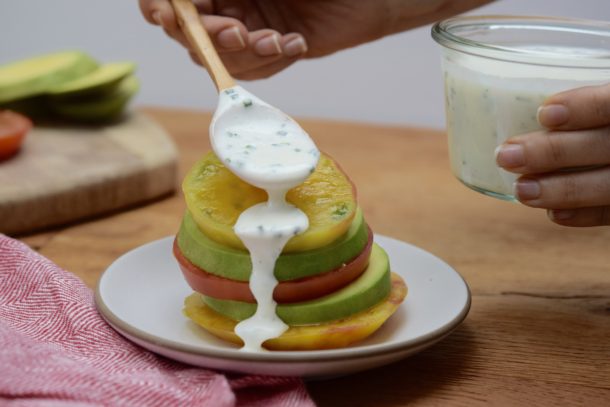 The key is how you cut the avocado. Instead of cutting it though the stem, you cut it around the equator to create perfect circles!  Isn't that so fun?!  Mr. Picky is acting a little goofy with my avocado circles.  My family loves these stacks with my homemade Ranch dressing, but the blue cheese dressing from this salad is AMAZING here, too.  Or you can go really simple with basil leaves and aged balsamic.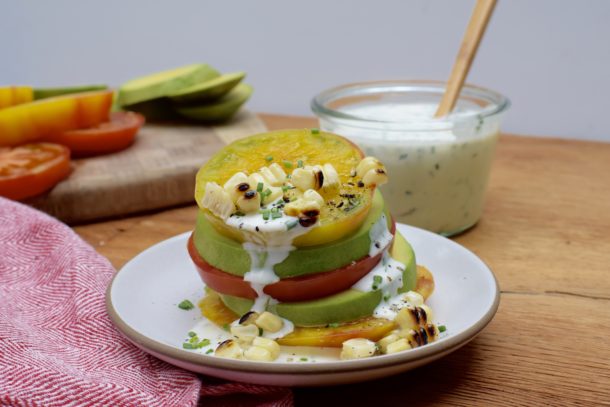 And because it's summer, I can't make a move without sweet corn making an appearance.  Totally optional, but I love the texture and the sweetness corn adds here.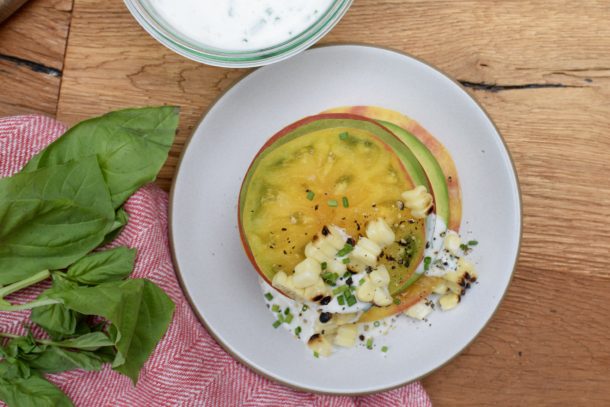 I have spent most of the post discussing how glorious avocados are, but I would be remiss if I didn't talk about the insane tomatoes I have been eating this summer.  They are the best I can remember and I am keep them really simple with just olive oil and salt and pepper.  But these stacks are another simple, but amazing way to enjoy the absolute best of summer.  I love serving this "salad" with a simple piece of fish or grilled chicken.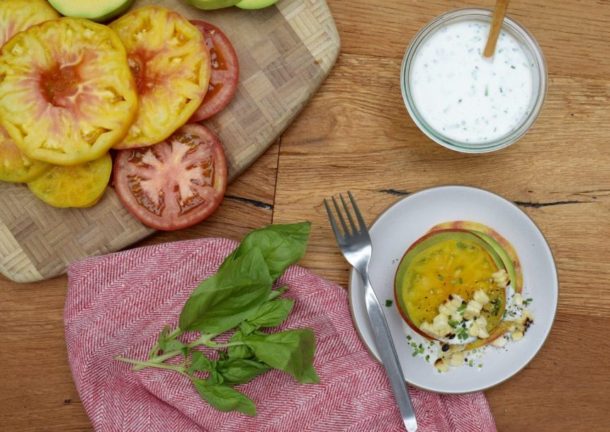 I think you can have a lot of fun with this recipe.  You can add crumbled bacon (nitrate-free and organic, of course) or do a Green Goddess dressing, as well.  Let me know if you make these!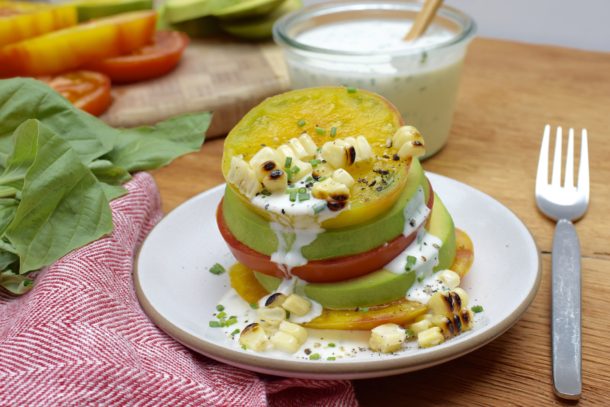 Tomato and Avocado Stacks with Ranch Dressing Recipe
Ingredients
1 ear of corn, shucked (optional)
olive oil for rubbing on corn
3 large ripe avocados
4 large tomatoes, sliced crosswise into thick rounds
sea salt
Ranch dressing for drizzling
Instructions
If you want to add corn to the stacks, preheat a grill to medium heat. Rub olive oil on the corn and place corn directly on the grill and cook until slightly charred. Turn the corn to achieve grill marks all around the corn. Remove from the grill and cut the kernels off the cob. Set aside.
Cut the avocado crosswise around the "equator" (the middle) and twist both halves to separate them. Tap the pit with the blade of a large knife and twist to remove. Carefully remove pit from blade. Take a large serving spoon and scoop the flesh of the avocado out from the shell. Slice avocado crosswise into thick rounds.
Arrange 6 slices of tomato on a platter. Top each piece of tomato with a little sprinkle of salt and then a round of avocado. Repeat with tomato, salt, avocado and end with tomato. Or arrange overlapping across a platter.
Drizzle stacks with ranch dressing to taste. Sprinkle corn kernels on top.
Notes
Try to find tomatoes and avocados with the same diameter, if possible.
You could also go a different route and do a cheeseless tomato-avocado "caprese." Alternate slices of tomato and avocado. Add basil. Drizzle with olive oil, balsamic and a pinch of flaky sea salt.
Homemade Ranch Dressing
Ingredients
For the Ranch Dressing (dairy-free/vegan recipe below):
½ cup soy-free Vegenaise or good quality mayonnaise
½ cup full-fat Greek yogurt
½ cup buttermilk or kefir
1 Tablespoon freshly squeezed lemon juice
½ teaspoon Dijon mustard
1 medium clove garlic, grated or minced
1 teaspoon sea salt
freshly ground black pepper to taste
pinch of cayenne pepper
2 Tablespoon chopped fresh chives or 1 scallion, finely chopped
2 Tablespoons flat-leaf parsley leaves or basil, finely chopped
Instructions
Place all the ingredients for the ranch dressing EXCEPT fresh herbs in a blender and puree until you have a smooth mixture. Stir in herbs.
Transfer to a container and refrigerate, covered, for at least an hour so that the flavors develop. If you don't have time for that, don't stress. It will still be delicious.
Notes
To make this dairy-free and vegan, make the following substitutions:
¼ cup vegenaise
¾ cup raw cashews soaked for 3 hours, then drained
1 cup water
2 Tablespoons lemon juice
everything else the same
A high-powered blender does a good job blending the cashews until they're creamy. If you don't have one, do this in a food processor.