Merry Christmas, Happy Hanukkah, and a general happy holidays to everyone!  So sorry I am late with this post!  I hope you all had a festive and fun weekend.  These are my favorite two days of the year and I said to my kids in the car to Christmas Eve dinner that it warmed my heart that they were doing the same drive that I have done every year of my entire life to participate in the same traditions that I did when I was a child.  Very special.
I did a little bit of cooking this weekend and I am currently in a pow-wow with my mother and my sisters planning the menu for this week.  This is not our exact menu since I have some recipe-testing to do and friends to visit for a dinner, but it's a good start.  I need to make latkes at least once this week, and on Friday we are having a big pizza party at my cousin's house in Scarsdale which will involve procuring pizza from at least 5 or 6 neighboring pizzerias.  It's crazy and my husband loves every bite.  New Year's Day we always eat lentils in some form as they supposedly bring good luck in the coming year :).  Have a wonderful week!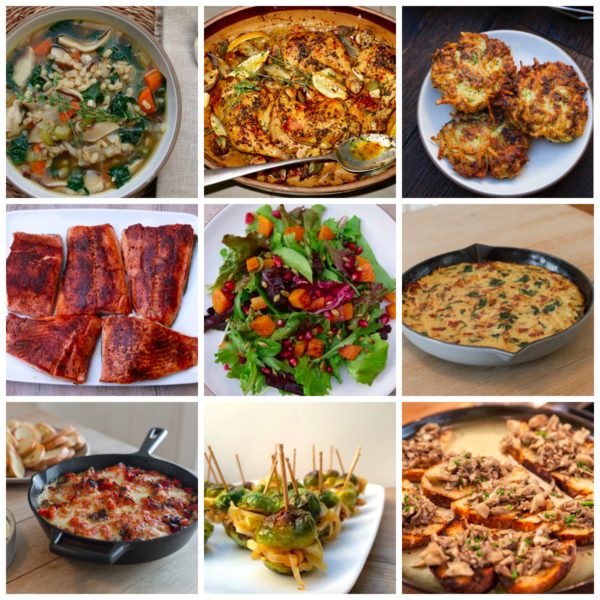 Monday: mushroom barley soup with leftover beef tenderloin from Christmas dinner
Tuesday: roasted chicken Provencal, Brussels sprout latkes, sautéed mixed vegetables
Wednesday: spiced roast salmon, roasted fennel, butternut squash salad with pomegranate
Thursday: skillet hash brown casserole (aka latke casserole), green salad
Friday: Pizza night
New Year's Eve: vegetarian Italian 7-layer dip, mushroom toasts, Brussels sprout sliders, buckwheat blini with smoked salmon
New Year's Day: smoky braised lentils with turkey sausages, kale salad
Here's what you can do ahead if you want:
Monday
Make stock for soup
Prep (wash, dry, cut) veggies for veg saute
Cube butternut squash
Make salad dressings
Prep fennel
Wash salad greens
Friday
Wash kale
Here's a link to all my previous dinner planners.