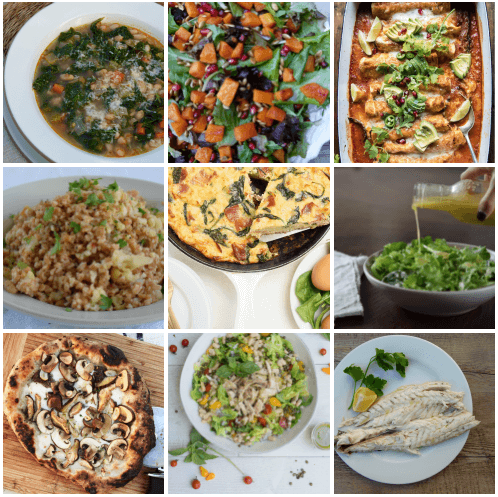 Meatless Monday: kale and white bean minestrone
Tuesday: slow roasted salmon and butternut squash salad with pomegranates and toasted pumpkin seeds
Wednesday: spicy poblano, black bean and quinoa enchiladas – I will use my homemade enchiladas rojas sauce from this recipe
Thursday: one-pot farro with cauliflower and golden raisins, chicken apple sausages
Friday: hashbrown casserole, green salad with everyday salad dressing #2
Saturday: homemade wood fired pizza night at my parents house, Italian white bean and tuna salad with capers from my cookbook, I will use divina slow roasted jarred tomatoes instead of fresh here.
Christmas Eve: We always have dozens of fish dishes, including linguine with clam sauce, baccala, stuffed clams, eel, octopus and more.  Here's a recipe for whole roasted branzino if you're in the mood for an easy and elegant fish dish.
Here's what you can do ahead if you need to:
Sunday
Wash greens and herbs
Make salad dressings
Make chicken or vegetable stock
Cook beans from scratch, if not using canned
Toast pumpkin seeds
Seed pomegranates, try using this amazing 60-second pomegranate de-seeder, or this method
Cut up butternut squash and store in airtight container in the fridge
Make enchilada sauce 
Make quinoa
Wednesday
Prep cauliflower
Cook white beans for salad or buy canned
Here's alink to my previous dinner planners.
If you like my recipes, you'll LOVE my new cookbook!  If you have cooked from my book and you are enjoying it, it would mean so much to me if you would write a review on amazon.  🙂  Thank you!