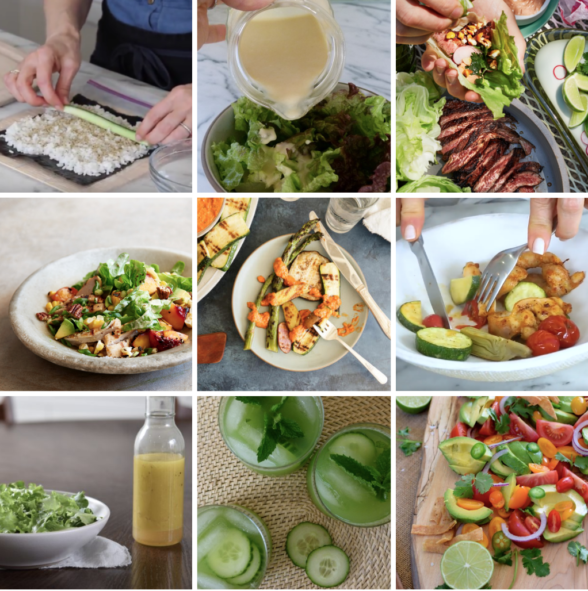 Truth be told, I won't be cooking at all next week.  My daughter is going back to college and my husband will be in charge of himself and Mr. Picky.  I am off to the Golden Door in San Marcos, California for a little self-care.  I will also be teaching one cooking class while I'm there because I can never stay out of the kitchen LOL.  Follow me along on my Instagram and you can see what I'm up to.  In the meantime, I know many of you like receiving this weekly dinner planner in your inbox on Saturday mornings because it encourages you to sit down and plan out your meals for the week.  Many families are already back to school, so no more olives and cheese for dinner them. Time to get back to business!  Here's your dinner planner for there week:
Meatless Monday: Vegetable Sushi w/ a side of thinly sliced cucumber and onion mixed with this miso-ginger dressing
Tuesday: Spicy Steak Salad Wraps from Bon Appetit's Healthyish
Wednesday: Sheet Pan Chicken with a side of fresh greens tossed with my Everyday Salad Dressing
Thursday: Grilled Summer Salad with Spicy Cashew Dressing from my book, using Wednesday's leftover chicken 
Friday:  Grilled veggies w/ Romesco sauce w/ grilled fish, use this method (I just posted a new Youtube video where I make this chicken!)
Saturday Lunch: Quinoa, use this method, and leftover grilled veggies and Romesco Sauce with a Mint Cucumber Cocktail (can sub vodka for sparkling water)
Sunday: Deconstructed Guacamole Salad w/ grilled shrimp. Option to serve with a side of grilled bread, lightly drizzled with EVOO and a sprinkle of finishing salt.
Here's what you can do ahead if you need to:
Sunday
Make all dressings and marinades
Make sushi rice
Slice cucumber and onion
Prep vegetables for sushi
Wash all vegetables and greens
Wednesday
Make Romesco Sauce
Make quinoa
Here's a link to my previous dinner planners.
I have LOVED seeing all your creations of my recipes on Instagram.  If you make any of my recipes, please tag me @pamelasalzman #pamelasalzman so I can check them out!
Click here to learn more about my online cooking classes!
If you like my recipes, you'll LOVE my cookbook!