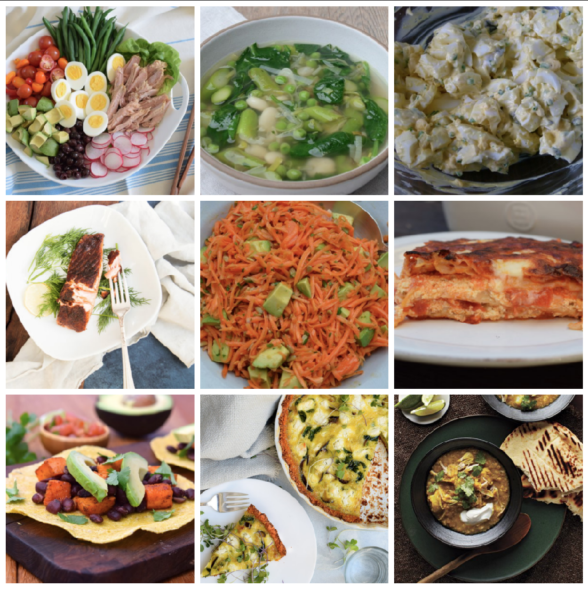 Happy weekend!  We just had a really lovely Passover seder at our house.  You can see my menu from last week's dinner planner.  My only change was to swap cauliflower mashed potatoes for the sweet potato casserole because we're going to my in-laws' house tomorrow for the second seder and my MIL is serving sweet potatoes.  You can also check out my instagram stories for a little behind the scenes.  In other news, if you didn't see this from my last post, I just launched the first of my online classes!!  I would love to know what you think, so I am offering my first class at a very discounted rate of $7.  For more details, click here!  Here's your dinner planner for the week:
Meatless Monday: California nicoise salad (this is a great way to use up any hardboiled eggs leftover from Easter or Passover, if you want some other ideas, see this post). This is a super flexible recipe where you can substitute with whatever you have on hand. Instead of the tuna, you can keep it vegetarian and use white beans or sub canned/leftover salmon, poached/grilled chicken or grilled steak, or use boiled potatoes instead of avocado.
Tuesday: Spring green minestrone, egg salad on matzoh
Wednesday: Spice rubbed wild salmon and carrot salad with avocado
Thursday: Matzoh lasagne and a green salad with everyday salad dressing #2
Friday: Sweet potato and black bean tacos, homemade guacamole
Saturday Lunch: Mushroom and leek quiche with sweet potato crust (I am gong to use quinoa flakes to keep it Passover-friendly.  Ancient Harvest is the brand I use.)
Sunday: Slow cooker curried lentils with chicken and potatoes from Real Simple, whole wheat naan bread
Here's what you can do ahead if you need to:
Sunday
Wash/dry greens/lettuce and herbs
Make chicken or vegetable stock
Hard boil eggs, if you don't already have some leftover from Easter or Passover
Blanch green beans
Make salad dressings
Make egg salad
Make spice mixture for salmon
Thursday
Make the black beans and sweet potatoes for tacos and reheat before serving
Friday
Make the quiche crust – store at room temperature
Saute the veggies for the quiche and store in the fridge
Sunday
You could start the slow cooker lentils and chicken on Sunday morning and keep warm in your slow cooker until dinnertime
Here's a link to my previous dinner planners.
I have LOVED seeing all your creations of my recipes on Instagram.  If you make any of my recipes, please tag me @pamelasalzman #pamelasalzman so I can check them out!
Click here to learn more about my online cooking classes!
If you like my recipes, you'll LOVE my cookbook!