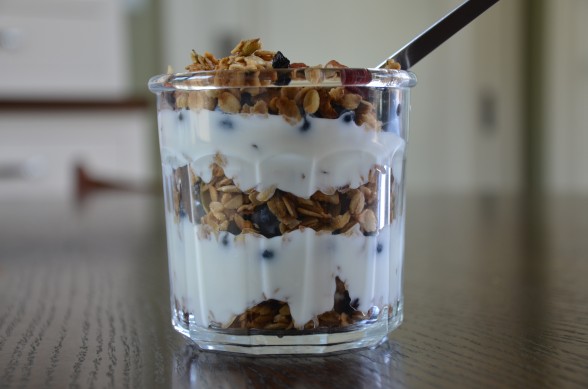 Snacks can definitely be a part of a good diet and can even help you lose weight, but only if you snack on healthful food.  A snack is really just a mini-meal, something to stave off hunger until your next meal.  Very often I notice that people think of snack time as dessert time, or a junk food break.  It's no wonder if you have seen what is labeled "snack food" these days:  fruit roll-ups, popsicles, cookies, chips, candy power bars.  Please!  Have you noticed that kids who eat these foods keeping saying "I'm still hungry." Most "snack foods" tend to be processed, packaged, refined and devoid of any nutritional value.   It's not real food.  I say we can do better.
Whether you're at work and trying to make it to lunchtime without feeling weak, or you're feeding your kids something after school because they're "starving," here are a few tips on how to come up with a high-quality snack:
Include Protein:  foods rich in protein (this doesn't only mean animal protein) stabilize blood sugar and trigger satiety better than any other kind of food.  Protein can mean meat or fish, whole dairy, nuts, seeds, legumes and beans.
Never Eat Simple Carb Snack:  Carbs that aren't paired with fiber or protein are digested too quickly and lead to spikes in blood sugar levels.  When blood sugar drops, you're looking for quick energy to help bring it back up again.  It's a vicious cycle.  Look for complex carbs containing protein, fiber and even high-quality fat.
Add Some Fiber:  Fiber is usually found in whole foods and will fill you up without being fattening.
Keep Sugar Low:  This is true of all meals, but particularly true for snacks since there's nothing else to buffer the sugar from rushing through the bloodstream.
Think outside the box when coming up with snacks for yourself or the kids.  There's no reason a small portion of last night's dinner can't be a good snack.  The other day I took a leftover
chicken and vegetable kabob
, chopped it up and turned it into a quesadilla for a quick after-school snack.  One of my favorite mini-meals is a cup of soup or stew from the night before.  Here are some other ideas that I rely on regularly, many of which can be taken "to go":
unsweetened whole yogurt and granola
unsweetened whole yogurt and "faux granola" — top yogurt with unsweetened shredded coconut, chopped nuts, dried or fresh fruit and raw cacao nibs (my favorite)
veggies or whole grain pita bread and hummus or other bean dip
edamame
fruit and yogurt smoothie
apples or bananas and nut butter; sometimes I add a spoonful of granola for crunch.
whole grain muffins (see recipes for date-sweetened banana, zucchini-blueberry, pumpkin)
whole grain pancakes with fruit
whole grain toast with almond butter and honey
whole grain toast with avocado and sliced tomatoes or smoked salmon
half of a sandwich
quesadilla (try a "pizza quesadilla" with tomato sauce and mozzarella between two whole grain tortillas, add leftover veggies if you have them)
sushi handroll — take a sheet of toasted nori, add cooked rice, avocado, cucumber, leftover fish or chicken from dinner, sprinkle with a few drops of rice vinegar and roll up
homemade nachos — take baked tortilla chips and layer with diced tomato, canned black beans or refried beans, grated cheese and broil until melted.  Dollop with guacamole.
do-it-yourself trail mix — my kids make their own with pecans or almonds, dried fruit and dark chocolate chips
whole roasted sweet potato or yam with a dollop of unsweetened yogurt (don't knock it 'til you try it)
smaller portions of breakfast, lunch or leftover dinner!