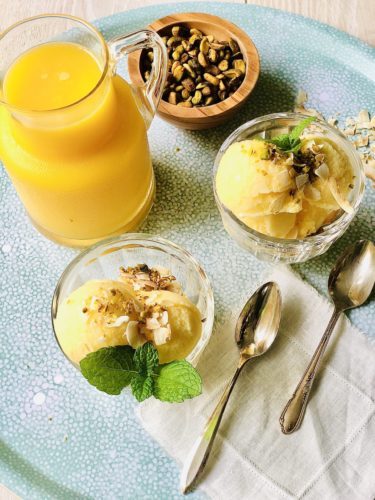 I am not normally organized enough to coordinate my recipe posts with national food days, but when I saw it was National OJ Day on May 4th, I knew it was time to share my favorite OJ recipe!  Someone asked me on Instagram Live the other day what my favorite guilty pleasure is and it's definitely ice cream and frozen desserts.  I certainly have my favorite flavors, but I would take a good quality ice cream over a chocolate chip cookie any day.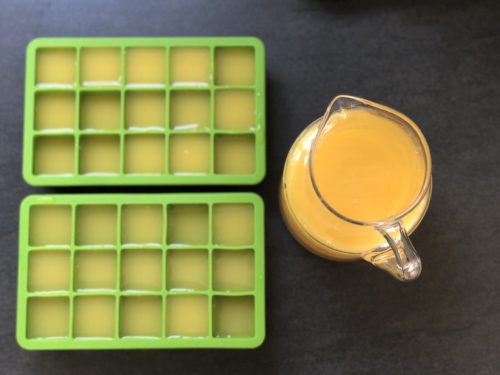 The key words are "good quality."  I have a sweet tooth for sure, but I really try to eat only homemade desserts, and if store-bought, they have to pass the test of being made from high quality ingredients and lower in sugar.  That's where I usually run into problems because even if a store-bought ice cream has maple syrup and organic milk as the ingredients, it's usually too much maple syrup.  This is one of the main reasons I cook from scratch – control over ingredients.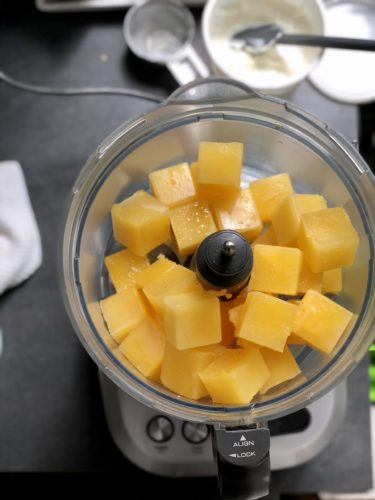 Besides National OJ Day, Mother's Day is also coming up, so I thought this would be a fun, EASY, and high-quality treat you could make for your crew (or yourself.)  There are two ingredients, 100% orange juice and any kind of yogurt you have (plus a pinch of salt.)  No need for any sugar.  Florida Orange Juice is perfectly sweet on its own.  Funny enough, I was freezing orange juice ice cubes to make this recipe and my son, Mr. Picky, found them and started eating them.  He said, "Wow, Mom.  This is really good.  What is it?"  Seriously, little man?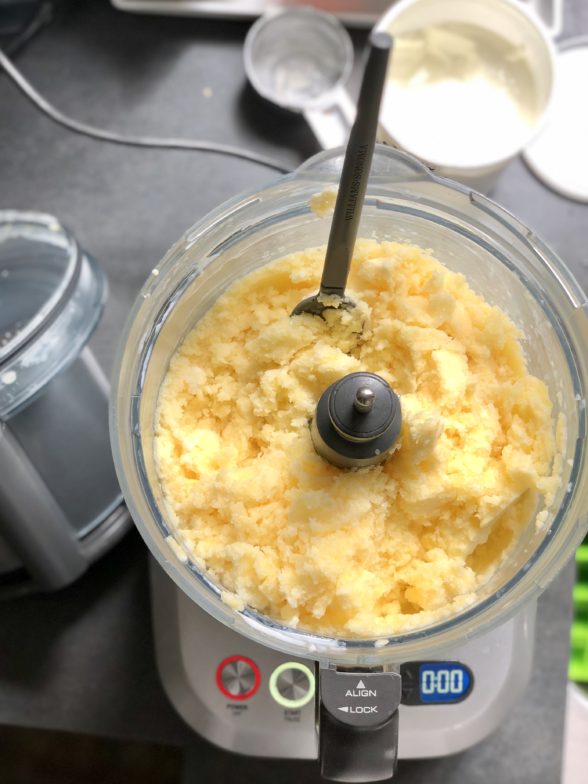 My favorite way to enjoy Florida OJ is using it for a replacement for sugar. You get a natural sweetness paired with a unique package of nutrients to help support your immune system. I love this orange sherbet when the weather starts to warm up.  It's super refreshing and clean tasting –it tastes likes oranges, not sweetened, orange-flavored cream.  For an extra treat, I'll add some healthy crunchy bits like toasted coconut, crushed salted pistachios or homemade granola.  I also love this sherbet with the chocolate magic shell from my new book, "Quicker Than Quick."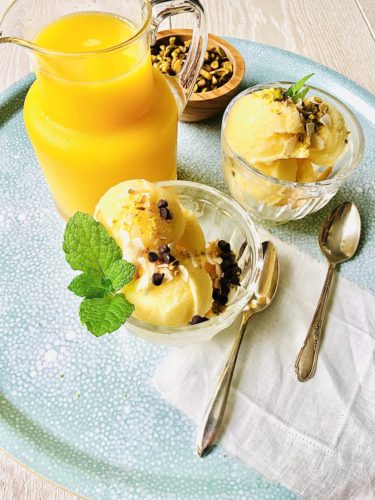 Since the Florida Department of Citrus is dedicating today to those on the frontlines, I wanted to also share my appreciation for those providing essential services during this time.  My family and I say a prayer every night at dinner in their honor with hopes for their safety and health.  Thank you all from the bottom of our hearts!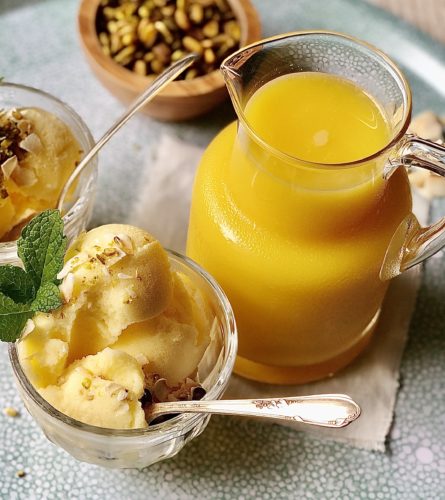 Orange Juice Sherbet
Ingredients
1 quart (4 cups) 100% orange juice
½ cup unsweetened yogurt, preferably full-fat Greek yogurt, coconut yogurt or cashew yogurt or heavy cream or coconut cream
Pinch of sea salt
Optional toppings: toasted coconut, cacao nibs or shaved dark chocolate, granola, crushed toasted nuts like pistachios, almonds or pecans, extra Greek yogurt or whipped cream
Instructions
Combine all ingredients and freeze in an ice cream maker according to the manufacturer's directions OR if you don't have an ice cream maker follow these directions:
Freeze the 100% orange juice in ice cube trays, preferably in 1-2 Tablespoon measurements.
Once frozen solid, remove the frozen orange juice cubes and place in a food processor with the yogurt and a pinch of salt. Start the food processor and process until the ice cubes are broken down a bit. Turn the machine off and scrape down the sides. Process again until it is creamy, like the consistency of sherbet. Serve immediately or store in the freezer for a few hours. It will freeze solid if you leave it in the freezer longer than that but you can break it up and re-blend it in the food processor.
Serve any way you like, but my family enjoys it with toasted coconut flakes, granola, cacao nibs or chocolate chips, berries, or chopped nuts.
Notes
You can taste the mixture and add a few teaspoons of maple syrup if needed before freezing.