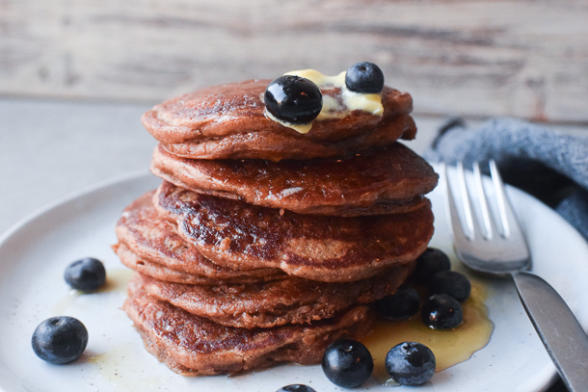 Nothing says December, winter, or Christmas to me quite like gingerbread anything. I love, love, love all those warming spices – the more, the better.  I find the combination of cinnamon, cloves, and ginger to be intoxicating.  Every year I either teach or post a new gingerbread-flavored recipe.  I have posted a vegan gingerbread (I still cannot improve this recipe and it is 9 years old), a gingerbread trifle with poached pears, gingerbread biscotti, gingerbread cut out cookies, and molasses-ginger cookies.  Last year I taught a pear-cranberry gingersnap crisp which hasn't been posted.  Maybe next year. Oh, and gingerbread bliss balls in my cookbook!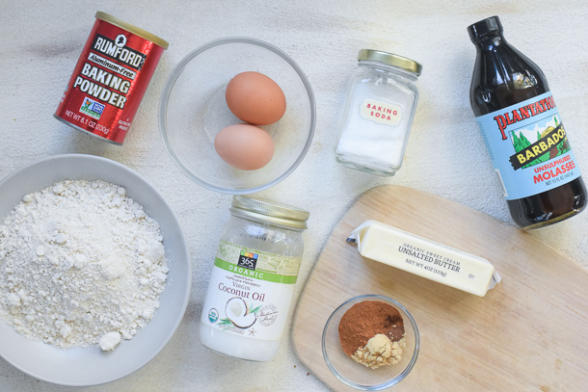 This year I am posting a new obsession, gingerbread pancakes.  It was an easy recipe to create, since I merely had to take my standard pancake recipe and add in my favorite combo of gingerbread spices.  Plus I swapped molasses for maple syrup since that is the traditional sweetener in gingerbread.  It worked beautifully!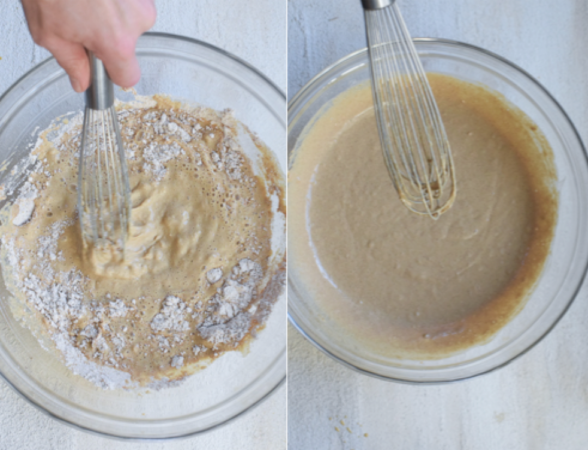 Like my regular pancake recipe, you can swap out 3/4 cup of the flour for leftover almond pulp (from making almond milk) or literally use any combo of grain flours that you want.  Whenever I make pancakes or waffles, I try to use up any bags of flour that I can.  Speaking of waffles, I used this batter the next day to make waffles with sauteed apples on the side and they were amazing.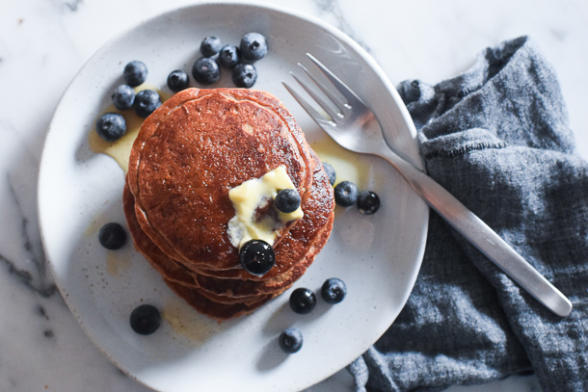 I thought this would be a great Christmas morning breakfast since you could make the batter entirely the night before.  If you don't relish the idea of standing over the stove cookign individual pancakes, make them a little in advance and keep them warm in a 200 degree oven.  My son ate gingerbread pancake "tacos" by folding them and adding applesauce and chopped pecans in the middle.  I didn't even yell at him for eating pancakes with his hands because I thought it was clever that he called them tacos!  I will post a new dinner planner on Friday night, and then I will take a little time off until the day after Christmas.  For those of you celebrating, I hope you have a joyous holiday!  I am so, so grateful for each and every one of you.  Every comment, email, message, and emoji is a gift I appreciate with all my heart.  Thank you and happy holidays!!
Shop the tools I used for this recipe by clicking on the images below!

Gingerbread Pancakes
Ingredients
2 cups whole wheat pastry flour, white whole wheat flour or whole spelt flour*
1 teaspoon aluminum-free baking powder
1 teaspoon baking soda
1 teaspoon fine sea salt
2 teaspoons ground ginger
2 teaspoons ground cinnamon
½ teaspoon ground cloves
¼ teaspoon ground allspice
2 cups buttermilk**
2 large eggs
2 Tablespoons unsulphured molasses (I'm not a fan of blackstrap which I find too bitter, but feel free to use it if you like it.)
4 Tablespoons unsalted butter, melted
Melted, unrefined coconut oil for brushing the griddle
Instructions
Preheat a griddle to 400 degrees or medium heat.
Combine the flour, baking powder, baking soda, salt and spices in a large mixing bowl.
In a medium bowl or 4-6 cup measuring cup, whisk together the buttermilk, eggs, molasses and melted butter until well blended. (A blender can do this easily, too.)
Pour the wet mixture into the dry ingredients and stir until just combined.
Brush the griddle with coconut oil and spoon about ¼ cup of batter onto the griddle. Add blueberries, chocolate chips or diced banana to the surface, if desired. When bubbles start to form on the surface of the pancake and the edges become slightly dry, flip it over and cook until down. Maintain the heat on medium-low or 400 degrees.
Notes
*Gluten-free: substitute any combo of GF flours or use my favorite combo: ⅔ cup GF oat flour, ⅔ cup brown rice flour and ⅔ cup buckwheat flour. You can also sub ¾ cup of almond pulp for ¾ cup of flour.
**No buttermilk? Sub half unsweetened yogurt (any kind) and half whole milk, hemp milk or almond milk. Or use 2 cups milk, omit the baking soda and use 2 teaspoons baking powder instead.