What a week!  In case you missed my posts on Instagram and Facebook, I was on The Today Show this past Wednesday!  I know!!!  Such a fun experience for me and I cooked up three great family-friendly recipes using zucchini.  I know many of you might have a boatload of zucchini in your gardens right now, so you should definitely check them out.  Here's the link to the video and the recipes.  Happy Friday and happy cooking!
Here are some favorites I've been sharing in my classes the last few weeks:
Tonnino Tuna in Olive Oil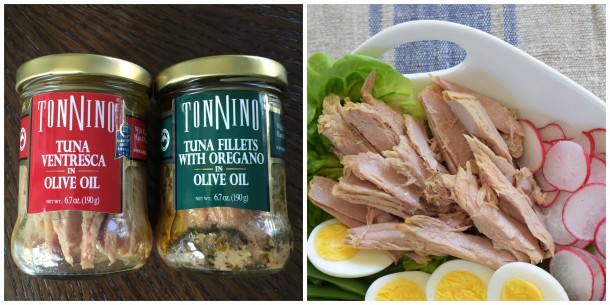 Here's something you may not know about me — I am OBSESSED with tuna.  I could eat a tuna salad sandwich every day and be very happy.  I love tuna mixed with pasta, made into a patty and on top of salad greens.  I love it stuffed into roasted peppers or in a Nicoise salad.  I. Love. It.  There are two types of tuna I use and they are both great pantry staples.  The first one is the kind packed in a can, usually in water, and I use that for tuna salad sandwiches, patties or for tuna-pasta salad.  The other kind is packed in oil and I use that in a Nicoise or in green salads.
In my classes this month I am teaching a fabulous salad with tuna, white beans, greens, capers and a basil vinaigrette.  I am crazy about it.  But one of the reasons it is an exceptional salad is because of the exceptional Tonnino tuna I am using.  The first time I tried it I was with my class assistant Lauren and we were eating it straight out of the jar and looking at each other like "OMG.  Is this stuff for real?"  It is so tender and flavorful without being fishy, which is unusual for tuna.
I love all the different varieties — plain, oregano, lemon, jalapeño, and then the deluxe — Ventresca, which is the belly of the tuna.  You'll be spoiled for life with that one.  Want to know what else I love about this product?  CLEAN!  Wild-caught and in a glass jar.  No worries about BPA or aluminum.  And the Environmental Working Group has rated Tonnino Ventresca tuna a "low concern" with respect to nutrition and ingredients, which is amazing considering how many tuna products are loaded with mercury and other contaminants.  Tuna of my dreams, people.
You can buy this at Whole Foods (although at my WF it is located in the seafood department, and not with the canned tuna), Amazon and Vitacost.  I already emailed Thrive Market to please start carrying it!
Wildwood Organics Sprouted Tofu

Despite the fact that I eat a mostly plant-based diet, I am not a huge soy eater.  There is a lot of controversy surrounding soy and soy products like tofu these days.   And given all the pros (e.g. high in protein) and cons (e.g. anti-nutrients, hard to digest), I prefer to limit my soy intake to fermented soy and minimally processed, as opposed to unfermented and/or heavily processed. Fermented soy products are shoyu, miso, tamari, and tempeh.
Tofu is a bit processed, so even though I do like it, I don't eat that much of it.  Of course, there are so many things you can do with tofu; you can sub it for eggs in a scramble, add it to stir-fries, sear it, marinate it, you name it. If it can be done with meat it can almost always be done with tofu as well. But tofu also has a place in foods like smoothies and puddings– it can be blended to form a creamy, yogurt like texture without having the cons of dairy.
But when I do buy it, I buy Wildwood Organics' sprouted tofu. I prefer this product because it is made with organic soybeans, which is a must because conventional soybeans are most likely GMO. Second, they sprout their soybeans, which basically means they have soaked so that some of the anti-nutrient compounds are neutralized making it a much more digestible and nutritious food.  I have found Wildwood sprouted tofu in the refrigerated section at Whole Foods.
Annie's Organic Graham Crackers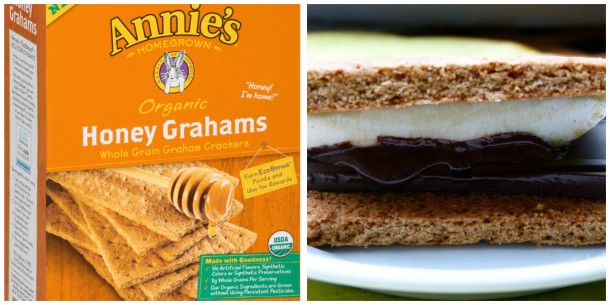 I don't have time to make everything from scratch.  I do love baking and I do love making things that are hard to find high-quality in a packaged form, like graham crackers.  I actually have a fantastic recipe on my site for homemade graham crackers, but they take a little time because you have to roll them out and prick them, etc.
It is s'mores season and if you're not going to make your own graham crackers, you should look for the cleanest ones possible.  From what I can find, Annie's Organic Graham Crackers are the best and they taste delicious.  Besides being certified organic and non-GMO, the first ingredient is whole wheat flour (not "wheat flour," which does not indicate a whole grain flour) and there are no artificial preservatives, flavors or colors.  Annie's does contain some sugar, but they all do.  EWG rated Annie's the lowest concern of all the graham crackers in their database.  I found Annie's at Whole Foods, but I am sure they can be found at many local markets.
Try this recipe on my site for Grilled Banana S'mores!
Seasonal produce:  Green Beans

I love doing these seasonal produce spotlights to reinforce what is actually in season.  Green beans have a season and it is summer!  Fortunately, my family, including Mr. Picky, likes green beans. Yippee!  I make them pretty often in the summer and into the fall because they are so versatile and go with everything.
Green beans, aka "string beans" are quite nutritious.  They are loaded with chlorophyll (good for detoxing, high antioxidants, reducing anemia, immune-boosting, anti-inflammatory), carotenoids (some of which can be converted to Vitamin A, major antioxidants, can help prevent certain cancers and eye disease) and silicon (good for bone health.)
Like with most produce, the fresher the green beans, the better.  As green beans sit in the fridge, they get tougher and lose some of their juiciness.  In my opinion, green beans love salt, so blanching with a good amount of kosher salt is helpful.  Blanched green beans are great on a crudités platter, in a composed salad, or chopped in a grain-based salad.  They're also great roasted with shallots and lemon and for Thanksgiving in a classic green bean casserole.  Here are some great recipes from my site and around the web:
Fennel and Green Bean Salad with Olives
Green Bean Slaw by 101 Cookbooks
Oven Roasted Green Beans with Pistachio and Parmesan Gremolata by The Skinny
Charred Green Beans with Harissa and Almonds by Bon Appetit
Cheesy Oven Baked Green Bean "Fries" by SHAPE Magazine
Superfood Spotlight: Acai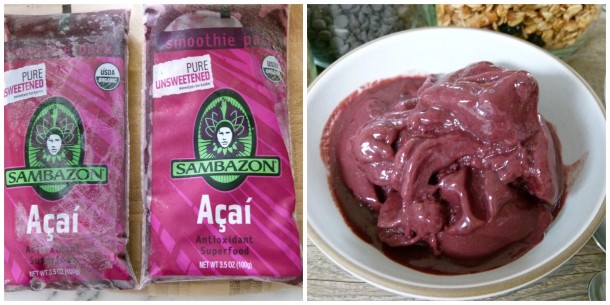 I wish acai was around when I was a kid.  I know it has been around for probably thousands of years, but I mean I wish it was actually available and in our lives.  I can't remember my first acai bowl, but it was probably about 6 years ago.  I've had too many to count since then, but that first one was a game changer!  So creamy and delicious and I had been convinced acai was a wonder food.
Well, we all know one food can't save your life, especially if you're adding a ton of granola and honey to it, but acai on it's own is pretty amazing.  Acai (prononced ah-sigh-EE) is a berry native to the Amazon (the rainforest, not the online shopping site).  Acai's claims to fame are its insane antioxidant levels (more than blueberries!), healthful fats and a good smattering of iron, calcium and beta-carotene.  It also happens to be very low in carbs and sugar (not sweet at all.)  What I love is acai's deep berry, almost chocolatey flavor.
Most people are using packets of frozen acai puree that you can find in most supermarkets.  Please read the ingredients to make sure you're just getting acai puree and not any additives.  Nativo is a clean brand, if you can find it.  There are others too, just read the ingredient list on the package.  You can use the frozen pulp in smoothies and acai bowls.  Here's a recipe for an acai bowl that you can make at home.  (They are so expensive at Paradise Bowls and such places!)  Another way you can incorporate it into your diet is with a powder.  Sunfoods and Navitas Naturals have a high quality acai powder which would be great in smoothies, in your overnight chia and oat porridge, chia pudding or even in popsicles!  The powder is also available at health food stores, as well as amazon, thrive market (best price by far)and vita cost.
Lastly, I have seen bottled acai drinks.  Please, please, please read the ingredient lists and check the sugar content.  Because acai is not sweet, there are often sweeteners (like cane syrup — hello?  SUGAR!)  added to make the drink taste good.  In my opinion, you're kind of defeating the purpose of consuming acai if you do it with a ton of sugar.  Just trying to keep you healthy!  😉