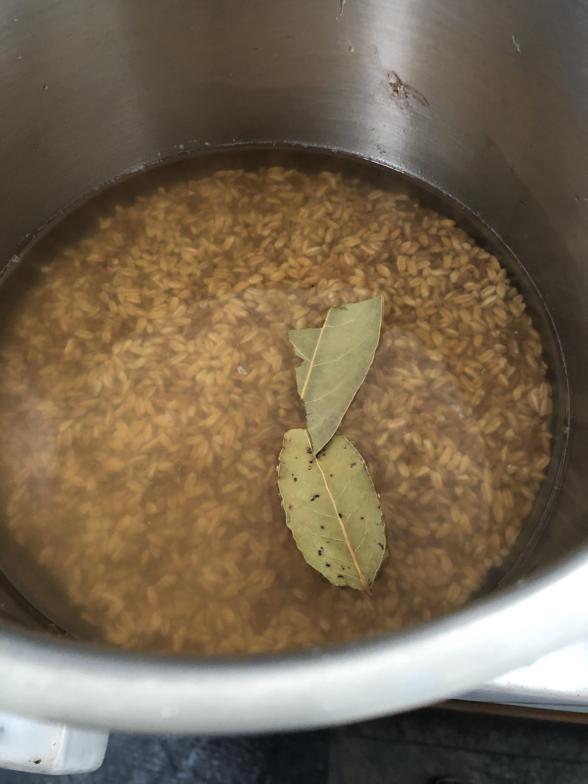 When I was growing up, we had many Thanksgivings that started off with a first course of manicotti or ravioli. This happened if we celebrated with my father's family who grew up in Italy and didn't really understand the American Thanksgiving traditions.  I mean, it was a holiday, so manicotti were appropriate, right?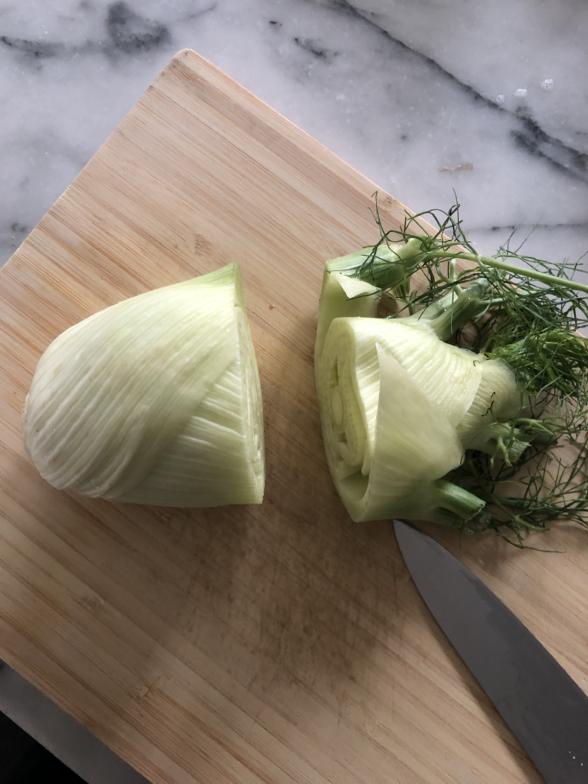 I liken this to my friends in the South and the Midwest who look at some of my Thanksgiving recipes, and say, "Yeah, this wouldn't fly with my family."
What wouldn't fly?
"You know, a salad.  I don't think they would understand a salad on Thanksgiving."
You know what I don't understand?  That statement.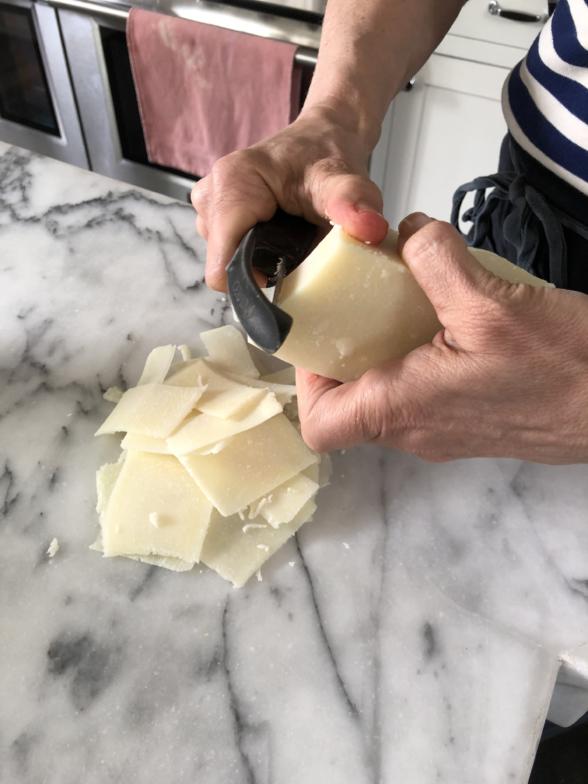 I have taken the traditional Thanksgiving menu I first served in 1995 and shaped it to what you see today – a great mix of traditional and modern with lots of seasonal, delicious and colorful plant foods.  Every year I have made another change or two to the menu and every year my guests tell me this was the best Thanksgiving yet (not like I'm trying to pat myself on the back.)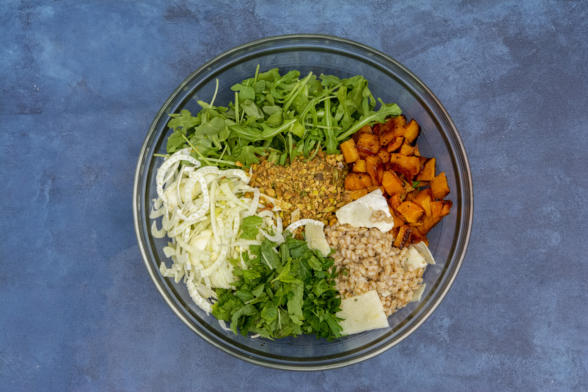 So I'm here to inspire you to be that cook.  Make a salad even if no one is expecting it or asked for it and especially if they say, "salads are not for Thanksgiving." And then ease them into salads on Thanksgiving with this WINNER. I've made this farro salad so many times and there is no one that hasn't loved it.  It is a very liberal twist on the famous farro salad at Charlie Bird restaurant in New York.  Here's a link to the actual salad recipe in the New York Times.  I have made it with way less oil in the dressing, fall veggies instead of spring, and apple cider vinegar in place of some of the apple juice to cook the farro.  It is positively a bowl of flavor bombs in every bite.  You can make all the components the day before, so it's perfect for Thanksgiving.  It doesn't require an oven while the turkey is roasting – also perfect for Thanksgiving.  It is great to make as a vegetarian  or vegan (serve the cheese on the side) main dish for Thanksgiving in case you need it.  Or, if you're like me and you think stuffing is a waste of calories, this would be an awesome stand in.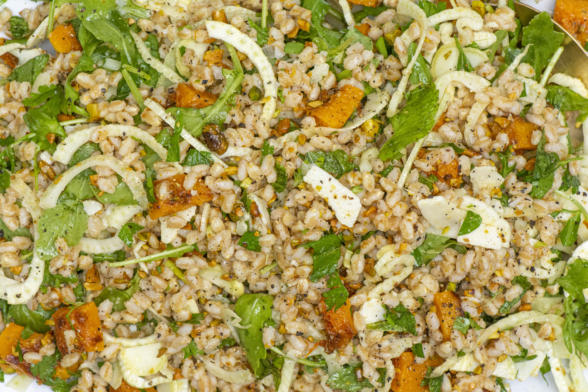 Please don't tell me this is too healthy for Thanksgiving.  Who said everything on this holiday has to be over-the-top, ultra-heavy?  If you want this to be even lighter, lessen the amount of farro and increase the arugula.  If you have another recipe with butternut squash, use roasted beets or carrots or apple?  Dislike fennel?  Bummer, because it's a wonderful digestive aid (helpful on T-day), but you can swap in celery, apple or radish.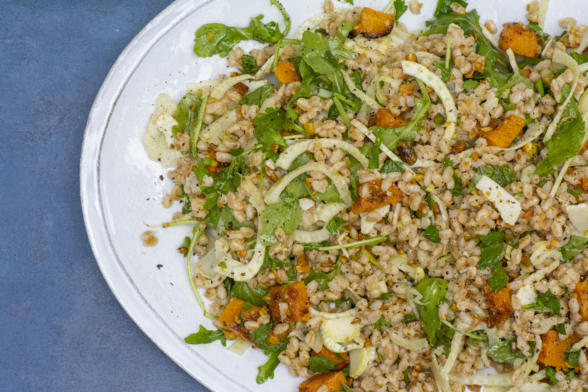 I add a new recipe every year and take one away and that's how my menu has evolved to be what it is today.  If you haven't purchased my Thanksgiving ebook, I strongly encourage you to consider it.  For $15 which is basically the price of a smoothie, I will save you hours of time, loads of stress and you will have fun, yes fun, sharing Thanksgiving with the ones you love.  All the recipes (both traditional and a twist on tradition) you could possibly need in one place, as well as all my best tips and substitution advice and much more.  Ebook link here.  I'm so excited!!!
You can shop the tools for this recipe by clicking on the images below:

Farro Salad with Fennel and Roasted Butternut Squash
Ingredients
1 cup uncooked farro (you can sub whole oat groats or another grain, but adjust liquid and cooking time)
¾ cup apple cider or apple juice (not apple cider vinegar)
¼ cup apple cider vinegar
1 teaspoon sea salt, plus additional
2 bay leaves
2 cups cubed butternut squash (or parsnips or carrots)
7 Tablespoons unrefined, cold-pressed extra-virgin olive oil, divided
4 Tablespoons fresh lemon juice
½ cup shaved (done with a vegetable peeler) Parmesan or Manchego cheese (optional)
2 cups arugula leaves (or baby spinach leaves)
1 cup fresh flat-leaf parsley leaves, left whole or roughly chopped
1 cup fresh mint leaves, torn by hand or roughly chopped
1 small bulb fresh fennel, halved and thinly sliced crosswise
½ cup chopped toasted and salted pistachios or pumpkin seeds (whole)
Flaky salt and freshly ground black pepper to taste
Instructions
Preheat oven to 400 degrees.
In a medium saucepan, bring farro, apple cider, vinegar, 1 teaspoon salt, bay leaves and 2 cups water to a boil over high heat. Lower heat to a simmer, cover, and cook until farro is tender and liquid has evaporated, about 30 minutes. (Please read cook time on the package to be sure.)Remove from heat and allow to cool. Discard bay leaves.
Place butternut squash on a rimmed baking sheet lined with unbleached parchment paper. Drizzle with 1 Tablespoon of olive oil (or avocado oil or melted coconut oil), sprinkle with salt and pepper. Roast in one layer until caramelized and tender, about 30 minutes. Set aside. Can be made 1 day ahead.
In a mixing bowl (or serving bowl), whisk together 6 Tablespoons olive oil and 4 Tablespoons lemon juice, plus a pinch of salt and a few grinds of black pepper. Add cooked farro and cheese, if using. This can be done one day ahead.
Bring salad to room temp and fold in arugula, herbs, fennel, butternut squash, and nuts or seeds. Taste for seasoning and add flaky salt and black pepper as needed.