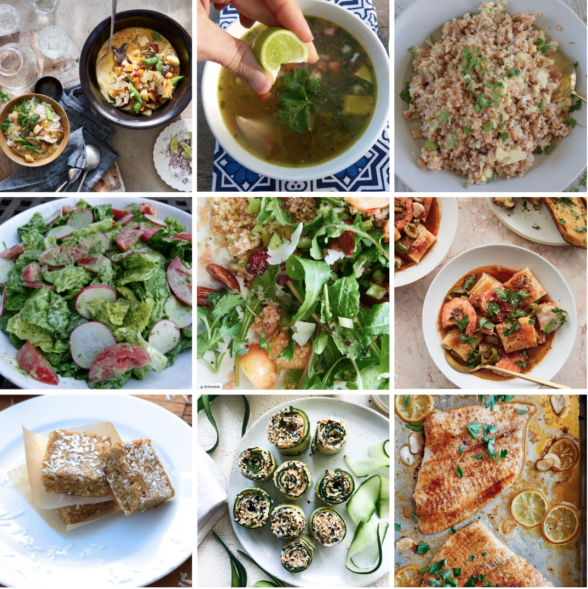 What a week! It was all good stuff, as they say, but I am sure happy it's the weekend.  Between the Jewish holiday I hosted for 26 very hungry people + 2 local tv segments that will air next week + my segment on Hallmark's Home & Family (which you can catch here) + 2 cooking classes, I am toast! I am putting my pajamas on at 6:00 pm and watching Ozark until I fall asleep (probably around 8:00 pm LOL.)
Here's your dinner planner for the week:
Meatless Monday: Quick Thai Yellow Vegetable Curry from my book.
Tuesday: Chicken and Avocado Soup. I will cook some quinoa separately and add that in.  Quesadillas are nice to serve on the side.  There are options now for grain-free tortillas and you can sub avocado for cheese to make them quest-less quesadillas!
Wednesday: One-pot farro with cauliflower and golden raisins; I like this with shaved parmesan cheese and a simple green salad on the side.  But you can also add a fried egg on top.
Thursday: Slow cooker or instant pot chicken thighs + salad with green goddess dressing and boiled new potatoes.  A basic way to cook thighs in the slow cooker:  toss with salt, pepper, paprika and garlic powder and cook on HIGH for 4 hours or LOW for 6-7 hours.  Do the same thing in the Instant Pot but add 1/4 cup chicken stock.  Cook at high pressure for 9 minutes.
Friday: Seafood Pasta with Tomatoes and Fresh Olives from the NYTimes + grilled zucchini.
Saturday Brunch/Lunch: Cucumber Hummus Turkey Rolls + apples with almond butter and raw cacao nibs and flaky salt
Sunday: Roasted fresh fish with olive oil, sea salt, cracked pepper, and fresh squeezed lemon juice. Serve with roasted veggies on the side. If you're not sure on the best cooking method for your fish, a good tip is to ask your fishmonger what they'd recommend for what they give you. The image above is the broiled flounder from my book, plus there's a great chart on roasting vegetables.  Serve with Luscious Lemon Bars if you're craving dessert.
Here's what you can do ahead if you need to:
Sunday
Make all dressings, marinades, sauces
Wash and prep all veggies
Make quinoa and farro
Make lentils
Friday:
Make lemon bars
Here's a link to my previous dinner planners.
I have LOVED seeing all your creations of my recipes on Instagram.  If you make any of my recipes, please tag me @pamelasalzman #pamelasalzman so I can check them out!
Click here to learn more about my online cooking classes!
If you like my recipes, you'll LOVE my cookbook!