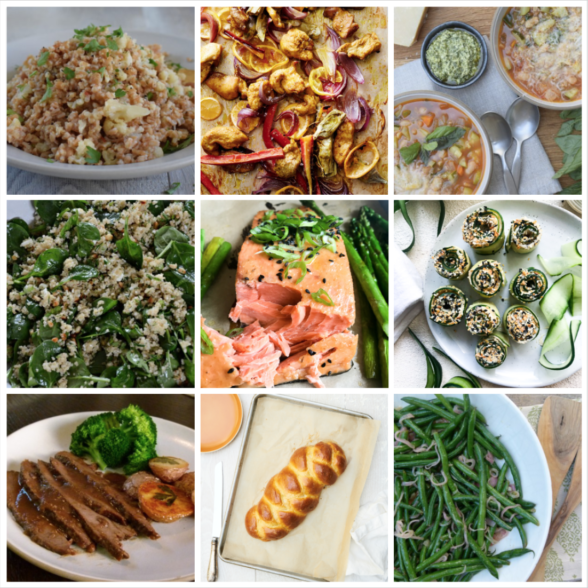 For those of you celebrating, Happy New Year!  Although I have always felt that September was the start of a new year.  I hope the beginning of school and possibly the return to work outside the home have been an easy transition for you.  My mother-in-law always hosts the first night of Rosh Hashanah, so I am baking challahs today and bringing birthday cakes for Mr. Picky (17 today!) and my older daughter who turns 24 next week.
For anyone who missed out on joining my Plant Based Bootcamp, you have one more chance!  I am repeating the course starting September 29th!  This is a live course, but only about 2/3 of the participants attend live.  Everyone has unlimited access to the recorded classes immediately after I teach them.  But since the Q&A portion of each class is live, I limit the number of spots so all my bootcamps sell out.  This is the last time I will offer this course in 2020, so do not hesitate to sign up HERE if you are interested.  The feedback I have been receiving from this bootcamp has been phenomenal and I am confident that you will learn so much and be changed afterwards.  If there is one thing I am good at it is teaching!  I have taught healthy cooking classes for over 12 years and all my in-person students are repeat customers who have been attending my classes for years and years, even 10 and 12 years!  I'll leave you with that and an early bird discount code PB100 for $100 off the course.  See you in class!!
Here's your dinner planner for the week:
Meatless Monday: One-pot farro with cauliflower and golden raisins; I like this with shaved parmesan cheese and a simple green salad on the side.  But you can also add a fried egg on top.
Tuesday: Moroccan sheet pan chicken from QTQ, served with sautéed cauliflower rice or couscous
Wednesday: Late summer minestrone, salad or avocado toast if you need more
Thursday: Spinach and Quinoa Salad with Feta and Dill, grilled or roasted chicken
Friday: Brown-Butter Miso Glazed Wild Salmon. I suggest roasting veggies on the same baking sheet using either asparagus or broccolini and drizzling it with olive oil and sea salt before roasting it in the oven and/or some sautéed mixed mushrooms with garlic.
Saturday brunch: Cucumber Hummus Turkey Rolls + apples with almond butter and raw cacao nibs and flaky salt
Kol Nidre (Day before Yom Kippur): Brisket, easy no-fail whole roast chicken with onions, fennel and potatoes, shredded sweet potatoes and apple, honey lemon green beans, green salad with everyday salad dressing #2, challah, grain-free apple tarte tatin
Here's what you can do ahead if it helps you:
Sunday:
Break cauliflower into florets
Make spice mix for sheet pan dinner and marinate chicken
Make salad dressing
Wash greens and vegetables
Tuesday:
Cook quinoa
Saturday:
Make challah
My new cookbook, Quicker Than Quick, is here!  I have LOVED seeing all your creations of my recipes on Instagram. If you make any of my recipes, please tag me @pamelasalzman #pamelasalzman so I can check them out!  If you have 1 minute, would you mind leaving a review on amazon?  I would be so grateful, thank you!
Take a peek at my first cookbook "Kitchen Matters"!