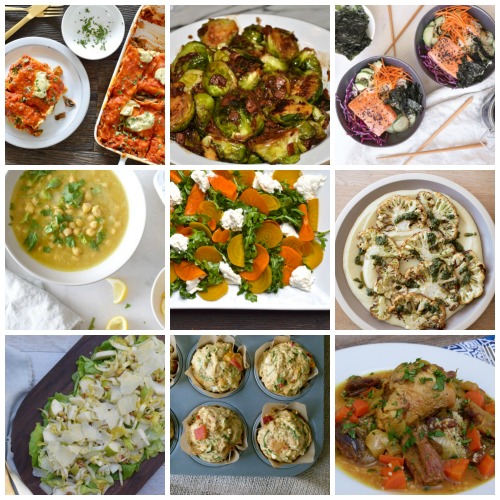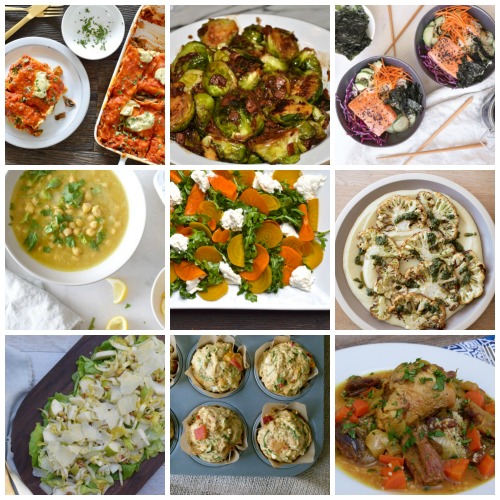 I have been having such a great month teaching Thanksgiving classes!  People ask me if I'm sick of Thanksgiving by the time it's Thanksgiving.  Of course NOT!  I am even more excited to prepare my own dinner with my kids.  It's my favorite day of the year!  You still have plenty of time to get things done ahead of time, like almost all of your grocery shopping.  I have all my tips and tricks listed in my Thanksgiving ebook, which is over 100 pages and only $10.  It is a LIFESAVER, I promise!
My big birthday month continues this weekend as I head to one of my favorite places, Montecito, for my final celebration.  I know, enough already! I will catch up on Instagram lives this week and next weekend.
Here's your dinner planner for the week:
Meatless Monday: Roasted vegetable lasagne (vegetarian) or hearty vegetable vegan lasagna
Tuesday: Lickety-Split Chicken from my cookbook, brussels sprouts with turkey bacon and dates  (good recipe for Thanksgiving, too!)
Wednesday: Deconstructed salmon sushi bowls
Thursday: Lemony chickpea soup,  arugula salad with persimmons, beets and burrata
Friday:  Cauliflower steaks with cauliflower puree and mint pesto, endive and pear salad with walnuts and parmesan
Saturday Brunch: savory muffins with spinach, roasted peppers and feta
Sunday: Moroccan chicken with dates, served with steamed white rice or couscous
Here's what you can do ahead if you need to:
Sunday
prep vegetables for lasagne
Season chicken
Prep brussels sprouts
Make all dressings, sauces and marinades
Shave parmesan
I have LOVED seeing all your creations of my recipes on Instagram. If you make any of my recipes, please tag me @pamelasalzman #pamelasalzman so I can check them out!
Click here to learn more about my online cooking classes! If you like my recipes, you'll LOVE my cookbook!  If you have 1 minute, would you mind leaving a review on amazon?  I would be so grateful, thank you!