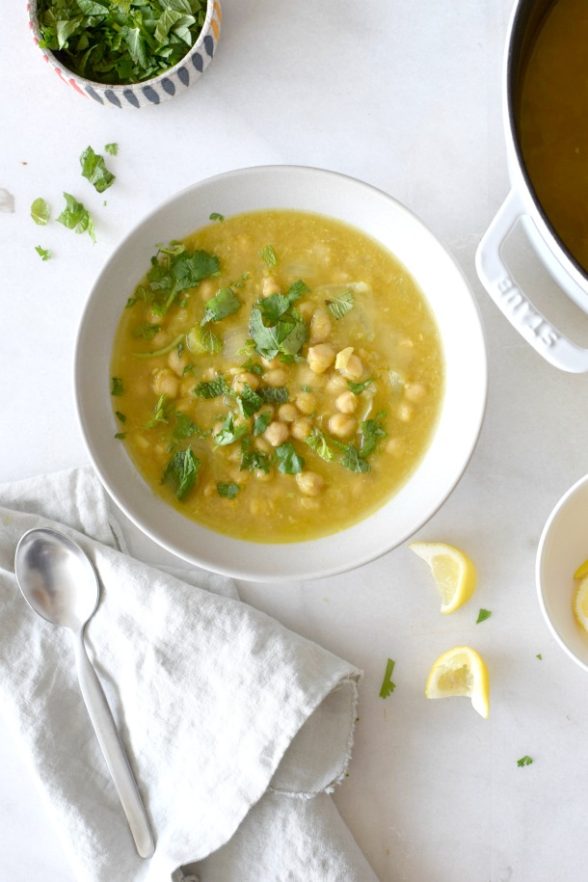 It's soup season!  I made my first pot tonight and even though I'm a warm weather gal, I am also crazy for soups.  I'll make two soups a week minimum.  They're easy, healthful, and so many rely on pantry staples, like this Lemony Chickpea Soup I developed for Clean Eating Magazine a few years ago. So flavorful, super rich texture, and loaded with fiber and protein!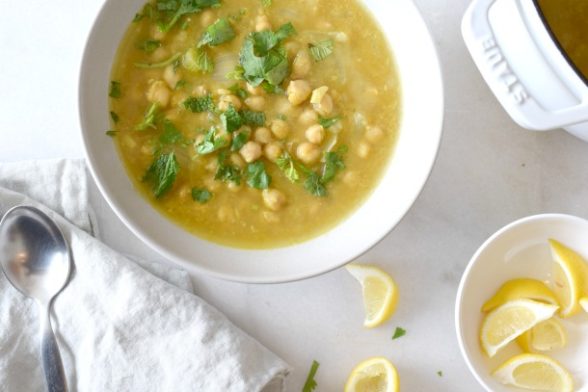 I am a huge legume fan, as well.  Legumes are full of protein and fiber, low in fat, and they're dirt cheap.  Legumes are also really versatile.  (Have you seen the White Bean Tahini Blondie recipe from my cookbook?)  In this soup, chickpeas are pureed into a smooth a creamy base so  you don't need heavy cream or anything like that.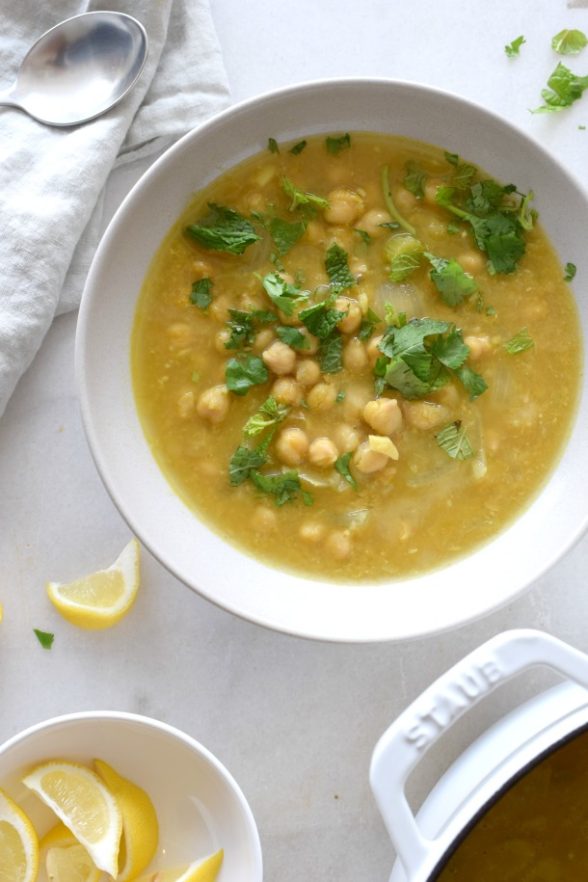 I am barely keeping my head above water this week, so today's post is going to be quick, just like this soup ;).  Don't skip all the great anti-inflammatory spices or the the squeeze of lemon or the fresh herbs at the end.  I mean, Mr. Picky won't permit green leaves floating in his soup, but he'll eat three bowls of this without them.  That's a fair deal in my book!

Lemony Chickpea Soup Recipe
Ingredients
2 Tablespoons unrefined, cold pressed extra virgin olive oil
1 onion, chopped
2 stalks celery, sliced
6 cloves garlic, finely chopped
1 teaspoon ground cumin
1 teaspoon ground coriander
¼ teaspoon ground turmeric
⅛ teaspoon cayenne pepper or more to taste
6 cups cooked chickpeas (or 4 15-ounce cans, drained and rinsed)
6 cups chicken or vegetable stock, preferably homemade
1 teaspoon sea salt, double if using unsalted stock
freshly ground black pepper to taste
2 lemons, cut into thirds
1 ½ cups mixed herbs, roughly chopped or whole leaves (I like a combo of parsley, cilantro, dill and mint)
Instructions
In a large pot, heat the olive oil over medium heat. Add the onion, celery and garlic and sauté until tender, about 6-8 minutes. Add the spices and stir until fragrant.
Add the cooked chickpeas and toss to coat with the onion and spices. Add in the stock, salt, and pepper and bring to a boil. Reduce to a simmer and cook for 10-15 minutes.
Puree a cup or two of the soup in a blender and stir back into the pot, or blend directly in the pot using an immersion blender. Taste for seasoning.
Divide the soup amongst 6 bowls, drizzle each with the juice of ⅓ lemon and top with ¼ cup mixed herbs.