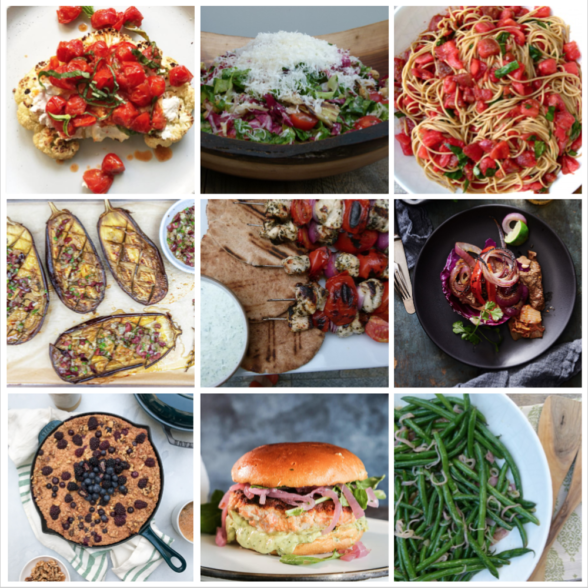 Hello, Friends.  This has been an emotional week.  I needed to go inward for a few days and start my process of learning.  Thank you to those of you who have stuck with me.  I value all the members of my community and I am hopeful for the future.
I am eager to make my own personal progress, but I am also still your teacher and supporter in all things cooking and wellness!  I just filmed a new online cooking class for my monthly students.  We will be editing over the weekend and posting in a few days.  If you love learning from me on Instagram Live everyday, I highly recommend joining my online classes.  I am not teaching just a bunch of recipes every month.  I go deep into so many things from nutrition to products to techniques and ways to adapt recipes.  Click here to learn more.
ALSO, I have taught two 4-week courses/bootcamps recently and the feedback has been incredible.  I am finishing my last week of my "Entertaining with Ease" Bootcamp and I have been asked to open it up to a new group.  I am excited to announce that I have opened the cart for sign-ups and this course will start this Thursday!!!  It is a game-changing class if you want to entertain at home AND enjoy yourself.  The class is live every week, but can be watched anytime through a video link, so attending live is not a requirement.  Click here to learn more about the course and use code EWE100 to receive $100 off the regular price!
Here's your dinner planner for the week:
Meatless Monday: Cauliflower Steaks Caprese , arugula salad with pine nuts, radishes and everyday salad dressing #1 (load up your salad with more, if you need it – quinoa, cooked farro, feta or vegan cheese and/or add to the cauliflower steaks)
Tuesday: vegetarian chopped antipasto salad served with grilled chicken or your choice of protein (you don't really need any more protein since the salad has chickpeas and parmesan)
Wednesday: Pasta Alla Checca with pasta or spaghetti squash, grilled shrimp (squeeze a little lemon and drizzle with olive oil plus salt and pepper before grilling), roasted eggplant
Thursday: chicken souvlaki, with tzatziki (or do a tahini sauce for dairy-free), pita or rice or cauliflower rice if you need more, grilled zucchini
Friday: Korean Beef Fajitas (p. 239) from Quicker than Quick, served with tortillas or lettuce leaves, cilantro-lime slaw
Saturday brunch: Baked mixed berry oatmeal
Sunday: Salmon burgers, honey-lemon green beans (I'll also serve with toppings for the burgers like avocado, caramelized onions
Here's what you can do ahead if you need to:
Sunday:
Cut cauliflower steaks
Make salad dressings
Wednesday:
Make tzatziki
Friday:
Assemble mixed berry oatmeal up until step 4
My new cookbook, Quicker Than Quick, is here!  I have LOVED seeing all your creations of my recipes on Instagram. If you make any of my recipes, please tag me @pamelasalzman #pamelasalzman so I can check them out!  If you have 1 minute, would you mind leaving a review on amazon?  I would be so grateful, thank you!
Click here to learn more about my online cooking classes! Through the end of quarantine, choose any cooking class in the library for $10 with the code SINGLE10 and a subscription for future classes for $17  (normally $27/mo.) with the code CLASSES17.
Take a peek at my first cookbook "Kitchen Matters"!