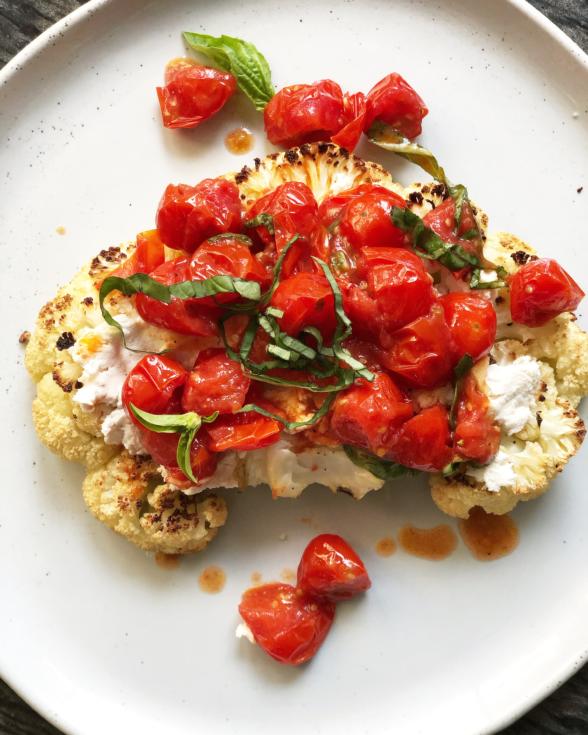 I made this recipe up on a whim last week and posted rough instructions on my Instagram, but I received too many DM's requesting an exact recipe, so I decided to post here.  In a nutshell, you roast cauliflower steaks and top them with ricotta (in this case I used Kite Hill vegan almond milk ricotta) and sautéed cherry tomatoes, garlic and basil.  But you could also top the roasted steaks with tomato sauce and mozzarella and it could be like a "Cauliflower Steak Pizza."  Add ricotta to the Pizza and you get "Cauliflower Steak Lasagna."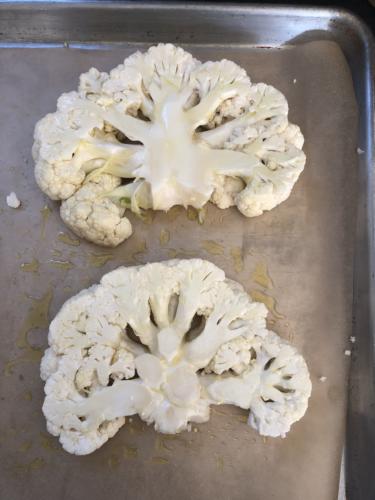 In my opinion, cauliflower can do no wrong.  It is hands-down my favorite vegetable, SO NUTRITIOUS, and can morph into so many things – rice, alfredo sauce, mashed potatoes, and so on.  I got lucky when Mr. Picky told me it is his favorite vegetable (so long as it's roasted only with oil, salt and pepper …. "Mom, just plain.")  I threw him for a loop when I served roasted cauliflower as a "steak."  He looked a little confused as to why it wasn't cut up into florets.  I told him I was too tired to chop, and he nodded in sympathy.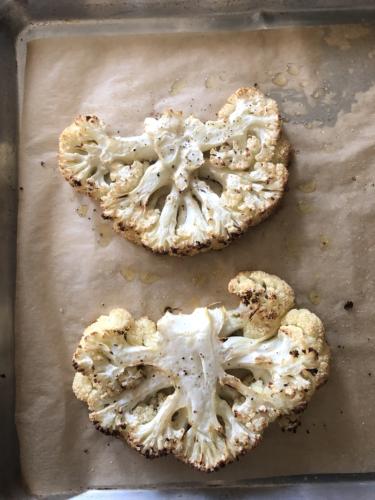 That said, he did not go for the ricotta situation because the kid just doesn't like dairy or faux dairy (served here via Kite Hill almond milk ricotta.)  No problem.  Plain, mom-was-tired cauliflower with sautéed tomatoes on the side.  Honestly, sometimes I am just not super hungry at dinner time because I eat such a big lunch at my classes every day, that this could be a great default meal for me if I am making something more substantial for my family.  Roasted cauliflower steaks could not be easier and can take on any sauce you can think of – pesto, romesco, chimichurri, salsa verde, tahini, salad dressing, tomato sauce, and so on.  The key is to cut the cauliflower exactly through the center of the core and then alongside of the core to create the steak.  You'll get two steaks and lots of florets.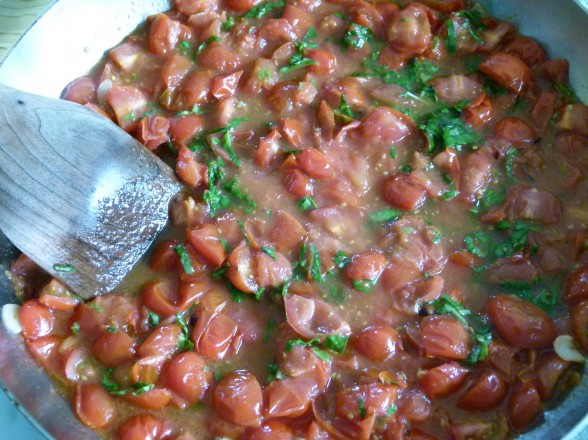 I just spotted the first farmers market tomatoes last week and I am pretty excited.  This cherry tomato saute is one of my staple backpocket summer recipes.  It's a no-brainer for pasta and spaghetti squash, but equally good on grilled chicken and fish, and (obviously) grilled bread.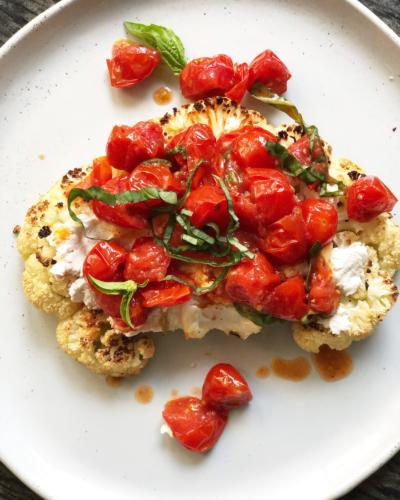 Like I always say, take this recipe and run with it.  Lots of ways to tweak this and it can be just as wonderful on a weeknight as for a dinner party.  Can you imagine a big platter of cauliflower steaks with all this tomato goodness all over the place???  It's going to be a good summer.
I have LOVED seeing all your creations of my recipes on Instagram. If you make any of my recipes, please tag me @pamelasalzman #pamelasalzman so I can check them out!
Click here to learn more about my online cooking classes! If you like my recipes, you'll LOVE my cookbook!  If you have 1 minute, would you mind leaving a review on amazon?  I would be so grateful, thank you!
Shop the tools for this recipe by clicking on the images below:

Cauliflower Steaks Caprese
Ingredients
For the cauliflower steaks:
3 small-medium heads cauliflower, preferably ones with tight clusters of florets
Unrefined, cold-pressed, extra-virgin olive oil or coconut oil for brushing cauliflower
Sea salt and freshly ground black pepper to taste
For the tomatoes:
¼ cup cold-pressed extra-virgin olive oil
4 cloves of garlic, thinly sliced
pinch of crushed red pepper flakes (optional)
2 pounds cherry tomatoes (about 2 ½ -3 pints), stemmed and halved
Sea salt and freshly ground black pepper to taste
¼ cup basil leaves
1½ cups ricotta, dairy or vegan
Instructions
Preheat the oven to 400 degrees. Line a large baking sheet(s) with unbleached parchment paper.
Prepare the cauliflower steaks: Trim away the big outer leaves from the cauliflower and trim the bottom stem end. With the stem end facing up, cut through straight through the middle of the core. Make a cut on the rounded side on each half that isn't cut, keeping the core intact, giving you two "steaks" with flat sides. Reserve the florets that were cut off for another time. I get 2 "steaks" from each head of cauliflower.
Arrange the cauliflower steaks on prepared baking sheet(s). Brush both sides of the steaks with olive oil and sprinkle one side with sea salt and freshly ground black pepper. Bake for 25-30 minutes, until tender and golden, flipping over halfway if necessary. To ensure the cauliflower is tender throughout, use a pairing knife to pierce the center core of the steak. It should go in easily without any resistance.
In the meantime, prepare the tomatoes. Heat the oil in a large sauté pan over medium low heat. Add the sliced garlic and red pepper flakes and swirl over medium until fragrant. When the garlic just starts to turn golden around the edges, increase the heat to medium and add tomatoes and 2 big pinches of salt plus pepper to taste. Cook tomatoes, stirring, until they start to lose their shape, about 5 minutes. Check seasoning and remove from heat. Tear or slice basil leaves and stir into tomato mixture.
Spread ¼ cup of ricotta on each cauliflower steak. You can either put the baking sheet back in the oven to warm through the ricotta or serve immediately with the tomato mixture spooned on top.