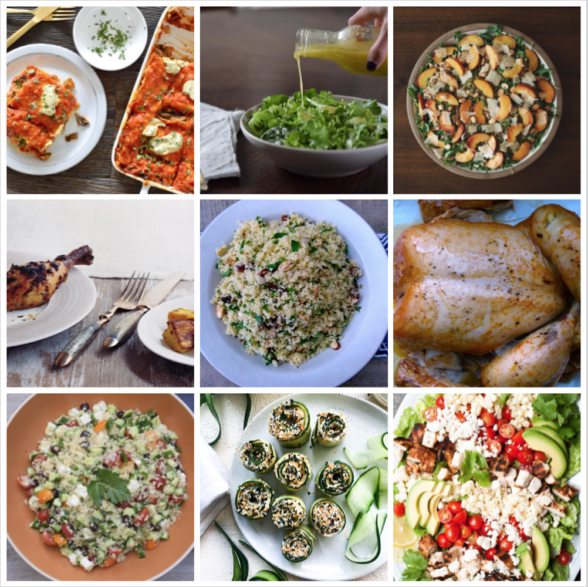 I don't think I realized that March 11th was going to be the last in-person cooking class that I would likely teach in 2020.  I also never thought I would film Episode 75 of Quarantine Cooking on my Instagram (which I just did on Friday.)  Wow.
My daughter Anna is back home after her virtual graduation from college.  Not the graduation we all envisioned of course, but we are very proud of her accomplishments and know that life doesn't always go according to plan.  My mantra of  "Love and Compassion" helps me get through all the tough times, and there are many right now in this country including real life injustice and racism.  I try to live my life and teach my children to make all choices from a place of love and compassion.  Remember that our actions at home are everything.  Praying for healing, justice and more love.  Here's your dinner planner for the week:
Meatless Monday: Hearty vegan vegetable lasagna, green salad (if you haven't made this lasagna, you are truly missing out)
Tuesday: Arugula and Farro Salad with Peaches, other stone fruit works too! I usually eat this as a meal, but a little shrimp or a simple piece of fish is a nice addition.
Wednesday: Tandoori Chicken (I'll make this with breasts and drumsticks), apricot couscous (or plain steamed couscous), sautéed greens like spinach or chard
Thursday: Zucchini-leek soup from Quicker than Quick, corn muffins and a slice of manchego or Violife vegan feta
Friday: Mediterranean quinoa salad, slow cooker whole roasted chicken
Saturday brunch: Cucumber-hummus turkey roll ups + fresh fruit
Sunday: Mexican Cobb Salad, add in some quesadillas if you need more or sometimes I take refried beans from a (BPA-free) can and smear them on a tortilla with salsa and cook like a quesadilla (add some leftover cooked veggies if you have any)
Here's what you can do ahead if you need to:
Sunday:
Make tomato sauce, cauliflower filling, and roasted vegetables for lasagne
Make salad dressings
Thursday:
Cook quinoa
My new cookbook, Quicker Than Quick, is here!  I have LOVED seeing all your creations of my recipes on Instagram. If you make any of my recipes, please tag me @pamelasalzman #pamelasalzman so I can check them out!  If you have 1 minute, would you mind leaving a review on amazon?  I would be so grateful, thank you!
Click here to learn more about my online cooking classes! Through the end of quarantine, choose any cooking class in the library for $10 with the code SINGLE10 and a subscription for future classes for $17  (normally $27/mo.) with the code CLASSES17.
Take a peek at my first cookbook "Kitchen Matters"!