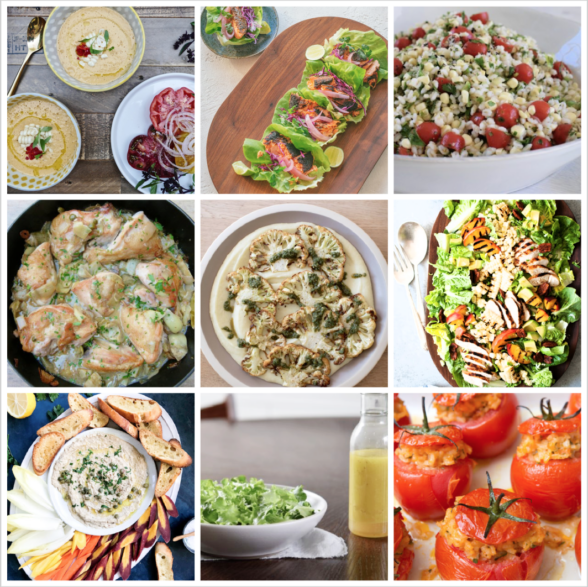 Bootcamps are back and if you haven't taken one with me, I am repeating my two most popular bootcamps this week and these will not be offered again this year!! I have received rave reviews from Plant Based 1.0 and Meal Planning/Meal Prep/Batch Cooking.  I am teaching skills for life.  I am changing the way you see things.  I am your personal kitchen coach for 4 weeks.  Click the links for more info and for my website subscribers, I am sweetening the offer with a $100 discount.  Use the code PB100 for the Plant Based course and MEAL100 for the Meal Planning course!  Here's your dinner planner for the week:
Meatless Monday: Sweet Summer Corn Gazpacho from ElissaGoodman.com; depending on how hungry we are, I'll serve a mixed green salad with chickpeas or another protein or a caprese salad.
Tuesday: barley and corn tabbouleh, blackened wild salmon tacos (I'm going to skip the tortilla and top the tabbouleh with the blackened salmon.)
Wednesday: Baked chicken with artichokes and capers, steamed rice (This is a great dish at room temp if you don't want to eat hot food. You can serve it with grilled bread or room temp cooked grains or riced cauliflower.)
Thursday: Cauliflower steaks with cauliflower puree and mint pesto, roasted asparagus (drizzle with olive oil and salt and pepper and roast at 400 degrees for 12 mins, or until tender) Not a lot of protein here, so if you need some extra, the Garlic Shrimp from QTQ would be perfection.
Friday: Grilled summer salad with chicken and spicy cashew dressing(I've made this without the chicken many times.  Swap in crispy tofu, cooked white beans or frozen/defrosted peas.)
Saturday brunch: easy tuna dip spread on freshly toasted whole grain or gluten-free bread (more delicious than it looks, I swear!)
Sunday: risotto stuffed tomatoes, green salad with olives, roasted red peppers, pepperoncini, pickled onions, and everyday salad dressing #2
Here's what you can do in advance if it helps you:
Sunday:
Make corn gazpacho
Cook barley
Make spice rub for salmon
Make mint pesto
Monday:
Make tabbouleh
Wash greens
Tuesday:
Salt chicken
Wednesday:
Make salad dressings
Cut cauliflower into steaks and reserve florets for puree
I have LOVED seeing all your creations of my recipes on Instagram. If you make any of my recipes, please tag me @pamelasalzman #pamelasalzman so I can check them out!
My cookbook, Quicker Than Quick, is discounted for the first time on Amazon!  If you have 1 minute, would you mind leaving a review on amazon?  I would be so grateful, thank you!
Take a peek at my first cookbook "Kitchen Matters"!