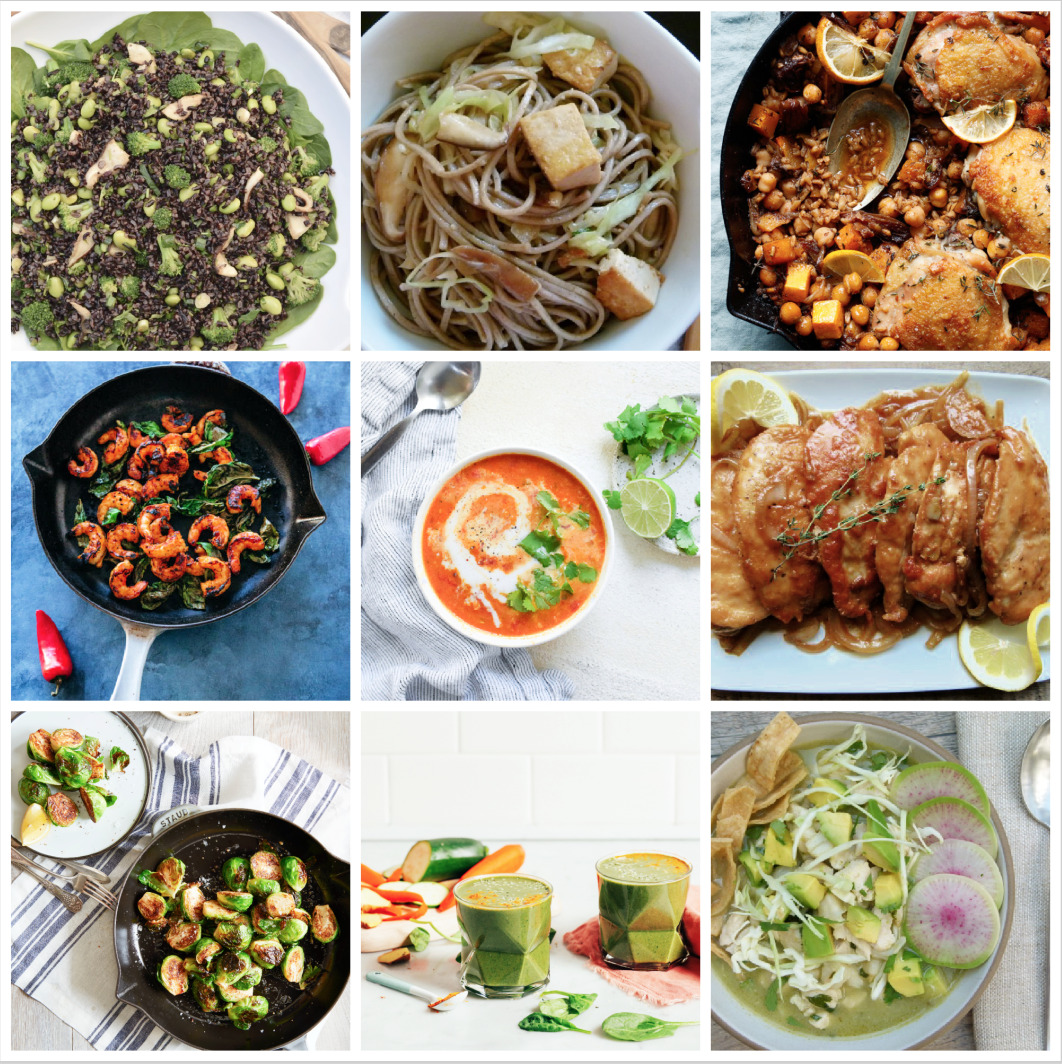 I am finally back in town after being away for over two weeks and the thing I missed most of all was my KITCHEN. What I missed second to most was my way of eating. I am actually tired of overeating. Pasta, bread, and desserts have lost their appeal for the time being. I need a salad for lunch and a bowl of soup for dinner for a week straight please. I am also looking to get back to finishing dinner at an early hour, like 6:30. I sleep better and my digestion is happier! In other news, my new January cooking class is UP. Reminder, I have no plans to return to in-person cooking classes, so this is it! My monthly classes are great – 1 video with 5 all-new recipes (which I do not publish for at least a year) peppered with product advice, techniques, substitution suggestions, and nutrition information. Plus I offer live "office hours" every month for additional support. There are two ways to participate – $29 for the class + access to the entire library of classes or $25 for the single class. Join me and I'll make you a better, healthier cook! Here's your dinner planner for the week:
Meatless Monday: Black rice salad with edamame and stir fried tofu (check this recipe for the tofu). You could also add any leftover animal protein from another night.
Tuesday: One Pan Chicken and Farro with Butternut Squash, Chickpeas, and Dates from Amanda Frederickson, fresh green salad with everyday salad dressing #2
Wednesday: Shrimp and basil stir fry, roasted veggies, served with steamed white or brown rice or a riced veggie like cauliflower or broccoli stems
Thursday: Curried lentil, tomato and coconut soup
Friday: Lemon-thyme chicken, crispy stovetop Brussels sprouts (p.106) from KM
Saturday brunch: This Warming Winter Smoothie from The Minimalist Baker
Sunday: Chicken posole verde with radish, cabbage and avocado garnishes (You can also serve this with tortilla chips. We are fine eating just this, but a quesadilla or salad is a nice accompaniment if you need something more.)
Here's what you can do in advance if it helps you:
Sunday:
Make salad dressings
Wash greens
Cook black rice
Monday:
Cut butternut squash
Tuesday:
Make shrimp marinade
Friday:
Make tomatillo sauce for posole
I have LOVED seeing all your creations of my recipes on Instagram. If you make any of my recipes, please tag me @pamelasalzman #pamelasalzman so I can check them out! I have a free Monday newsletter with my thoughts, new recipes, and things I'm loving lately. Subscribe here!
Order my cookbook, Quicker Than Quick! If you have 1 minute, would you mind leaving a review on amazon? I would be so grateful, thank you! Take a peek at my first cookbook "Kitchen Matters"!