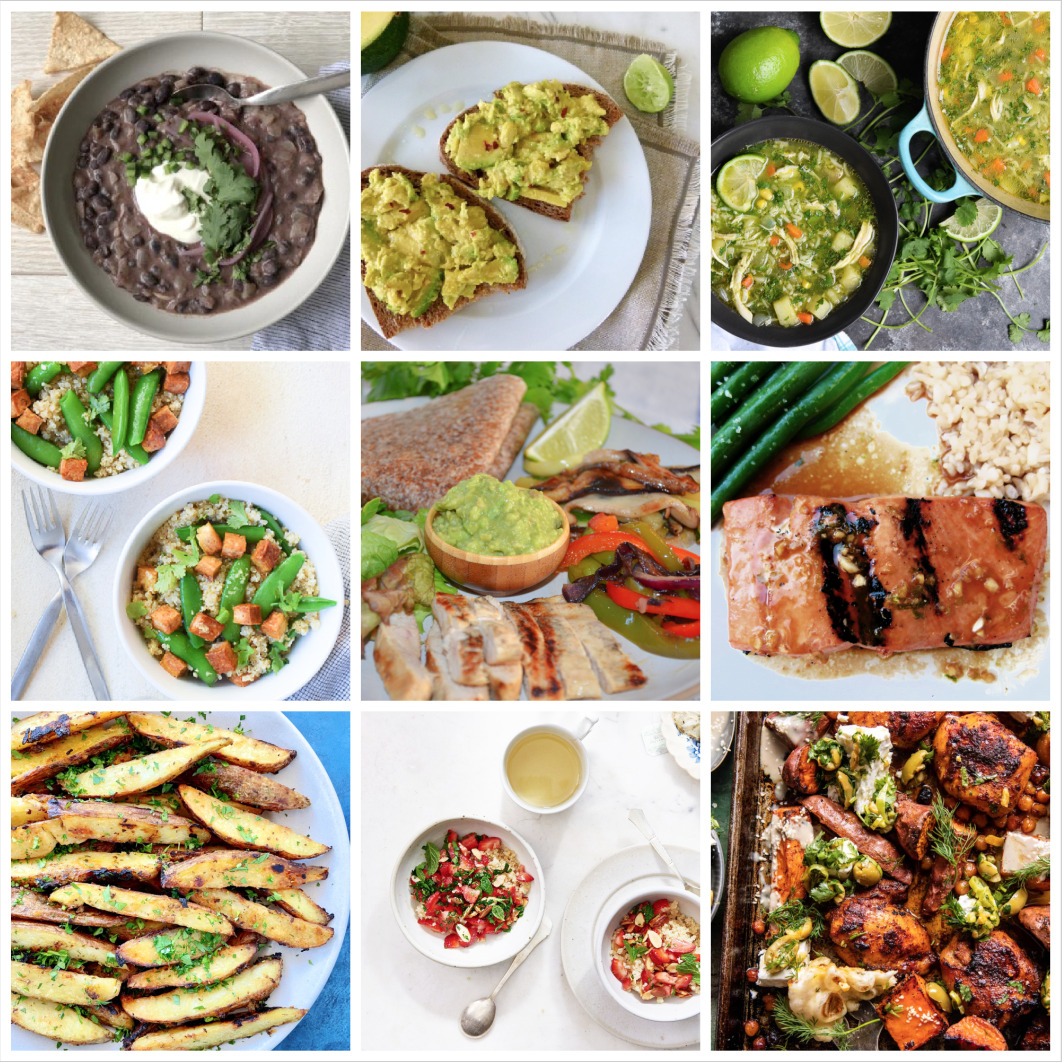 The unseasonable cold temps and rain in Southern California has had us all talking nonstop about the weather. NON. STOP. I will not be following this dinner planner this week. Instead, Hubs and I decided we will be having soup every single night!! If you take my online monthly cooking class, it is being uploaded on March 1. The menu is perfect for Easter AND Passover!! Here's your dinner planner for the week:
Meatless Monday: Creamy black bean soup, avocado toast or sweet potato toast
Tuesday: Yerba Mate chicken and cilantro soup (you can also make this with chicken stock and not brewed tea)
Wednesday: Sugar snap pea and quinoa salad with tofu (we'll see how hungry Hubs and I are– I can always supplement with a quick chopped salad or roasted cauliflower with tahini sauce.)
Thursday: chicken and veggie fajitas (mushrooms, zucchini, bell peppers, and/or onions), guacamole
Friday: Lime-Soy fish, sautéed asparagus, lemony greek potatoes
Saturday brunch: strawberry mint tabbouleh p. 31 from QTQ
Sunday: sheet pan curry butter chicken with sweet potatoes and tahini from half baked harvest, fresh green salad
Here's what you can do ahead if it helps you:
Sunday:
Make stock
Cook black beans if making from scratch
Make dressings
Tuesday:
Cook quinoa + cook extra for Saturday
Wednesday:
Marinate chicken for fajitas
Thursday:
Marinate potatoes
Make marinade for fish
Friday:
Wash strawberries
I have LOVED seeing all your creations of my recipes on Instagram. If you make any of my recipes, please tag me @pamelasalzman #pamelasalzman so I can check them out! I have a free Monday newsletter with my thoughts, new recipes, and things I'm loving lately. Subscribe here!
Order my cookbook, Quicker Than Quick! If you have 1 minute, would you mind leaving a review on amazon? I would be so grateful, thank you! Take a peek at my first cookbook "Kitchen Matters"!