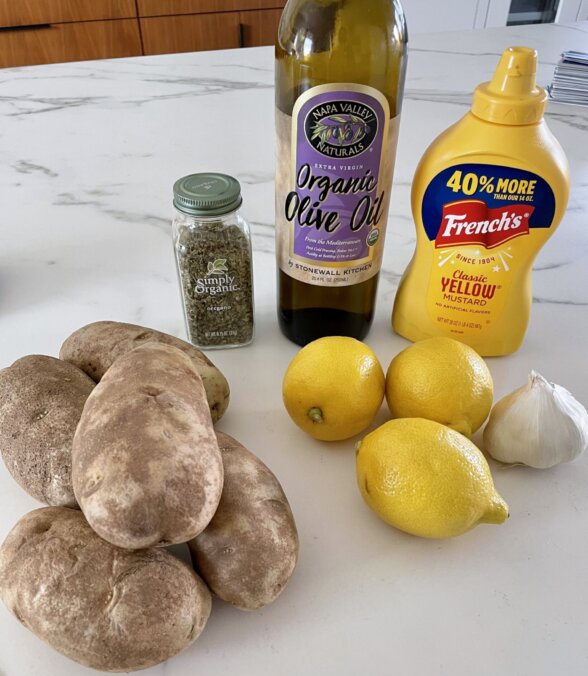 If you follow me on Instagram, you probably saw that I was using a continuous glucose monitor for 14 days through a company called Zoe. This is not sponsored; I was just doing an experiment and I wanted to see what types of foods, in what combinations, and when, had what kind of effects on my blood sugar.  This is a post about the most delicious potatoes I have eaten in a long while, not really about continuous glucose monitors.  BUT, I have been interested in "resistant starch," and how it affects blood sugar and that does relate to this type of recipe.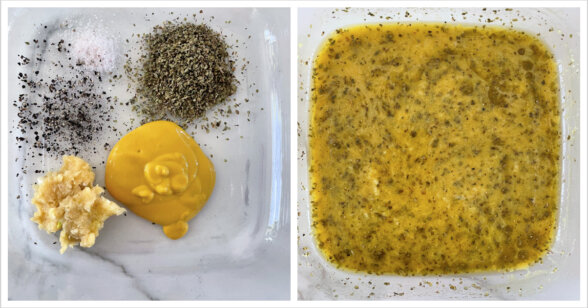 Resistant starch is created (or can already exist) in some starchy foods when that food is cooked and cooled.  Some of the starch, for example in potatoes, becomes "resistant" to metabolism and that food will not spike your blood sugar as much as the same food freshly cooked and hot.  So interesting!!  In this recipe, the potatoes are first cooked and marinated overnight in the fridge in the most addictive lemon-mustard-garlic mixture.  Even if you reheat said starchy food, it will not have the same amount of glucose-impacting starch as freshly cooked and hot.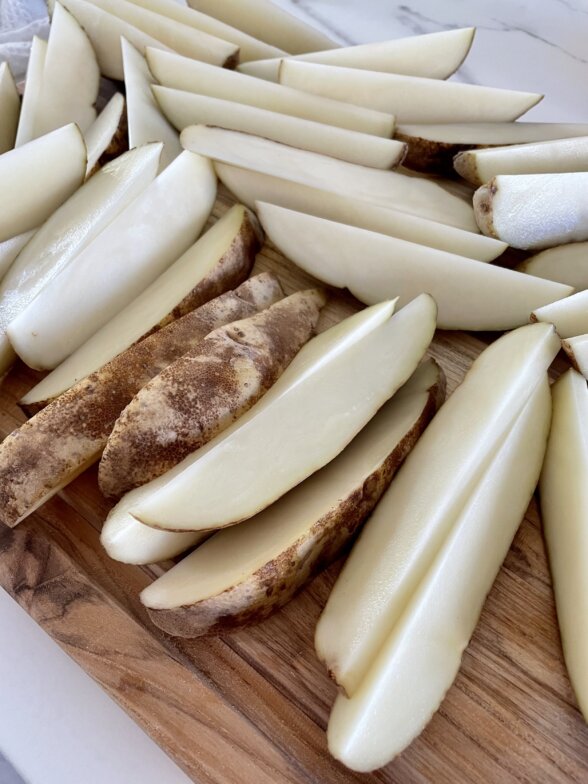 You can even go further by blunting the glycemic impact by adding lemon (also in this recipe), vinegar, and/or broccoli.  I am a big fan of Dr. Greger's work and he recently published a video about specifically potatoes and resistant starch, but you can lower the glycemic impact of many starchy foods this way. Something to look into!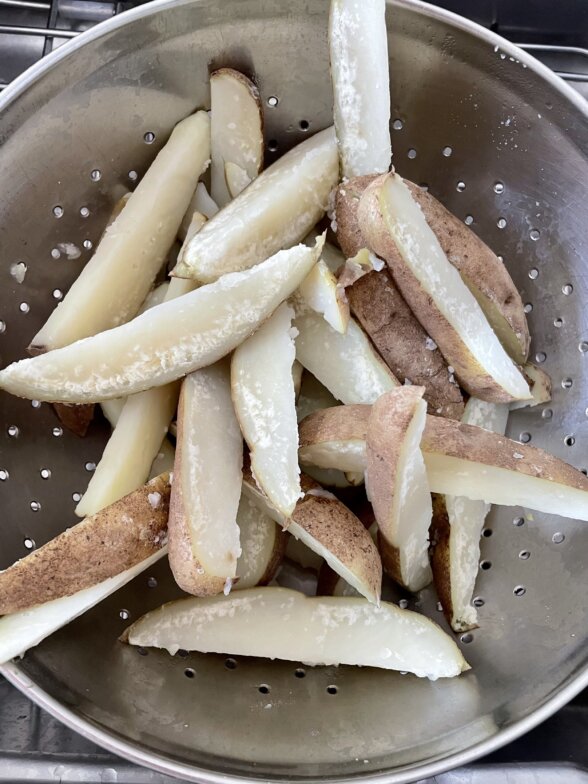 Another tip for you is adding baking soda to the cooking water when you first boil the potatoes to breakdown the exterior a bit and create a starchy slurry that then leads to lots of crispy bits when you roast them!  Let's make these potatoes!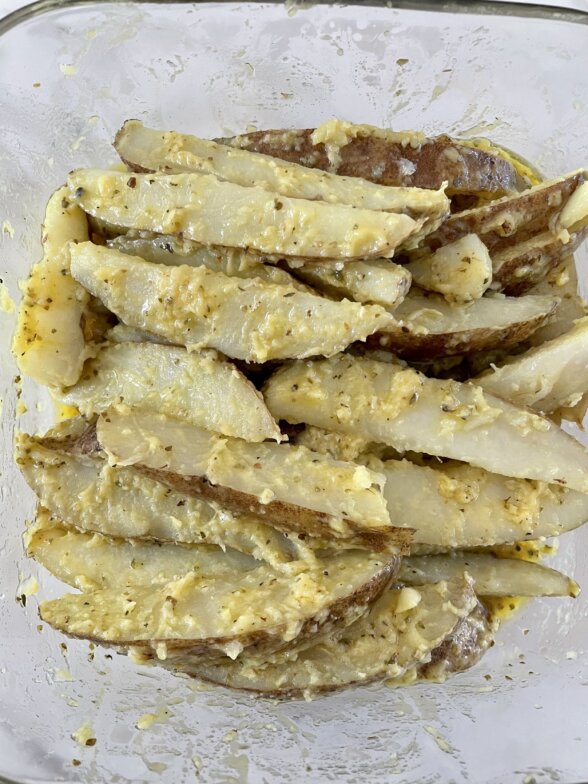 Here's a preview of what you do:
Boil cut potatoes in water and baking soda
Marinate pre-cooked, drained potatoes in this heavenly lemon-mustard-garlic-olive oil mixture 
After 12 hours or overnight, roast until super crisp and tender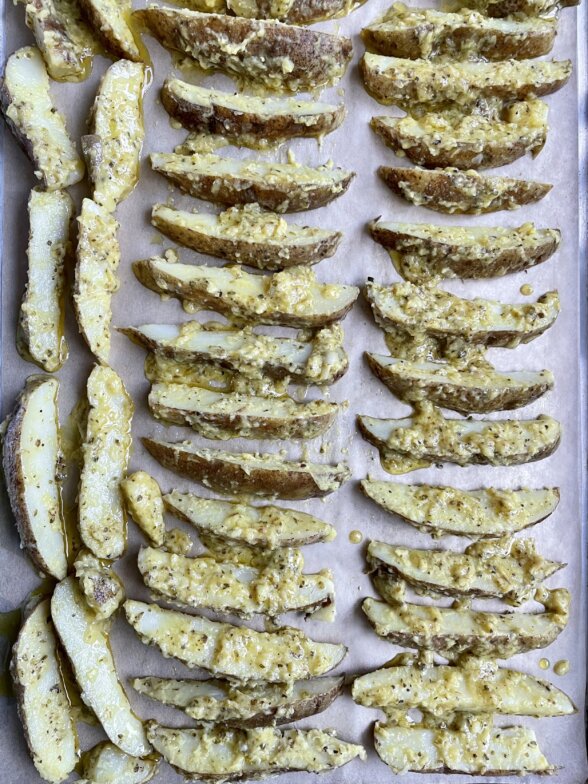 The ingredients you need are:
Russet potatoes but feel free to use your favorite potatoes like Yukon Gold
Baking soda pretty key in breakdown the exterior to "rough" it up
Kosher salt what I use in cooking liquid or anything that will get thrown away. I like an additive-free kosher salt like Diamond Crystal.
Dried oregano you can skip it if you like but I love dried oregano with garlic and lemon and potatoes
Garlic I used fresh garlic here, but I think 1/3 the amount of granulated garlic would work too.
Yellow mustard Hubs and my son love French's yellow mustard and any brand of yellow mustard would be fine but other types of mustard would be too strong, I think.
Lemon juice fresh juice only please, not bottled; the flavor just isn't the same. Lemon and potatoes are BFF's!
Olive oil I'm a huge olive oil fan, and use a good unrefined oil, but avocado oil is also fine if that's what you have.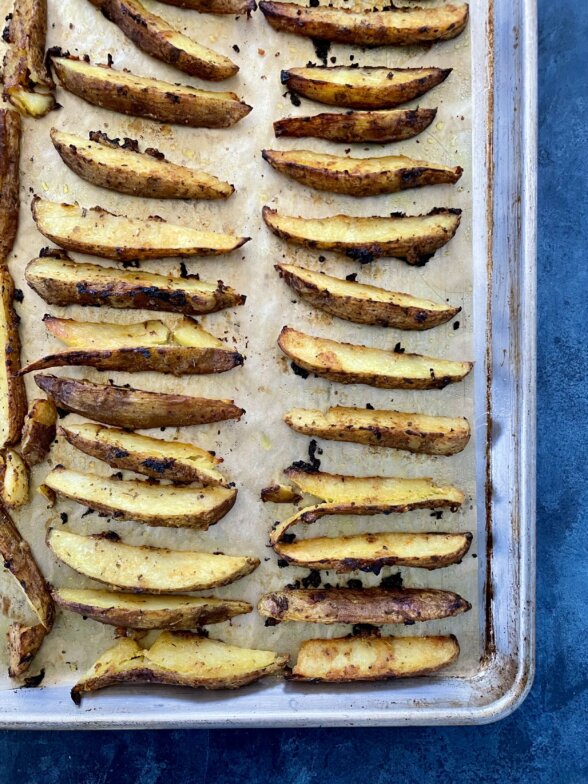 Tips:
Marinate as long as you can, even 24 hours.  It breaks up the work too!
Roast on parchment paper – you'll save all the crispy bits, avoid messy clean up and the lemon won't react with your aluminum pan.
Roast longer if you want to maximize crispiness but keep your eye on the pan so you don't burn the potatoes.
Serve them with anything basic like chicken, lamb, fish, lentils, or part of a Nicoise platter.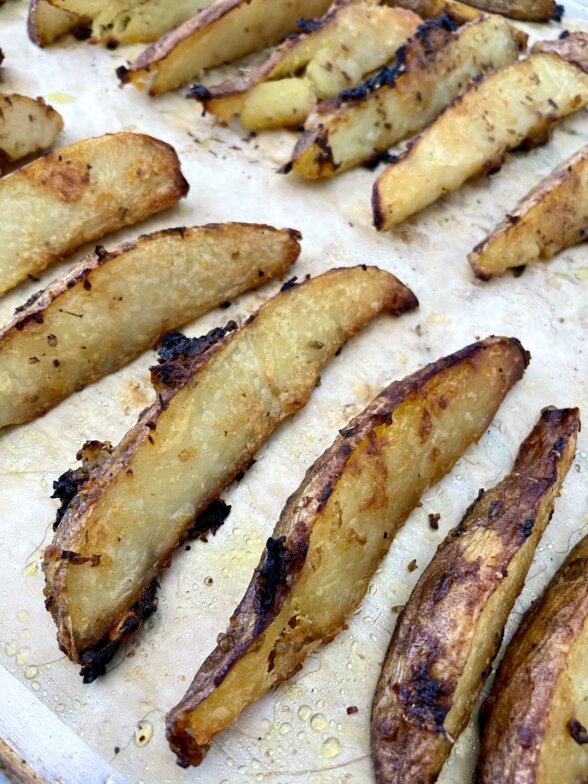 These are perfect for entertaining because you can do a lot ahead of time and you can time the recipe in the oven.  They are also perfect for Easter and Passover, which are quite late this year (April 17th and 15th, respectively) but it's never too soon to start planning!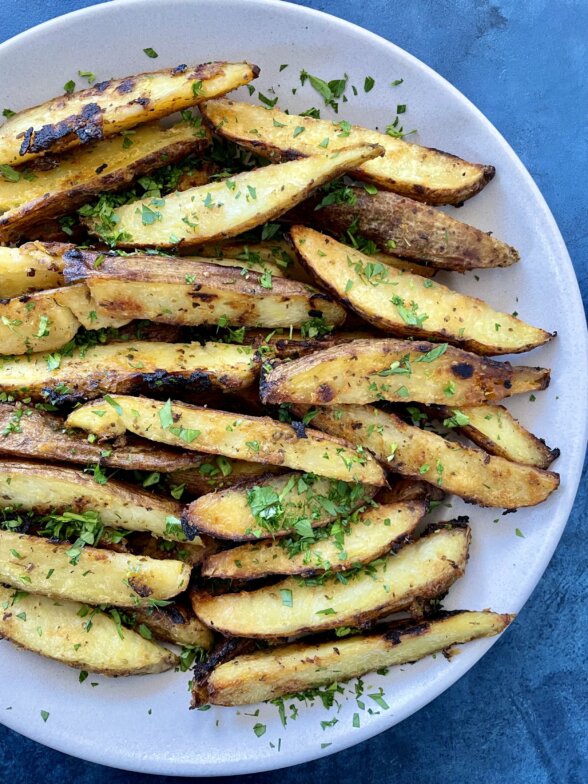 As always, if you make any of my recipes, please tag me @pamelasalzman #pamelasalzman so I can see them.  It makes my day to see your beautiful creations!

Lemony Greek Potatoes
Author:
Pamela, slightly adapted from Erin Ireland
Ingredients
2¼ - 2½ pounds Russet potatoes, peeled or unpeeled (why peel away the fiber and nutrients?)
1 Tablespoon baking soda
1 Tablespoon kosher salt
Marinade:
½ teaspoon sea salt
Freshly ground black pepper
1 Tablespoon dried oregano
2 Tablespoons minced garlic, about 6 large garlic cloves
2 Tablespoons yellow mustard
⅓ cup freshly squeezed lemon juice
½ cup unrefined, cold-pressed extra-virgin olive oil
Instructions
Cut potatoes into lengthwise wedges. If some potatoes are extra thick, you may want to cut each quarter in half. Or cut them however you like! The thicker the pieces, the longer, the pre-boil time in Step 2.
Bring a large pot of water to a boil, add the potatoes, baking soda, and salt. Allow to come back to a boil, reduce heat to gentle boil and cook until just fork tender, 7-10 minutes. Drain potatoes in a colander. Set them aside while you prepare the marinade.
In a large bowl, whisk together all marinade ingredients. Carefully stir in the potatoes and toss them around until each piece is fully coated. I like to do this with my hands and gloves (unless they are cool enough to handle without gloves.) If you have time, cover and place in the fridge overnight. If you can, give them a stir halfway through the marinade time to allow all pieces to absorb the marinade. You can get away with a very short marinade (30-60 min.) but the longer they marinate, the more flavorful they will be.
Preheat the oven to 450 F degrees. Line a large baking sheet with unbleached parchment paper. Arrange potatoes on the baking sheet in an even layer (feel free to spoon extra marinade over the potatoes). Bake until crispy, about 45 minutes (I like to flip them after 30 minutes to crisp both sides).
Notes
Baking soda creates a higher pH (more alkaline) in the cooking water. Alkaline water breaks down the potatoes' surfaces, creating tons of the starchy slurry that leads to an extra-crisp exterior.