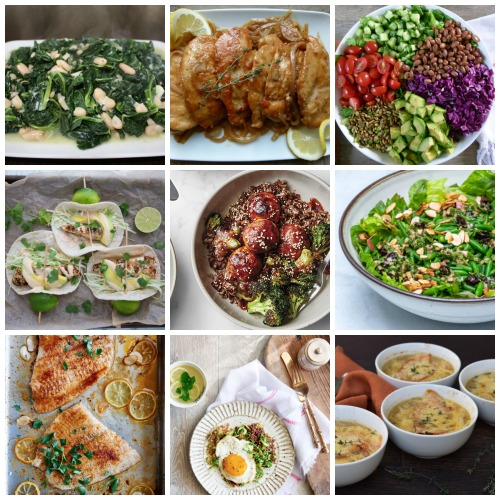 It's Modernism Week in Palm Springs – my husband's favorite week of the year.  So Mr. Picky and I are accompanying him for the long weekend.  My son has been going to house tours, lectures, and vintage shopping with us in the desert for the past 6 years.  He's such a trooper.  The weather seems to be good this weekend, so we'll have a great time, I'm sure.
Online cooking class students, your class has been uploaded if you didn't see the email or Facebook post.  I've been getting photos already of chocolate-hazelnut cookies and cod "acqua pazza."  Love, love, love it all!
Valentine's Day just happened and although I usually (when we're in town) make a nice meal for my family, it's just a silly day, in my opinion.  Every day should be about love – love for each other and ourselves.  Decisions made from a place of love result in better actions.  Here's your dinner planner for the week:
Meatless Monday: Braised beans and greens (this is such an underrated recipe — I absolutely love it!), cauliflower mashed potatoes
Tuesday: Lemon-thyme chicken cutlets (one of my OG recipes that I still make on the regular), green salad with roasted beets, orange segments and Everyday Salad Dressing #2  (click here for how to roast beets)
Wednesday: Fish tacos, chopped salad with Mexican dressing (lettuce, radishes, red cabbage, toasted pepitas) Broil the fish if you can't grill.
Thursday: Sheet pan chicken meatballs and charred broccoli from bon appetit, with brown rice or cauli-rice, sautéed beet greens or kale
Friday: Mixed green salad with green beans, almonds and dried cherry vinaigrette, simple broiled filet of sole or flounder
Saturday brunch: Brussel sprout and quinoa hash with fried eggs (p. 61) from my book
Sunday: French onion soup
Here's what you can do ahead if you need to:
Sunday:
Wash all vegetables and herbs
Make salad dressings
Make stock
Soak and cook beans or use canned
Cut cauliflower into florets
Roast beets (save the green tops for Thursday)
Wednesday:
Make meatball mixture
Thursday:
Blanch green beans
Friday:
Make quinoa
I have LOVED seeing all your creations of my recipes on Instagram. If you make any of my recipes, please tag me @pamelasalzman #pamelasalzman so I can check them out!
Click here to learn more about my online cooking classes! If you like my recipes, you'll LOVE my cookbook "Kitchen Matters"!  If you have 1 minute, would you mind leaving a review on amazon?  I would be so grateful, thank you!  My new cookbook, Quicker Than Quick, is available for pre-order!