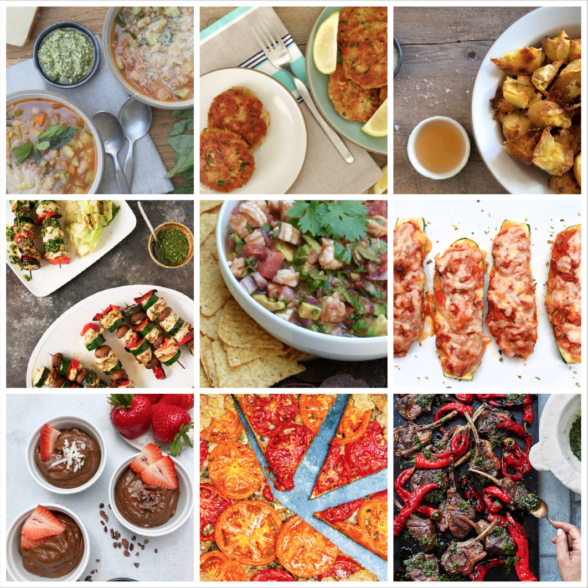 I just arrived in Boston to help my daughter Anna move into her new apartment!  Many of my Instagram friends have gotten to know Anna over the last year+ because she has been my right hand during so many IG lives.  Exciting times for her to start her new job and her new life.  A little sad for Mom of course!  I'll be back for my regular IG live on Monday though.
I have been chatting with my monthly online cooking class students and I think I am going to switch our format to the bootcamp format where I watch the pre-recorded class with you and answer questions in the chat in real time as well as have a live Q&A after class.  Click here for more information about my monthly online classes.  It's 5 new recipes every month (and all the tips and techniques) that I keep exclusive for 1 year!  Here's your dinner planner for the week:
Meatless Monday: Late summer minestrone
Tuesday: tuna patties, salt and vinegar potatoes, green salad
Wednesday: chicken and vegetable kabobs with chimichurri sauce, grilled caesar-ish romaine salads
Thursday: Shrimp salsa served over rice, with a side of your favorite seasonal grilled or roasted veggies
Friday: Stuffed zucchini boats with ground turkey or tempeh added to mixture – start with this in step 4, chopped green salad with romaine, radicchio, pepperoncini, cherry tomatoes
Saturday brunch: avocado chocolate pudding topped with hemp seeds, berries and coconut flakes
Sunday: Rustic Heirloom Tomato Tart with Gluten-Free Crust and Grilled Lamb Chops and Peppers from bon appetit
Here's what you can do in advance if it helps you:
Sunday:
Make stock, if using homemade. You can make the minestrone soup a day in advance or chop all your veggies in advance and make the day of.
Wash greens
Make salad dressings
Make chimichurri sauce
Monday:
Assemble tuna patties
Tuesday:
Assemble kabobs
Friday:
Make avocado chocolate pudding if you like to eat it cold
Saturday:
Make pie dough
I have LOVED seeing all your creations of my recipes on Instagram. If you make any of my recipes, please tag me @pamelasalzman #pamelasalzman so I can check them out!
My cookbook, Quicker Than Quick, is discounted for the first time on Amazon!  If you have 1 minute, would you mind leaving a review on amazon?  I would be so grateful, thank you!
Take a peek at my first cookbook "Kitchen Matters"!