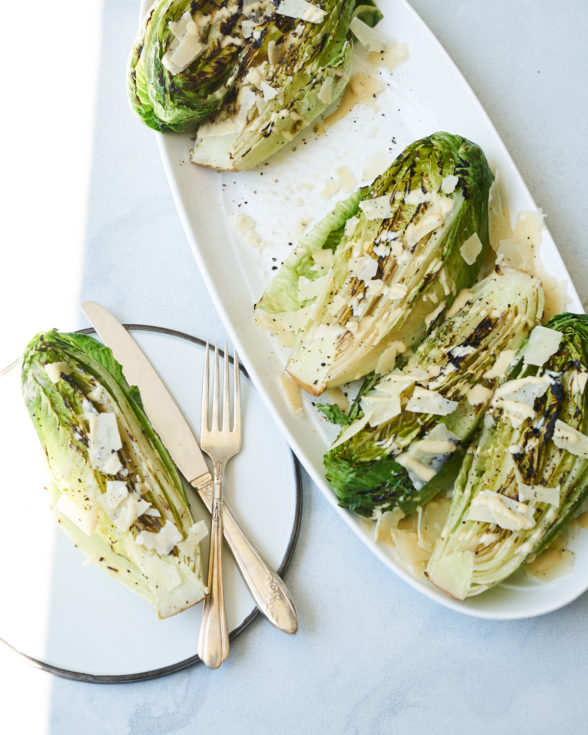 I am on vacation this week on Long Island with my family and I really had no idea how much I needed a break and a change of scenery.  I wish I had planned for 2 weeks here since 5 days in and I'm just starting to unwind.  We are having a great time hanging out, cooking together, swimming, puzzling, and the usual.  We aren't going on any outings obviously, but it's no big deal.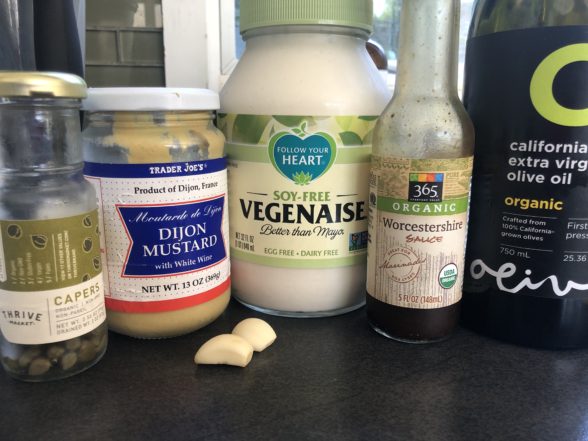 I made this Grilled Romaine Caesar Salad early in the week and all the kids went bananas for it.  I planned for 1/2 head of lettuce per person and I think they each could have eaten an entire head or more.  My 12-year-old nephew was using his hands to mop up the dressing on his plate and shovel the salad into his mouth LOL.  Nothing could make me happier than seeing the kiddos eat vegetables with gusto!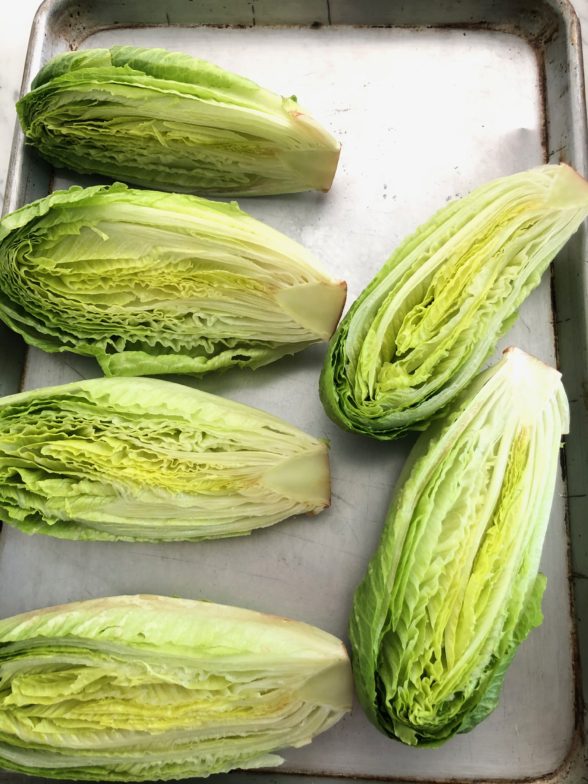 I didn't tell anyone that this is the easiest salad ever.  Dressing is so simple and so good.  Just wash the lettuce (see tips below) and grill for 30 seconds-ish on each side and serve immediately with shaved parmesan, if desired.  The taste is out of this world.  My niece said it tasted like a fast food hamburger without the burger. 😉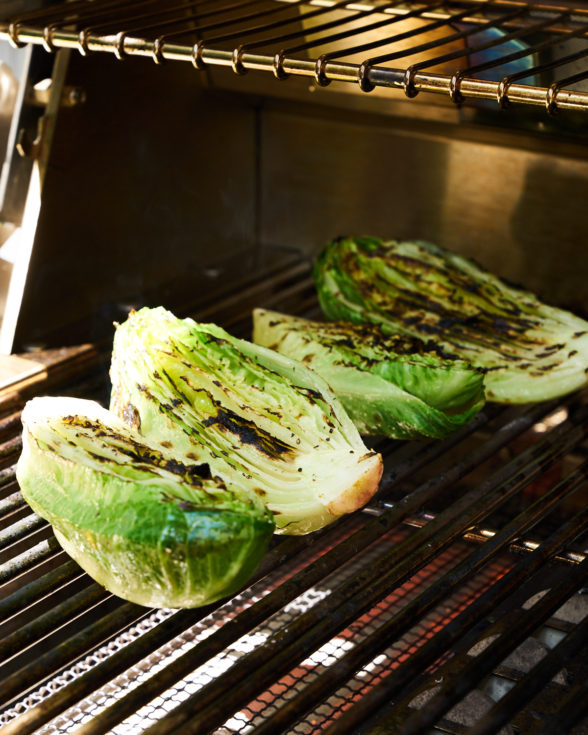 Caesar salad is Mr. Picky's favorite salad and he said he likes it even better grilled.  You can use a stovetop cast iron grill pan too, but it will take a little longer to get those char marks.  You'll want to leave this until you're a couple minutes from eating since it only takes a few minutes to get grill marks and you want to serve the lettuce pronto.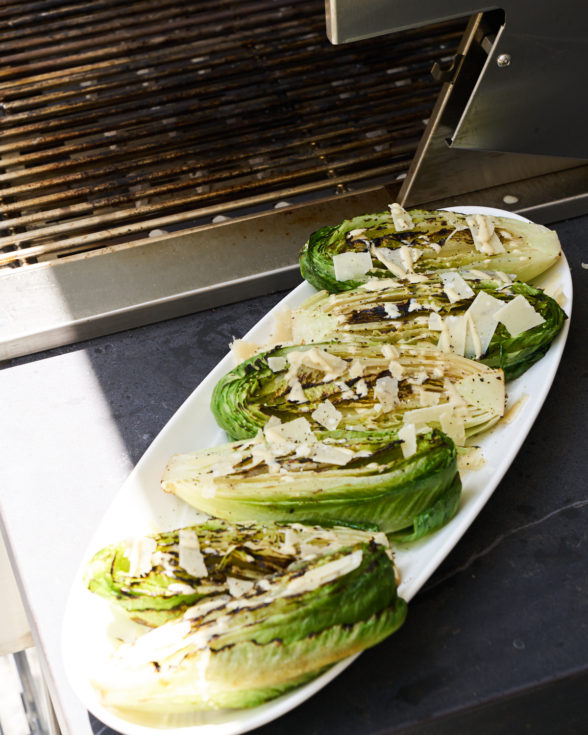 Caesar salad, whether raw or grilled, goes with anything and everything.  You can make this even more hearty with crispy chickpeas on top or sliced avocado.  You could chop up the grilled lettuce and serve immediately (so the lettuce doesn't get soggy) with grilled fish or chicken.  It would also be the perfect accompaniment to pizzas!  However you make it, I am confident this salad will be a huge crowd-pleaser!  Make sure to tag me @pamelasalzman #pamelasalzman if you make this.  I love seeing your creations!  I hope you are enjoying the last bits of summer. 🙂
You can shop the tools I used for this recipe by clicking on the images below:

Grilled Caesar-ish Romaine Salads
Serves:
6 Romaine Quarters or 12 Baby Romaine Halves
Ingredients
Dressing:
6 Tablespoons Vegenaise (I like soy-free) or good quality mayonnaise
2 Tablespoons water
1 ½ Tablespoons freshly squeezed lemon juice
2 garlic cloves, minced
½ teaspoon Dijon mustard
1 teaspoon Worcestershire sauce
1 Tablespoon capers, drained from brine or anchovy paste
3 Tablespoons unrefined, cold-pressed extra-virgin olive oil
Sea salt and freshly ground black pepper as needed
1 ½ large heads Romaine lettuce or 6 Baby Gem/mini Romaine lettuces
Unrefined avocado oil or cold-pressed extra-virgin olive oil to brush lettuce
Freshly ground black pepper
4 ounces Parmesan or Pecorino, shaved or grated
Instructions
To make the dressing, place all dressing ingredients in a blender or food processor and process until well combined. Taste for salt and season accordingly. Set aside.
Preheat grill to medium-high.
Cut large Romaine head through the end into 4 wedges, trying to keep leaves intact. If using Baby Gems or mini Romaine heads, cut each one in half and wash*. Brush olive oil on the outside of the leaves. Sprinkle with salt and pepper. Grill for 30 seconds on both sides, or until char marks appear. Be careful not to overcook as this will wilt the leaves. You want crisp lettuce with char marks.
Drizzle with dressing and serve with cheese, if desired.
Notes
*When you wash the romaine, wash the outside with water and submerge in cold water and rub your thumbs on the inside leaves at the base of the core to remove any dirt. Pat the heads dry with a kitchen towel as much as you can or spin them dry in a salad spinner. You won't be eating the inch of lettuce at the core because it probably won't be perfectly clean.

Look for vegan Worcestershire sauce, if needed.