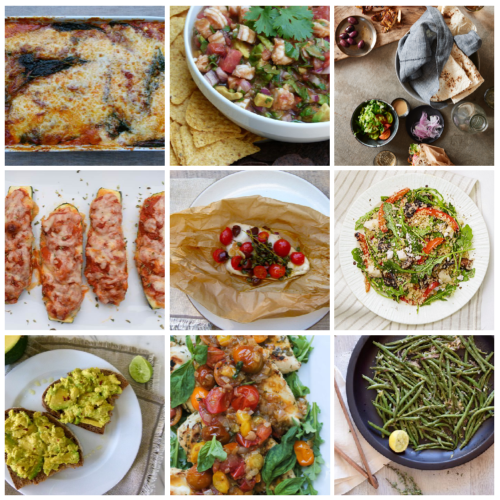 My week at The Golden Door is coming to a close.  I enjoy this week so much but it's what I take home with me that is the most valuable.  Self care is very important and you don't need to go to a special place to do it.  We need to be more compassionate with ourselves, soften our hearts, take time for meditation or just step away from our devices.  We need to exercise our bodies, and feed ourselves the best food we can.  We are all worth it.
My dinner planners are desgined to help you plan ahead because it makes it easier to  cook more often!  I like to highlight old recipes as well as new, but I always keep everything seasonal.  It tastes better, is more nutritious and more affordable.  Here's your dinner planner for the week:
Meatless Monday: Roasted vegetable lasagne, green salad
Tuesday: Shrimp salsa served over rice, with a side of your favorite seasonal grilled or roasted veggies
Wednesday: Chicken shawarma from my cookbook with accompaniments (lavash or cauliflower rice, lettuce, tomato, cucumber, olives, tahini, yogurt)
Thursday: Stuffed pizza zucchini boats with ground turkey meat or tempeh added to mixture (brown the meat/saute the tempeh as Step 1)
Friday: Mediterranean fish in parchment with grilled veggie couscous salad from good housekeeping
Saturday Lunch: Leftover grilled veggie couscous salad with added chickpeas and avocado toast
Sunday: Grilled or roasted chicken with a side of roasted green beans and shallot with lemon and thyme
Here's what you can do ahead if you need to:
Sunday
Wash greens and veggies
Roast vegetables for lasagne
Make marinara sauce for the lasagne and zucchini boats (or buy it!)
Make spice mixture for chicken
Make all dressings, marinades and sauces
Friday
Salt chicken
I have LOVED seeing all your creations of my recipes on Instagram. If you make any of my recipes, please tag me @pamelasalzman #pamelasalzman so I can check them out!
Click here to learn more about my online cooking classes! If you like my recipes, you'll LOVE my cookbook!  If you have 1 minute, would you mind leaving a review on amazon?  I would be so grateful, thank you!