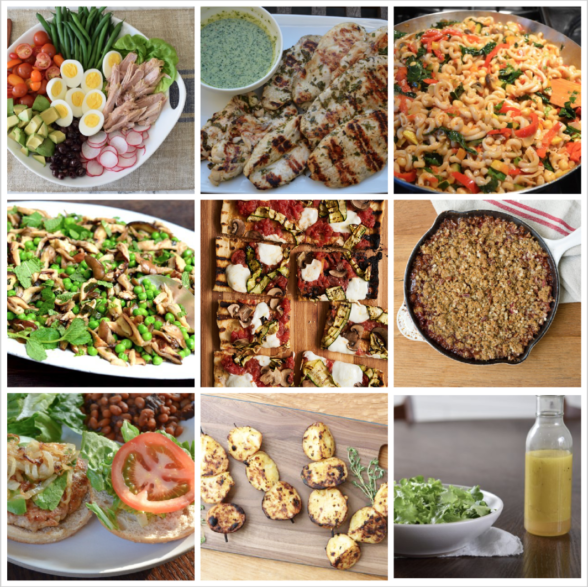 Happy Holy Week if you are observing the Easter holiday!  I'm enjoying a wonderful week with my family and we are all trying to relax and focus on being present with each other.
In other news, I have a brand new MEAL PLANNING * MEAL PREP * BATCH COOKING bootcamp that starts this week! I have created several wonderful 4-week online courses in the last year.  Most people have participated live in my courses although it's not essential, and most people who have taken my bootcamps have joined multiple!  Why is that a point worth mentioning?  Because I have poured so much relevant information into these courses and my goal has always been to CHANGE THE GAME, according to whatever the subject matter is, and the feedback has been incredibly positive.  I would love to help you cook more at home in a way that fits your lifestyle.  There isn't one way to eat healthfully. There isn't one way to meal plan or meal prep.  Let me help you save money, eat better, stress less.  Use the code MEAL100 to save $100 on this course.  Click here to learn more and to register.  Spots are limited!
Here's your dinner planner for the week:
Meatless Monday: California Nicoise salad (with or without the tuna), check out this post for what to do with all the leftover eggs after Easter.
Tuesday: Grilled Lemon-Herb Chicken with Mint Drizzle, simple arugula salad with lemon juice, olive oil and salt and pepper (add some nuts, cheese or avocado if you want a little more substance)
Wednesday: Pantry pasta (add leftover chicken from last night for added protein or cooked beans like chickpeas or white beans)
Thursday: Pea and mushroom sauté with mint, broiled fillet of sole p. 198 from KM
Friday: DIY Pizza night! I've been loving the Banza chickpea pizza crust.
Saturday brunch: Strawberry-rhubarb cornmeal crisp
Sunday: Tasty turkey burgers, zesty potato skewers, green salad with everyday salad dressing #2
Here's what you can do ahead if it helps you:
Sunday:
Make salad dressing
Wash greens
Blanch green beans
Monday:
Marinade chicken
Make mint drizzle
Clean mushrooms
Friday:
Make crisp topping
Wash and hull strawberries
Saturday:
Assemble turkey burgers
Make potato dressing
I have LOVED seeing all your creations of my recipes on Instagram. If you make any of my recipes, please tag me @pamelasalzman #pamelasalzman so I can check them out!
My cookbook, Quicker Than Quick, is discounted for the first time on Amazon!  If you have 1 minute, would you mind leaving a review on amazon?  I would be so grateful, thank you!
Take a peek at my first cookbook "Kitchen Matters"!