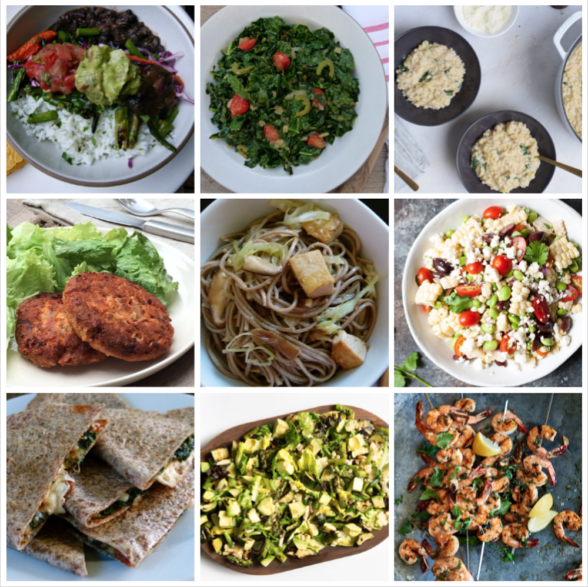 Here's what's weird to me – we're all stuck at home all day and you would think the days would go so slowly.  But just the opposite is true.  The days fly by and I can't explain it.  I am still continuing my daily Instagram Lives at noon PT, although I just started to take a Sunday family day break.  Honestly, these lives have been the highlight of my day.  It is my social hour and I feel like I am getting to know the people in my community in a way I never could have.  #SilverLining
Oh, and MY NEW BOOK CAME OUT THIS WEEK!!!!  I cried.  I did. I worked so hard to write a book that you would find useful and helpful, one that would make you feel like I'm in the kitchen with you.  I was on the edge of my seat waiting for your responses, and when I started seeing everyone's DM's, Instagram and Facebook photos, emails, comments, I sat down and cried tears of joy and relief.  Plus, I also re-read the dedication I wrote to my father who passed away suddenly during my last round of edits and just had a moment.  It has been an emotional week and I am grateful for your support in carrying me through.  Thank you!  Here's your dinner planner for the week:
Meatless Monday: Veggie and bean burrito bowls with cilantro-lime rice and Mexican Sautéed Greens recipe (roast whatever you have!), avocado or guacamole and/or salsa
Tuesday: Artichoke and Spinach Barley Risotto , green salad using your favorite dressing, salmon patties
Wednesday: Broccoli, Celery Root, and Spinach Soup from my book, I'm going to add cooked quinoa and white beans or chickpeas to make this a hearty meal.
Thursday: stir fry soba noodles with vegetables and tofu
Friday: South American Roast Chicken with Green Sauce from my book, (my favorite chicken recipe ever and the best sauce ever) Solterito (peruvian chopped salad)
Saturday brunch: Spinach Pizza Quesadillas with a fresh side salad using your favorite organic greens
Sunday: Chopped Grilled Vegetable Salad (I'll see what comes in my produce box but I just did it on IG live with zucchini, green onions, eggplant, and asparagus), grilled shrimp (I do a quick spice rub on these with my fish taco seasoning)
Here's what you can do ahead if it helps you:
Sunday
Wash and all greens and vegetables
Make salad dressings
Make stock
I have LOVED seeing all your creations of my recipes on Instagram. If you make any of my recipes, please tag me @pamelasalzman #pamelasalzman so I can check them out!
Click here to learn more about my online cooking classes! Through the end of quarantine, choose any cooking class in the library for $10 with the code SINGLE10 and a subscription for future classes for $17  (normally $27/mo.) with the code CLASSES17.
If you like my recipes, you'll LOVE my cookbook "Kitchen Matters"!  If you have 1 minute, would you mind leaving a review on amazon?  I would be so grateful, thank you!  My new cookbook, Quicker Than Quick, is now here!