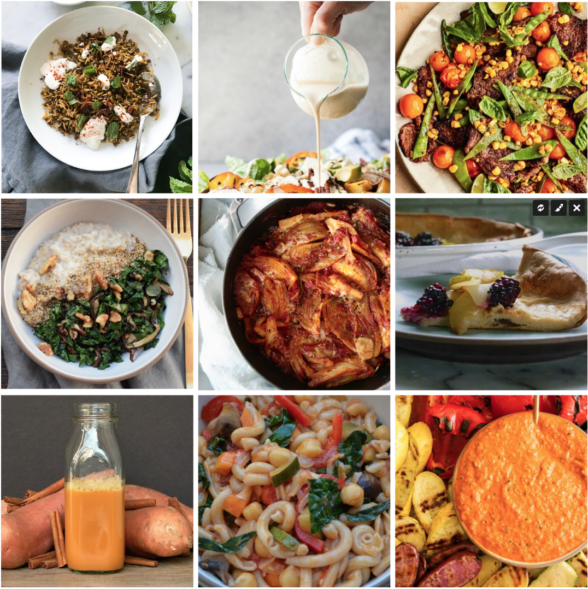 Good gracious, it's already October on Monday!  If you've struggled getting back into a cooking routine, start small.  Commit to cooking one or two days a week.   I've said it before and I'll say it again – we have to cook from scratch as much as possible with unrefined foods if we want to reduce inflammation and support good health.  You don't have to follow my dinner planner.  This is just to give you ideas.  I personally cannot follow this dinner planner because I use dinner to test recipes for future classes and for my upcoming cookbook.  My actual dinner planners would be quite boring to you since they are often repeating dishes over and over again and I wouldn't have the recipes to share yet with you.  But I still always have a plan.  This past week, I wasn't home for a few dinners, so I took the opportunity to order a OnePotatoBox.  One Potato is a meal kit company which provides family-friendly, organic, prepped meal kits that you cook.  They're easy and delicious and a great option for those weeks when you just can't get into the kitchen or it would make a nice gift for a new mom who is just coming home from the hospital.  I am not sponsored at all by One Potato, but I like supporting small businesses run by moms!  I asked them for a discount code for my followers and if you want to try One Potato, you can use the code PAMELA30 for 30% off your first box.
Here's your dinner planner for the week:
Meatless Monday: Mejadra Rice with Lentils, Greek Yogurt, and Shallots along with a fresh side salad to add some greens. I'm going to make extra Mejadra and re-purpose for tomorrow.  Serve the yogurt on the side so leftovers will hold up well.
Tuesday: Leftover mejadra mixed with cauliflower rice and chicken stock (or veggie stock) and turned into a soup. Cooked chicken can be added.  I'm going to stir in some spinach.
Wednesday: Beef Stir-Fry with Green Beans and Tomatoes from Healthyish. You can sub out beef for chicken or tempeh.
Thursday:  Savory Oats w/ Kale, Mushroom, and Walnuts. Add a poached egg if you want more protein.  Don't knock it 'til you try it!
Friday: Braised Fennel with Tomatoes and Thyme from my book. Serve with simple roast chicken or baked fresh fish.
Saturday Brunch/Lunch: Dutch Baby Pancake (feel free to sub ingredients depending on your diet) a fresh mixed green side salad and Sweet Potato Apple Ginger Juice
Sunday: Fresh Sunday farmers market veggies – roast them or saute them. And mix them in with perfectly cooked pasta and Romesco Sauce.
Here's what you can do ahead if you need to:
Sunday
Make all dressings, marinades, sauces
Wash and prep all veggies
Make Mejadra Rice and lentils
Make stock
Friday:
Make sweet potato apple ginger juice
Wash and prep fruit
Here's a link to my previous dinner planners.
I have LOVED seeing all your creations of my recipes on Instagram.  If you make any of my recipes, please tag me @pamelasalzman #pamelasalzman so I can check them out!
Click here to learn more about my online cooking classes!
If you like my recipes, you'll LOVE my cookbook!