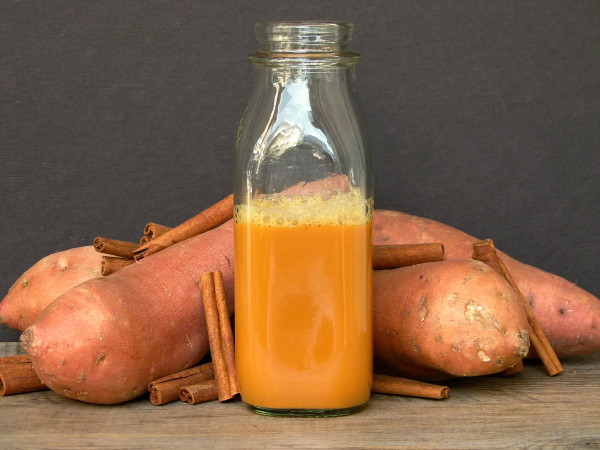 I have been in a bit of a juice rut lately, making the same ones over and over again.  The bad news is that this boredom with my juice caused me to be less motivated to actually juice, and therefore I have been missing out on of the things that puts a spring in my step and makes me feel healthy.  My typical juice consists of greens (romaine, spinach, kale, or parsley or a combo), celery, apple, carrot, ginger and/or fresh turmeric.  Very good, but the same formula day in and day out was making me bored.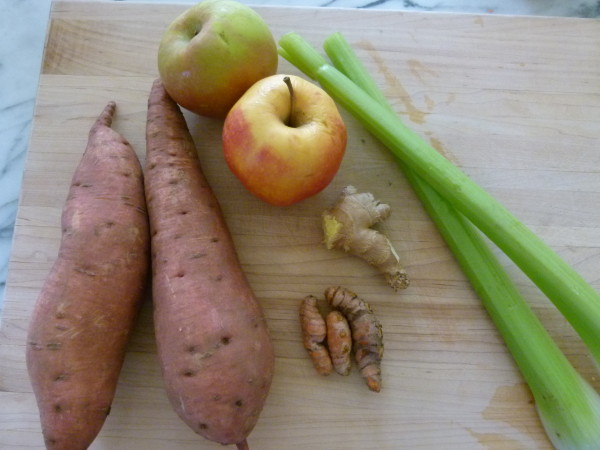 My friend and holistic nutritionist, Elissa Goodman, who is also a juicing queen, mentioned that she juices sweet potatoes.  I honestly never considered juicing sweet potatoes.  Roasting them and blending them into a smoothie is as close as I have come.  But I was curious about how they would juice, so I went for it and was just pleased as punch.  Sweet potatoes are JUICY!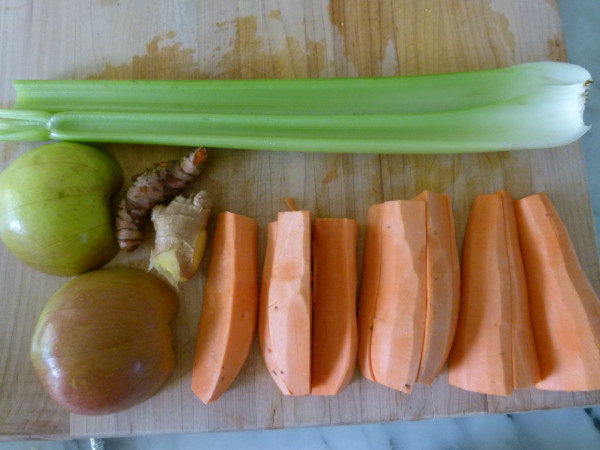 It's kind of like juicing a carrot, with a lovely mild sweetness.  So I started playing around and created a new, very different juice, one more seasonal  for fall.  Sweet potatoes and apple go hand in hand, so I put those together.  But I personally don't care for overly sweet juices, so I added some celery to create some more liquid without sugar.  And then I boosted the flavor some more with fresh ginger and a small nub of turmeric.  The first time around I made the juice fairly spicy, which I loved, but the hubby thought was too gingery.  The second time, it was total perfection.
The cinnamon is a really fun addition.  You can add a pinch of ground cinnamon, but I don't love the powderiness since it doesn't dissolve.  I had great results steeping a cinnamon stick in the juice.  SO, so yummy.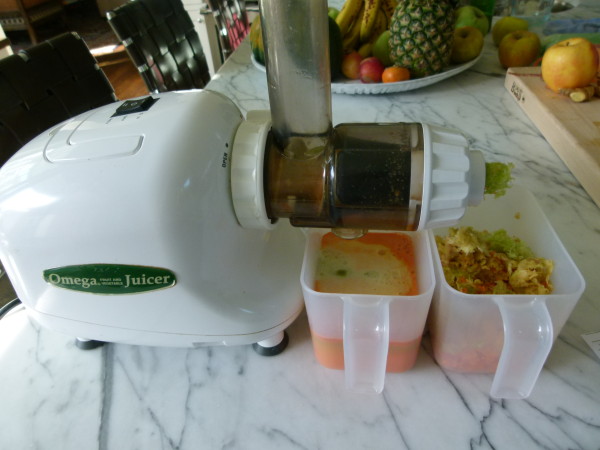 I made a huge pitcher of this juice for a breakfast meeting and I served it over ice  with a cinnamon stick in each glass.  It was such a huge hit and I was so happy to share something so healthful.  Everything in this juice is super anti-inflammatory, especially the sweet potatoes, ginger and turmeric.  Sweet potatoes are also very rich in Vitamin C, E, B6 and Beta-carotene, which is amazing for your skin, eyes and hair.
I am going to keep playing with this base.  I had a juice recently at Sage Organic Bistro in Culver City with grapefruit in it that was outstanding and I'm thinking it might work nicely here, too.  I'm also considering making a huge batch for Thanksgiving and adding a drop of alcohol to make a fun cocktail.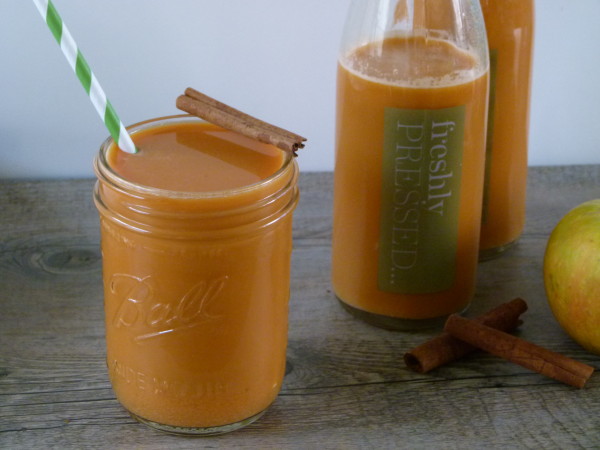 I haven't had a ton of experience working with different juicers, so I can't make a good recommendation as to which to buy if you're in the market for one.  I have an Omega, which is very nice, but the feed tube is so small that it's a little too much work cutting everything into small enough pieces.  I have the Breville at our house in Park City and that is a breeze to use.  There's a lot of controversy about juicers that juice slowly versus fast and the vitamins being compromised, but as Kris Carr, the doyenne of juicing, says, "the best juicer is the one you'll use."  Williams-Sonoma has a nice selection of juicers here if you're thinking about buying one.
I'd love to hear what juicer you have and what you love or hate about it.  I'd also be curious if you have a favorite fall juice.  I'm motivated again!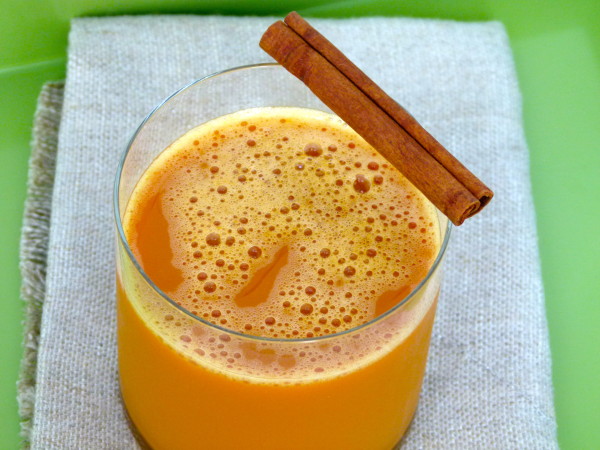 Sweet Potato-Apple-Ginger Juice
Serves:
makes about 12 ounces
Ingredients
1 large sweet potato, peeled (about 10-12 ounces) -- you don't have to peel the sweet potato, but the skin darkens the color of the juice
1" piece of fresh ginger or more if you like it spicy
4" piece of fresh turmeric (if you can find it)
1 medium apple or Fuyu persimmon
2 stalks celery
cinnamon stick
Instructions
Juice all ingredients except cinnamon stick.  Be sure to juice the ginger and turmeric early on so you can flush out those juices with something high water like the celery.
Place the cinnamon stick in a glass and pour juice on top.  Allow to steep for a few minutes or refrigerate the juice with the cinnamon stick until you want to consume it.
Always store juice in the smallest container possible with little or no air at the top so that the juice stays fresher for longer.  Store up to 2 days in the refrigerator.  Separation will occur, so shake before serving.