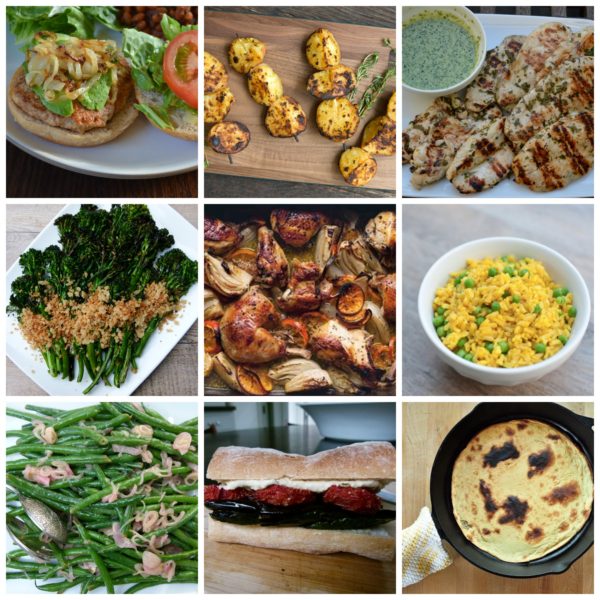 Happy Memorial Day weekend!  I hope you are having a relaxing few days and that you can take some time off.  We're heading into barbecue season, which is good and bad.  It's good because it's so nice to cook outside and entertain in a relaxed fashion.  It also means the weather is more pleasant.  But what's not great about grilling can be found in this post here.  Read up on how to reduce your carcinogens when you grill.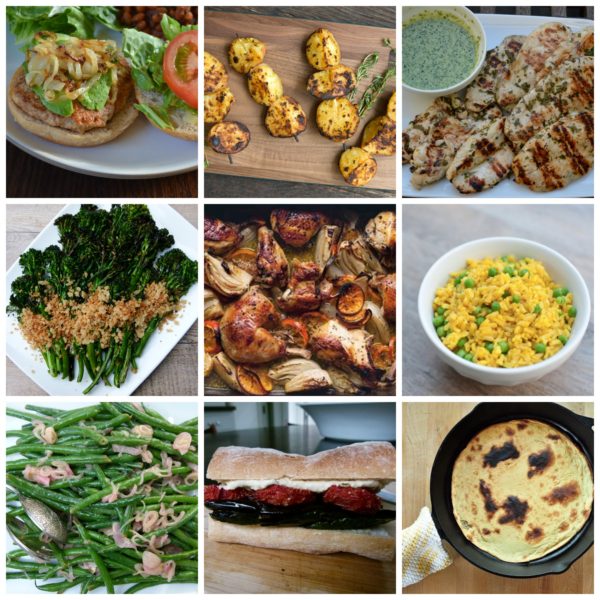 Memorial Day:  We're going to a friend's house for a BBQ and they always make several kinds of burgers.  Here are a few good ones.
Tuesday:  Slow-roasted Copper River Salmon (if you see this salmon, splurge!  It's only in season for a very short time and it's amazing!,) zesty potato skewers, sautéed spinach with garlic and a squeeze of lemon at the end
Wednesday:  Lemon-herb grilled chicken, grilled broccolini with parmesan breadcrumbs, cauli rice
Thursday:  Wheat berry and roasted veggie salad with lemon-basil dressing, feta, pine nuts (I'm taking this recipe and subbing wheat berries for orzo – although you could use brown rice, barley, farro or quinoa- and using my lemon-basil dressing from the bottom of this recipe)
Friday:  Ottolenghi clementine chicken(you can sub oranges if you can't find clementines), turmeric rice, honey-lemon green beans
Saturday lunch:  Veggie sandwiches with hummus
Sunday:  Chickpea soccas (they're like flatbreads made out of chickpeas flour)with mixed greens, vinaigrette and a fried egg
Here's what you can do ahead, if you need to.
Sunday
Make all dressings and vinaigrettes
Wash all herbs and
Wednesday
Prep green beans
Make hummus