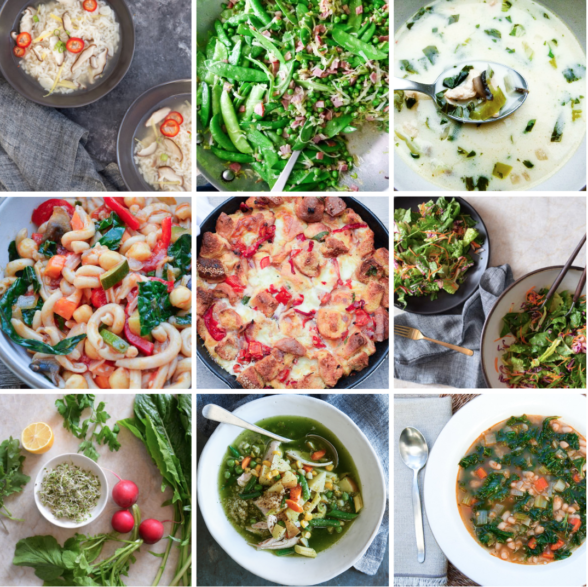 I'm continuing my pantry purge, but I'm going to have to take a break from it for a short bit because I just started shooting my NEXT COOKBOOK (yippee!!) and I am bringing home a lot of food from the set.  And it is all DEE-licious!  Now I'm really getting excited for the book.  It doesn't come out until early 2020 though so I won't talk it up too much just yet.  In the meantime, I know many of you are challenging yourselves to use up things in the depths of your freezer and pantry, so this menu may be helpful.  In general, stir-fries, soups, pastas and bowls are a great way to use up odds and ends.  You should also feel confident swapping out ingredients in recipes (except baking unless you know what you're doing.)  If you're not sure, I'm happy to offer my opinion about any substitution. 
For my online cooking class students, I am doing a FB Live on our private Facebook page Saturday, January 12th at 9:00 am PST/12:00 pm EST!  I can't wait to chat with you guys and I'll give you an exclusive sneak peek of a behind the scenes of my cookbook shoot.  🙂
Here's your dinner planner for the week:
————————————————————————————————————————————————————————————
Monday: Immune-Boosting Soup  (Lots of people have come down with viruses from traveling.  If this is you, this soup will fix you up!)
Tuesday: Three Pea Sauté with (or without) Turkey Bacon. You don't have to use three types of peas – use all frozen peas if you want. Plus wild salmon roasted on a sheet pan with carrots.  Start the carrots first at 400 degrees and try to guess about 10 minutes before they're done.  Then add the salmon, brushed with olive oil and sprinkled with salt and pepper.
Wednesday:  Thai Coconut Chicken Soup I'm going to add noodles to make this a meal.  If your family needs more, put out a DIY summer roll bar.
Thursday: Pantry Pasta with any frozen veggies that you happen to have.
Friday: Savory Strata with spinach and feta or a twist on this version with jarred roasted tomatoes, peppers, mozzarella, and your favorite fresh herb. This is a GREAT way to use up ends of bread and frozen hamburger buns that you've had since Labor Day Weekend!
Saturday lunch:  Big Green Detox Salad. Feel free to add roasted chicken or a boiled egg for protein.
Sunday: Kale and White Bean Minestrone  or Peruvian Soup with Cilantro from my cookbook  
Here's what you can do ahead if it helps you:
Sunday: 
Make all sauces, marinades and dressings
Make all stocks/broths.  Freeze anything that won't get used within 4 days.
Wash salad greens
Cook dried beans unless using canned.
Saturday: 
Make Kale and White Bean Minestrone or Peruvian Soup with Cilantro
————————————————————————————————————————————————————————————
Here's a link to my previous dinner planners.
I have LOVED seeing all your creations of my recipes on Instagram.  If you make any of my recipes, please tag me @pamelasalzman #pamelasalzman so I can check them out!
Click here to learn more about my online cooking classes!
If you like my recipes, you'll LOVE my cookbook!