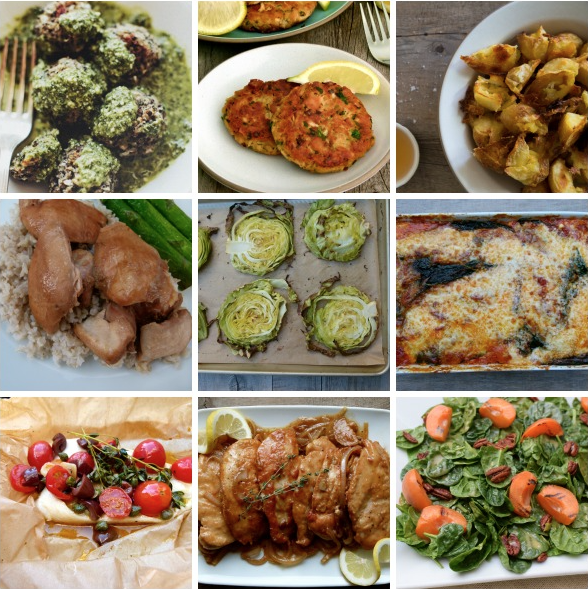 Although I was very sad to leave the Golden Door, which is an incredibly magical and serene oasis, I came home inspired to cook. Every bite I ate there was so delicious, fresh and healthful.  I can't wait to head to the farmers markets this weekend and load up on all the fresh produce that summer still has left.  If your kids are back to school, it's time to start getting your meals organized again.  Olives, cheese and crackers aren't going to cut it anymore!
Here is your dinner planner for the week:
Monday: Lentil meatballs with lemon pesto from Sprouted Kitchen, spaghetti squash
Tuesday: Tuna patties, salt and vinegar potatoes, green salad
Wednesday: Chicken adobo, turmeric rice with peas, sautéed zucchini
Thursday: Roasted vegetable lasagne, green salad
Friday: Barley and corn tabbouleh, Mediterranean fish in parchment paper
Saturday lunch: Arugula salad with tomatoes, nectarines and fresh mozzarella
Sunday: Lemon-thyme chicken cutlets, roasted green beans, spinach salad with grilled peaches and honey-mustard dressing (use the grilled apricot recipe and sub peaches for apricots)
Here's what you can do ahead if you need to:
Sunday
Make lentils for meatballs
Make lentil meatball mixture and refrigerate
Make lemon pesto and refrigerate
Wash salad greens
Make vinaigrettes for green salads
Monday
Make tuna patties and refrigerate
Tuesday
Marinate chicken adobo overnight
Wednesday
Roast vegetables for lasagne
Make barley and refrigerate
Prep corn for tabbouleh and refrigerate
Make honey mustard dressing and refrigerate
Here is a link to my previous dinner planners.