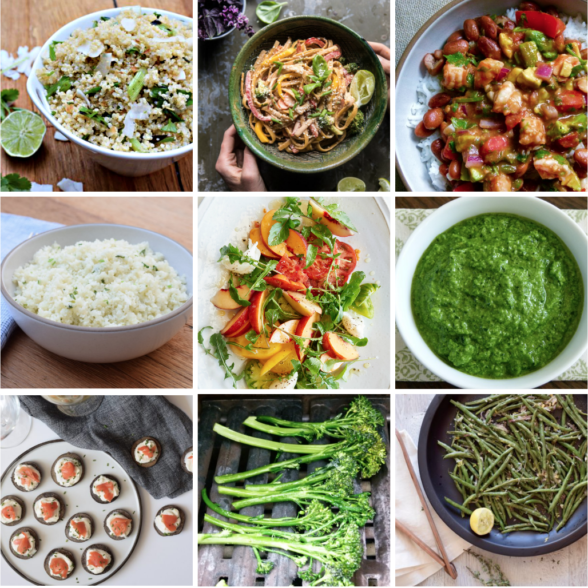 Forgive me for not posting a new recipe this week!  I really wanted to be truly present at the Golden Door.  I am having a magical week here and I will be fully rejuvenated and ready to get back to work Monday morning!  Actually, for those of you in the LA area, I'll be on KTLA around 10:45 am on Monday!
Have a great weekend!  Here's your dinner planner for the week:
Meatless Monday: Grilled mango served on Quinoa with Toasted Coconut and Lime, add some toasted cashews or sunflower seeds for protein, quick sauteed zucchini
Tuesday: Twenty Minute Sesame Basil Chicken Noodles from Half Baked Harvest
Wednesday: Shrimp Salsa served over rice, use this method, with a side of your favorite seasonal roasted veggies.
Thursday:  Arugula Salad with Nectarines, Tomatoes, and Fresh Mozzarella from my book. You can add prosciutto or some grilled bread, if you like.  Quick sauteed corn on the side.
Friday: Fresh grilled white fish topped with my Kale Pesto. You can also bake the fish with the Kale Pesto on top covered in the oven. Serve with a side salad with my everyday vinaigrette.  I might add a little avocado or white beans to the salad.
Saturday Brunch/Lunch: Buckwheat blinis with Smoked Salmon and Lemon Creme Fraiche served with grilled veggies.  Sounds fancy, but it's easy!  Or just make avocado toast with smoked salmon and tomatoes. 🙂
Sunday: Grilled or roasted chicken, with a side of Roasted Green Beans and Shallots with Lemon and Thyme
Here's what you can do ahead if you need to:
Sunday
Make all dressings and sauces
Make quinoa
Wash/prep vegetables
Here's a link to my previous dinner planners.
I have LOVED seeing all your creations of my recipes on Instagram.  If you make any of my recipes, please tag me @pamelasalzman #pamelasalzman so I can check them out!
Click here to learn more about my online cooking classes!
If you like my recipes, you'll LOVE my cookbook!