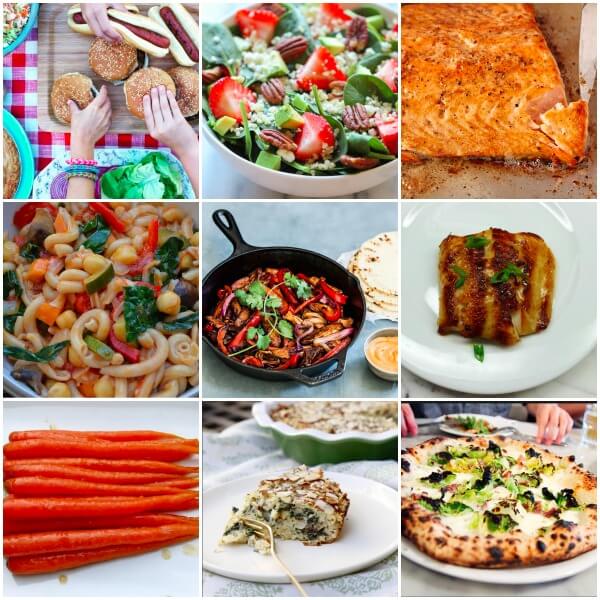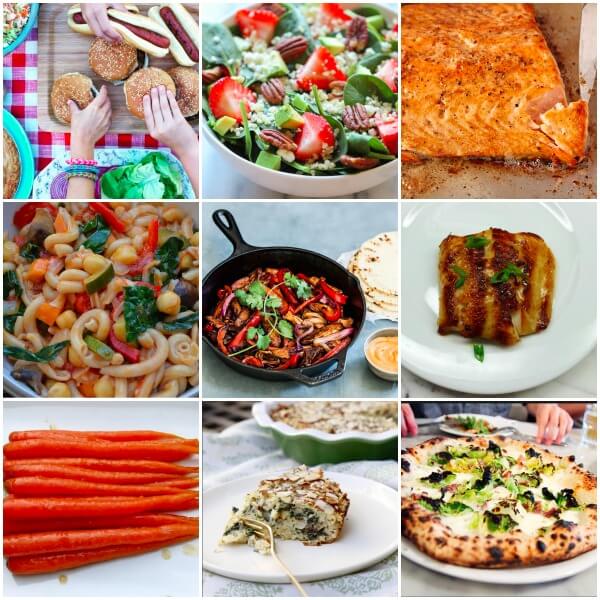 Mr. Picky is off for spring break, so my husband and I took him on Friday night to Park City where we will hang out for a few days.  The weather is just the way I like it – warm!  We're skiing, going out to dinner, watching college basketball and just trying to relax a little before I go back home to busy week ahead. I am starting a new menu this week and I'll start preparing for next Monday's Passover seder.  I am also really excited for my mom to visit this week.  We always check out the new, cool places to go to lunch and she's always a great sous chef when I need one!
Here's your dinner planner for the week:
Meatless Monday: It's opening day of Major League Baseball and it's the one day I make hamburgers or (Applegate organic grass-fed no nitrate) hot dogs.  And a HUGE salad with everyday salad dressing #2.
Tuesday: spinach salad with honey mustard dressing – I'm going to sub fresh strawberries for the grilled apricots and I might add quinoa, roasted wild salmon (simply seasoned with olive oil, salt, pepper and garlic powder)
Wednesday: Pantry Pasta (you can follow the recipe, but the point is to clean out the crisper drawer); maybe try a new pasta like a legume-based pasta.  Here are tips for how to cook gluten-free pasta perfectly.
Thursday: Korean chicken fajitas with Asian slaw, serve with tortillas or lettuce leaves
Friday: miso-glazed cod, honey-ginger carrots, steamed brown rice (make extra for the rice bake on Saturday)
Saturday lunch: mushroom, kale and brown rice bake
Sunday: Since this is the day before Passover, we (it's really all my husband) load up on carbs.  This is usually a pizza night!
Here's what you can do ahead if you need to:
Sunday
Make all salad dressings
Wash greens and veggies for Monday's salad
Cook quinoa for Tuesday's salad
Tuesday
Prep veggies for pantry pasta
Prep veggies for Asian slaw
Thursday
Marinate cod
Wash kale for saturday's rice bake