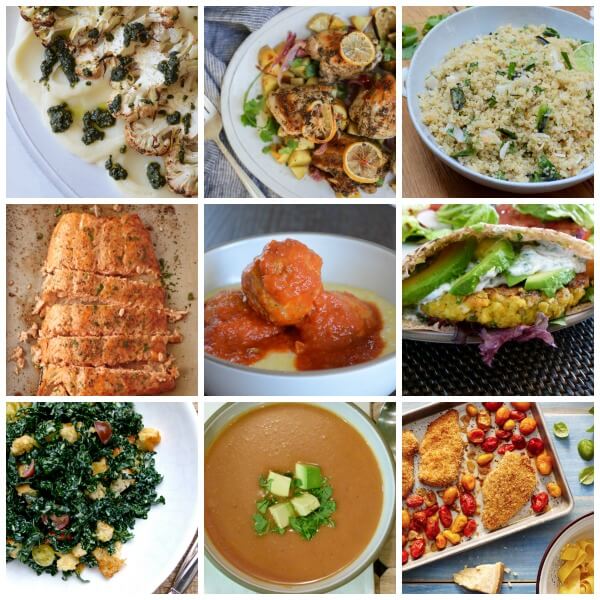 Things are feeling very spring-like lately.  It's not just the weather and the new produce in the markets, but we are finalizing summer plans for the kids and our family as a whole.  Very exciting!
Here's the latest dinner planner to help keep you organized at the busiest time of year!
Monday: Cauliflower steaks with cauliflower puree and mint pesto, white bean salad with mint and celery
Tuesday: Greek sheet pan chicken, green salad with either everyday salad dressing #1 or 2
Wednesday:  Mixed greens with miso-ginger dressing, simple slow roasted salmon (use this method for baking- skip the salsa if you want), quinoa with toasted coconut and lime
Thursday: Turkey meatballs with brown rice pasta, store-bought or homemade marinara, roasted broccoli
Friday: Chickpea burgers with pita and kale salad with creamy lemon dressing (I will skip the croutons since I am serving pita and add in avocado and red cabbage)
Saturday lunch: Tortilla soup
Sunday: Cooking Light's sheet pan chicken parmesan, sautéed spinach
Do ahead:
Sunday
Cut cauliflower into steaks
Make mint pesto
Make white beans if making from scratch
Make vinaigrette for white bean salad
Make marinade for Greek chicken and marinate the morning you plan to make it
Tuesday
Make miso-ginger dressing
Make quinoa
Make marinara
Wednesday
Make turkey meatballs and refrigerate until ready to bake
Make chickpea burger patties and refrigerate until ready to saute
Make yogurt-tahini sauce for chickpea burgers
Wash, de-stem and chop kale
Make creamy lemon dressing
Here is a link to all my previous dinner planners.
And my book is available for pre-order!!  It will arrive on your doorstep on June 13th.  Here's a link to amazon and for a signed copy you can order from my local bookstore, Pages.