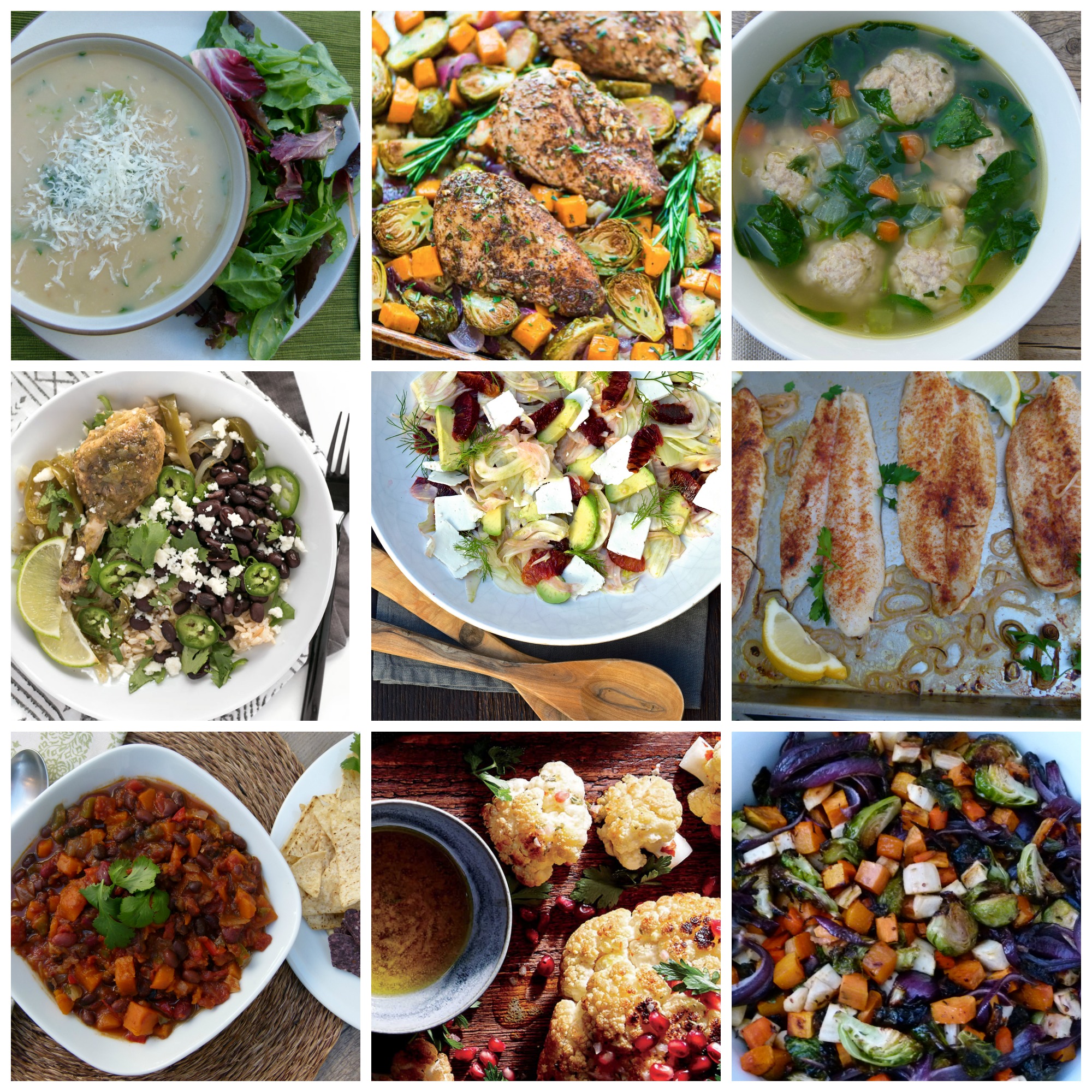 I've got one of my babies home from college and I am waiting for the other who will arrive later this week.  I can't wait!  As usual, I am completely behind on my Christmas shopping, I might not do a holiday card this year, and I'll probably have to pull an all-nighter to pack for our vacation, BUT we won't eat take-out!
Here's your dinner planner for the week:
Monday: Potato and white bean soup, arugula salad with everyday salad dressing #1
Tuesday: Sheet pan chicken chicken with sweet potatoes, apples, and brussels sprouts from well plated
Wednesday: Italian wedding soup, pesto grilled cheese sandwiches
Thursday: Slow cooker chicken salsa verde rice bowl with roasted vegetables. Use green enchilada sauce instead of salsa in slow cooker and use extra on top of bowl
Friday: Fennel salad with citrus and ricotta salata, broiled white fish (I'll brush with a little olive oil, paprika, salt and pepper and finish it with a squeeze of lemon)
Saturday Lunch: slow cooker vegetarian chili with sweet potatoes
Sunday: maple mustard roasted veggies, whole roasted cauliflower with pomegranates and pine nuts from Cooking Light
Do Ahead:
Sunday
Soak beans for soup
Make stock for soup(s)
Make salad dressing #1
Prep brussels sprouts and sweet potatoes for sheet pan chicken
Make pesto and refrigerate
Tuesday
Make mini meatballs for soup
Make rice for chicken enchilada verde bowl
Make enchilada sauce and refrigerate
Make fennel salad dressing
Thursday
Slice fennel for salad
Segment citrus for salad
Shave ricotta salata using vegetable peeler or knife
Chop veggies for sweet potato chili
Make maple-mustard sauce for veggies
Prep veggies for maple-mustard veggies (trim and halve brussels sprouts, peel and cube butternut squash, peel and chop carrots and parsnips)
Make vinaigrette for whole roasted cauliflower
Seed pomegranate and toast pine nuts for whole roasted cauliflower
Here's the link to all my previous dinner planners.