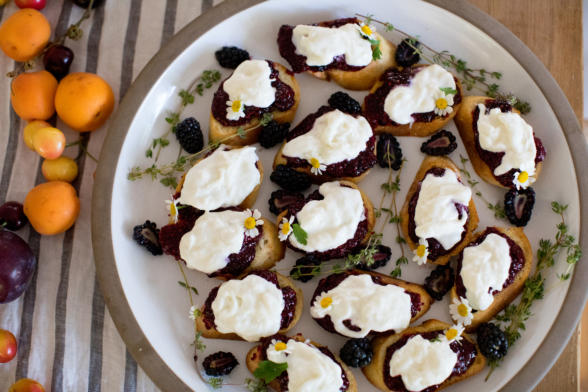 I have really cut back significantly on flour-based foods like pasta, bread, and baked goods.  Part of the reason is to maintain better blood sugar stability/lower inflammation and part of the reason is the prevalence of glyphosate in non-organic grains.  That said, I am no perfectionist and I choose to eat in a way that balances healthfulness and happiness.  Stressing out about food is counterproductive.  On the other hand, I will not just throw in the towel and eat whatever the heck I please in the name of YOLO ("you only live once," as the kids say.)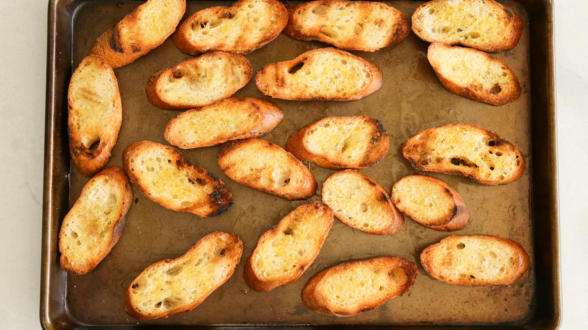 What does this have to do with today's post?  I still indulge in toast every so often, as well as a good bit of dairy if I'm feeling it.  However, like everything these days, there is a range of quality when it comes to food.  You can buy super crappy non-organic white bread with all sorts of junk or organic, naturally-leavened ancient grain bread, as an example.  Same goes for dairy.  And these days, people have learned to be more open-minded about changing a recipe to suit their lifestyle.  Toast can be made out of sweet potato slices or grain-free bread, or toppings can be dolloped into endive leaves instead.  Same goes for dairy – you can buy non-organic, pasteurized cow's milk cheese with fillers added, or you can find a range of locally-made, organic cheeses.  I often use dairy-free cheeses for my husband and dairy-free friends.  There are so many clean options to choose from in my local natural food markets!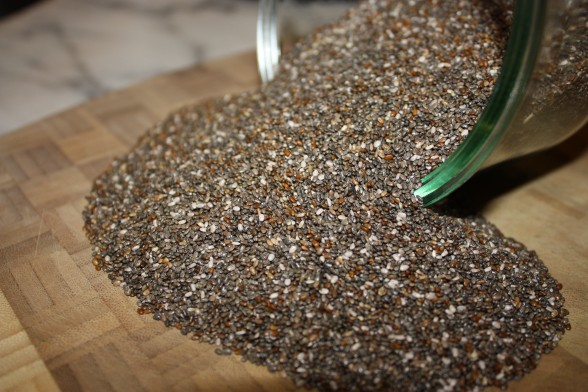 I make a lot of crostini as a quick hors d'oeuvres when I have friends over.  This is a tweak of one I make often – an herb-infused berry chia jam with some kind of soft cheese (dairy or non dairy).  If I'm feeling super indulgent, I'll drizzle everything with olive oil and/or honey and a pinch of flaky salt.  There is nothing better with a cold glass of rose.  I couldn't take too many process shots of this recipe because I taught it in a class with Jenni Kayne a while back and it's impossible for me to pause while I'm teaching to take pictures.  I never got around to photographing it.  But it's a really easy recipe.  If you want a step-by-step for the chia jam, go here.
Tomatoes are commonly used on toast/crostini, but because berries are low in sugar and a bit acidic, I often swap tomatoes and berries for each other in some recipes.  Another way to go is to use avocado in place of the burrata.  Whatever you do, don't forget the flaky salt!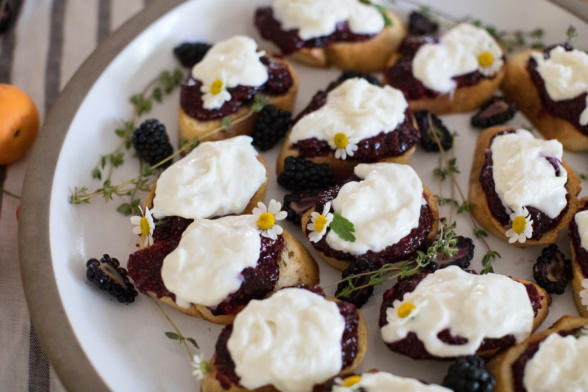 Shop the tools for this recipe by clicking on the images below:

Crostini with Burrata and Blackberry-Thyme Chia Jam
Ingredients
For the Chia Jam:
10 ounce package of frozen organic blackberries, thawed
2 Tablespoons + 2 teaspoons chia seeds
2 Tablespoons pure maple syrup or raw honey
1 teaspoon thyme leaves, roughly chopped
For the Crostini*:
French baguette, cut into ½ inch slices (use a GF bread if you need this to be GF)
¼ cup unrefined, cold-pressed extra-virgin olive oil
6 ounces burrata cheese (or use a soft vegan cheese like Kite Hill or Miyoko's Creamery)
flaky sea salt
Optional: Edible flowers (such as chamomile), for garnish
Instructions
To make the chia jam: Place all the ingredients, including any juice from the thawed blackberries, in a medium bowl. Crush the berries a little with a fork, and stir to mix, making sure all the chia seeds have been moistened with the juice from the berries. Cover and allow jam to thicken in the refrigerator for at least 6 hours. This can be made 2 weeks ahead and kept refrigerated..
Preheat oven to 350 degrees. Line a baking sheet with parchment paper.
Brush each side of bread with olive oil and place on baking sheet.
Bake for 15 minutes, turning after 7 or 8 minutes. Set aside (can be stored in an airtight container for several days).
To assemble: spread a medium-thick layer of the chia jam on each piece of crostini and add a dollop of burrata cheese on top and flaky salt. Garnish with edible flowers, if desired.
Notes
* You can alternatively grill the crostini, after brushing with olive oil, on the grill or a grill pan until golden.

Another option if you already have berry chia jam prepared, you can sliver fresh basil and top each crostini with that instead of using fresh thyme.