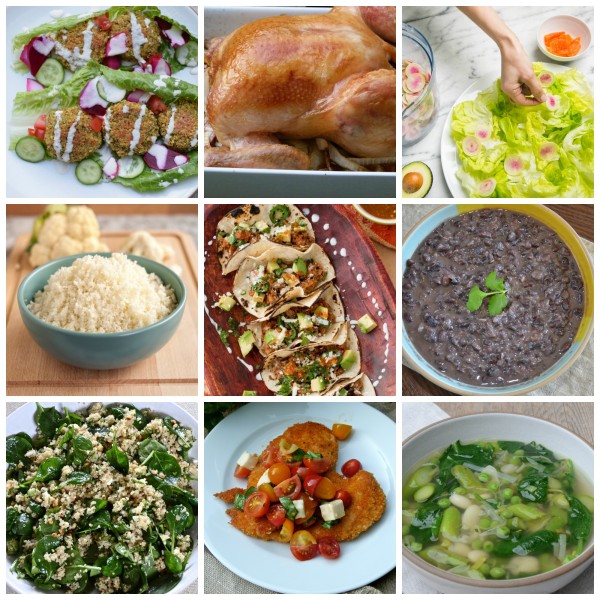 It is always such a joy when my daughter comes home from college for a visit.  We all really miss her and there's nothing better than when our family is complete, especially around the dinner table.  Without getting too personal, this same daughter is also eating a grain-free diet for a little while to help with some digestive issues.  So my dinner plan for most of this week will be tailored to her needs while still being palatable to the rest of the family who is not grain-free.
You'll start to notice a change in some of the ingredients used in the recipes as we transition into a new season with new produce.   Yay!  In my local farmers markets, I am seeing the beginnings of spring with asparagus, baby artichokes, peas and strawberries on the scene.
As usual, I am sharing a week's worth of dinner menu ideas even though I don't cook 7 nights per week, although I usually cook 5-6.  Take what is interesting to you and fill in with favorites from your repertoire.
Meatless Monday:  Baked falafel, whole wheat pita for the kids/lettuce for me, pickled radishes and onions (these need to be made at least a day ahead), tahini sauce, spinach salad with Everyday Salad Dressing #1
Tuesday:  Whole roasted chicken with onions and fennel or slow cooker whole roasted chicken, spring salad with avocado, cara cara oranges, radish, pistachios
Wednesday:  Stir-fried beef with cilantro and asparagus, cauli-rice or regular steamed rice  (I made this cilantro-beef recipe many years ago from The Produce Bible and it's delicious, unless you don't like cilantro.)
Thursday:  Turkey tacos, guacamole, salsa from the farmers market, Mexican black beans, cilantro-lime slaw
Friday:  Spinach and quinoa salad with feta and dill, roasted shrimp (toss peeled and deveined large shrimp with olive oil, salt and pepper and spread out in one layer on a sheet pan.  Roast at 400 for 6-8 minutes.)
Saturday:  Baked chicken cutlets alla parmigiana but using this caprese recipe for the cutlets and then baking with tomato sauce and mozzarella, roasted Yukon Gold potatoes (400 with olive oil, salt and pepper or a combo of olive oil and ghee, for 30-40 min) sautéed garlicky broccolini (blanche in boiling salted water for 4 minutes, drain.  Saute garlic and a pinch of chili flakes in olive oil.  Add blanched broccolini and sauté until warmed through.)
Sunday:  Spring green minestrone and whole wheat naan-pizzas (buy whole wheat naan at the market, top with whatever you like and bake on a pizza stone or sheet pan at 425 until warmed though)
What you can do ahead:
Sunday
Make falafel mixture
Pickle radishes and onions
Make tahini sauce
Make all salad dressings for the week (Monday, Tuesday)
Salt whole chicken (do not salt kosher chicken)
Segment oranges for salad, if using
Wash herbs and salad greens (I keep herbs in glass jars covered with plastic produce bags in the fridge.  Clean, dry salad greens I store in reusable Neat-os bags, but resealable bags work fine, too.)
Make taco seasoning for tacos
Make stock for Sunday's soup and freeze.  Here's a recipe for chicken stock and here's one for veggie stock.
Wednesday
Soak black beans for Thursday
Prep cabbages and carrots for slaw
Make dressing for slaw
Previous Dinner Planners:
Week of February 22nd
Week of February 29th