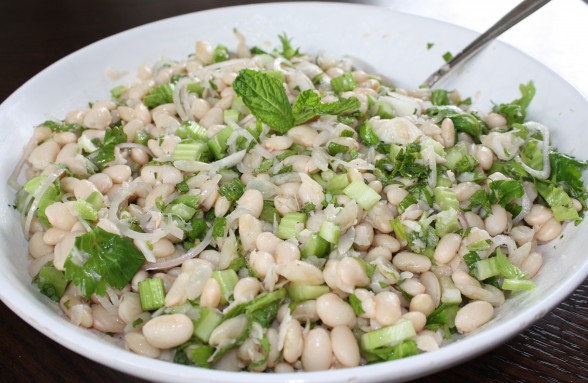 Happy summer!  I really can't believe it's here, but I am just thrilled to bits.  Even though I still teach during the summer, I find that my schedule with the kids is a little easier and frees me up to spend a bit more time cooking.  The ironic thing is that during the summer, we don't need to "cook" as much.  The weather is warmer and our bodies can tolerate more raw or lightly cooked foods.  But this has to be my favorite season for just the sheer bounty of vegetables and fruits available.  You can find me literally bouncing around the farmer's markets in the summer overbuying berries and stone fruits, corn, eggplant, greens and tomatoes.  This past Saturday I bought a bushel of mint that was so gorgeous and fragrant, I couldn't resist.  But I should have since already I GROW mint on my patio.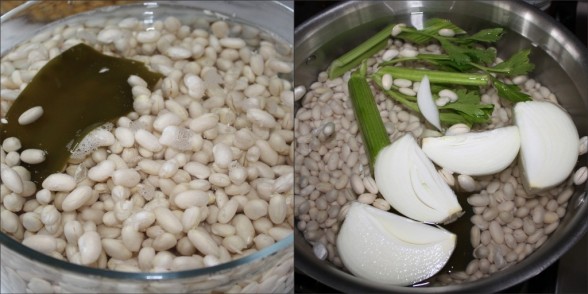 I also love summer since we entertain much more frequently and it's a wonderful chance to catch up with friends.  I enjoyed a little quiet time this morning planning some weekend meals with guests in mind.  I have several new recipes I'll be trying out, like chicken and vegetable kabobs with chimichurri sauce, black bean burgers with a smoky red pepper spread, and cantaloupe and cucumber salad.  I'm hoping they get the thumbs-up and I'll post them before the end of the season.  Also, the kids and I have been having fun dipping big chunks of peeled ripe bananas into melted dark chocolate and freezing them.  But in as much as I get excited about experimenting, I also love my favorite stand-bys.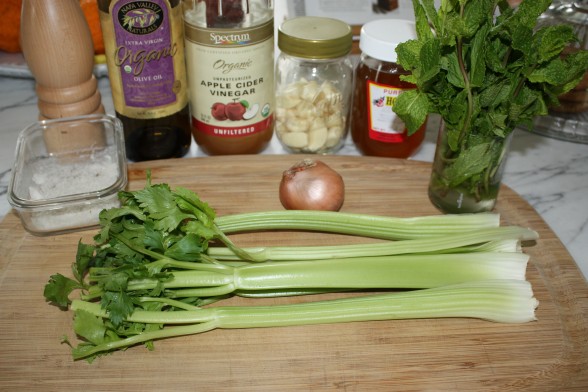 One of my regular dishes in the summer is this white bean, celery and mint salad.  By now you know I have a thing for creamy and crunchy together and I clearly have no self-control when a healthy bunch of mint seduces me.  On a beach day, I like to put the fixings out for a make-your-own sandwich bar.   Whether we choose to eat a quick bite at home or pack the sandwiches to go, this bean salad is always the perfect side to chicken salad, grilled vegetables or a humble turkey on wheat.  It is a great salad to bring on a picnic since the beans and celery don't suffer after sitting in dressing for hours.  But the recipe is so easy that you might find yourself at home for lunch one day and decide that you can pull a beautiful healthful salad together with that can of white beans in your pantry and a simple vinaigrette.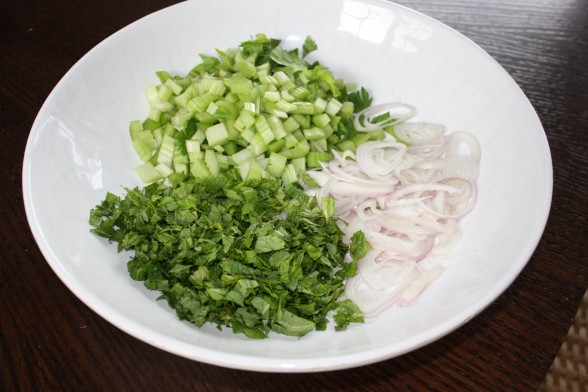 Beans are a great source of inexpensive, low-fat protein and contain a ton of soluble fiber — so great for helping balance the LDL and HDL levels.  I am pretty good about planning meals in advance, so I will usually soak dried beans and make them from scratch, but opening up a can of Eden Organic beans is just fine, although a tad more expensive.  Sometimes I add canned tuna to this salad and you really need nothing more, although my girls love to take crusty bread and scoop up the salad and eat it that way.  Now would be a good time to mention that I dread BPA, which is a plastic and resin ingredient found in the linings of most cans, as well as water bottles and is associated with several health problems including breast cancer and infertility.  Thankfully, Eden Organics and Vital Choice Seafood do not use BPA in their can liners.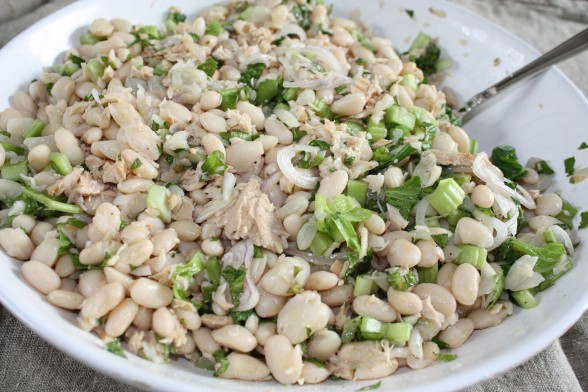 Please stop in again for more fresh, healthful and seasonal recipes to share with family and friends.  I'm looking forward to a great summer!
white bean salad with celery and mint (and sometimes tuna)
serves 8
1 pound dried Great Northern or cannellini beans*
1 medium onion, quartered
1 stalk celery, quartered
1 clove garlic, crushed
1 2-inch piece kombu (if you have it)**
1 Tablespoon kosher salt
Dressing:
¾ cup unrefined, cold-pressed extra-virgin olive oil
¼ cup raw apple cider vinegar, preferably unpasteurized
½ teaspoon raw honey
1 clove garlic, crushed
1 teaspoon sea salt
½ teaspoon freshly ground pepper
1 ½ cups chopped celery
1 shallot, cut into thin half-moon slices ar ½ red onion, small dice
1 ½ cups loosely packed mint leaves, chopped
1 7-ounces can albacore tuna packed in oil or water (optional), flaked
Rinse the beans and pick over for small stones or debris.  Soak the beans in cold water overnight with a 2-inch piece of kombu.
Discard the soaking liquid, and place the beans and the other ingredients for cooking them in a 6-quart pot.  Add enough cold water to fill the pot half full.  Bring to a boil.  Simmer 1 to 1 ½ hours, until the beans are tender.  Turn off the heat, add the tablespoon of kosher salt and allow to cool in the cooking liquid.  Drain and discard the cooking liquid, onion, celery and kombu.
Whisk the dressing ingredients in a small bowl until emulsified.
To make the salad, transfer the cooked beans to a serving bowl.  Add the celery, sliced shallot, fresh mint and (optional tuna.)  Pour the dressing over the beans and toss to blend.  Serve at room temperature.
*Or you can use 6 cups drained and rinsed canned beans, approximately 3 or 4 cans.
** Kombu is a seaweed which helps tenderize the beans and make them more digestible.  If you also cook the beans with the kombu, it adds alkalinity.  I buy Eden kombu at Whole Foods or from amazon.com