I am kicking myself for all the almond pulp I have thrown away in my lifetime.  It honestly makes me crazy to think of how much perfectly good raw, soaked, organic almond pulp I wasted because I didn't know it would be amazing in banana bread or pancakes, among other things.   I make so much almond milk and the only things I used to be able to think to do with the leftover pulp was to add it to smoothies and stir it into oatmeal.  Not that there's anything wrong with that, but it just got boring after a bit.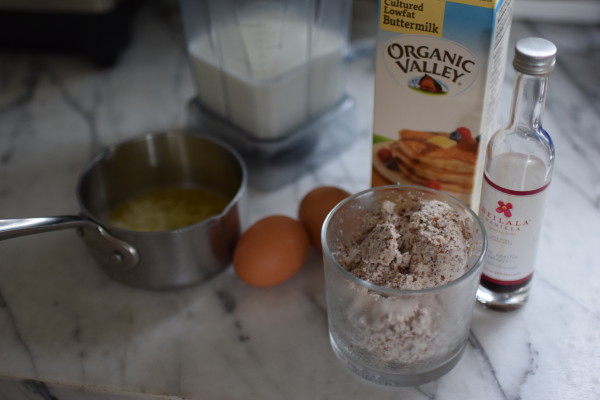 Then a light bulb went off in my head and I tried using the pulp (which is different from store-bought almond meal because it is wet) in banana bread and it was amazing!  Have you seen this recipe yet?  It's was so delicious and after my first attempt baking with almond pulp, I assumed every cookie and cake recipe would turn out great.  Not the case.  I actually had a few failures using almond pulp.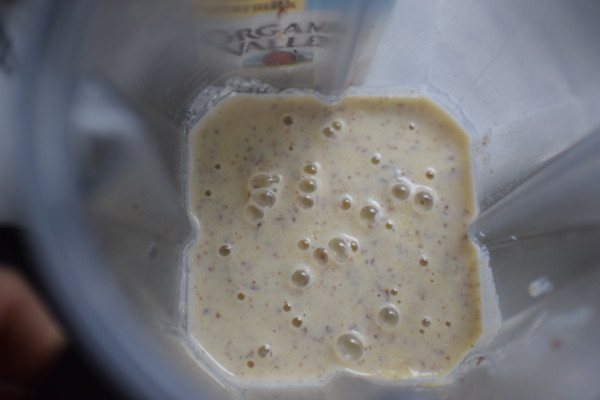 But this pancake recipe was not one of them.  In fact, I might always use almond pulp in my pancakes from now on.  One of my issues with pancakes is that they are typically not high in protein and protein is what I am always pestering my kids to include in their breakfast every single day.  No one gets up from the table without answering the question, "what was your protein this morning?"  Protein fuels the brain and takes longer to digest than carbohydrates so it can help keep you full for a while.  And even though pancakes are my family's favorite breakfast food, they aren't super high in protein.  So I typically serve whole grain pancakes with a dollop of yogurt, a few sprinkles of chopped nuts, a smear of almond butter or a small smoothie with hemp, yogurt or nuts.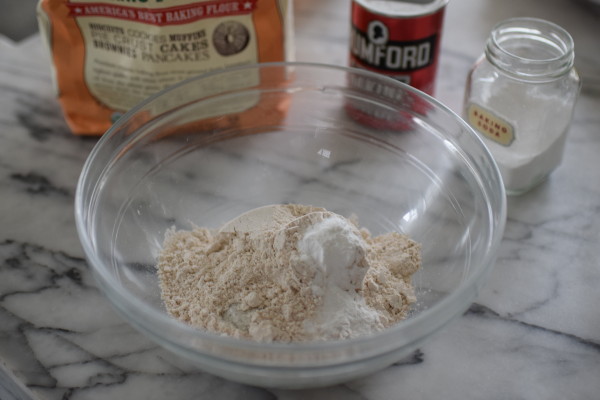 What I love about whole grain pancakes with almond pulp is the protein boost the batter gets from the nut meal.  Almonds are the only alkalizing nut and rich in minerals like calcium, magnesium, and potassium.  They are also loaded with good-for-you monounsaturated fats and vitamin E, a powerful antioxidant.  And even better, the almonds have been soaked which makes them much more digestible and nutritious.  (Read this post about why soaked nuts and seeds are better for you.)  Plus, I really don't think my family notices at all that the recipe is different.  Keep in mind, this is not a paleo or grain-free recipe.  This is a whole grain pancake recipe designed to incorporate and efficiently utilize almond pulp leftover from almond milk-making.  I tried to make a pancake batter with all almond pulp and it was not great, in my opinion.  The pancakes felt heavy and grainy, and almost mealy.  These, on the other hand, taste and feel like a "regular" pancake.  The batter is slightly thicker, but the pancakes taste the same and the texture is light and tender.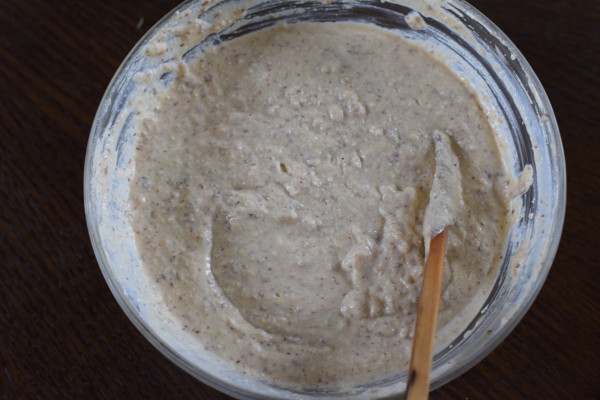 The day I photographed these pancakes, we made them with mini chocolate chips and fresh strawberries, but plain and simple is perfectly delicious too.  Now if you have no almond pulp, that means you're not making your own almond milk and we need to fix that.  Because homemade almond milk is more life-changing than these pancakes.  Follow me over here to find out what you've been missing.  And then you might be the one kicking yourself that you've lived this long without such a wonder!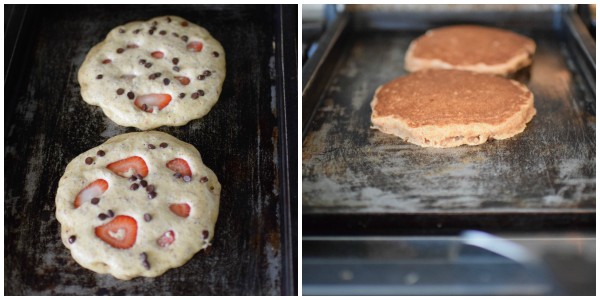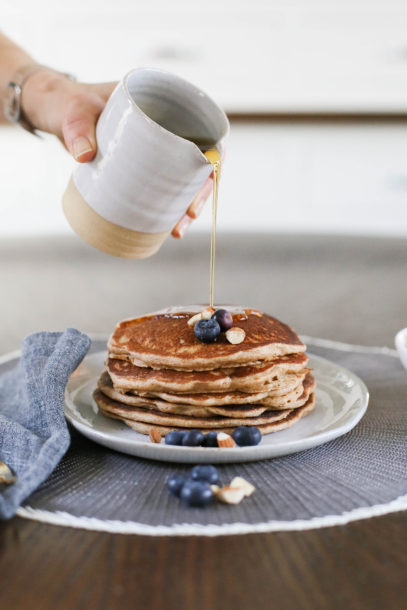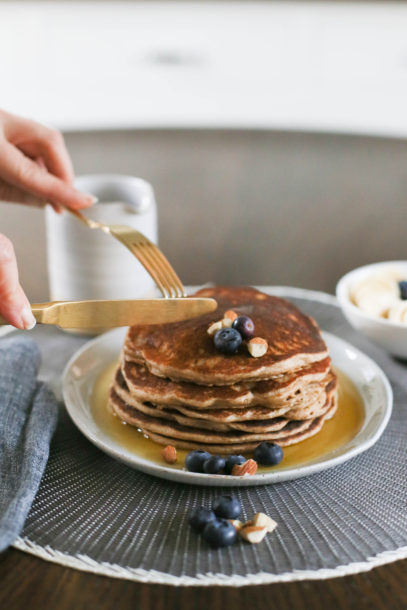 Whole Grain and Almond Pulp Pancakes Recipe
This is a whole grain pancake recipe designed to incorporate and efficiently utilize almond pulp leftover from almond milk-making.
Ingredients
1 ¼ cups whole wheat pastry flour, white whole wheat flour or whole spelt flour*
1 teaspoon aluminum-free baking powder
1 teaspoon baking soda
1 teaspoon fine sea salt
2 cups buttermilk**
¾ cup of well-squeezed almond pulp (from 1 cup of almonds)
2 large eggs
1 teaspoon pure vanilla extract
1 Tablespoon 100% pure maple syrup
3 Tablespoons unsalted butter, melted
Melted, unrefined coconut oil for brushing the griddle
Instructions
Preheat a griddle to 400 degrees or medium heat.
Combine the flour, baking powder, baking soda and salt in a large mixing bowl.
In a medium bowl or 4-6 cup measuring cup, whisk together the buttermilk, almond pulp, eggs, vanilla, maple syrup and melted butter until well blended. (I usually do this step in a blender.)
Pour the wet mixture into the dry ingredients and stir until just combined.
Brush the griddle with coconut oil and spoon about ¼ cup of batter onto the griddle. Add blueberries, chocolate chips or diced banana to the surface, if desired. When bubbles start to form on the surface of the pancake and the edges become slightly dry, flip it over and cook until done. Maintain the heat on medium-low or 400 degrees.
Notes
*Gluten-free: substitute a combination of gluten-free flours to equal 1 ¼ cups (such as buckwheat, GF oat or brown rice flour)
**No buttermilk? Sub half unsweetened yogurt and half whole milk. Or use 1 ¾ cups milk, omit the baking soda and use 2 teaspoons baking powder instead.