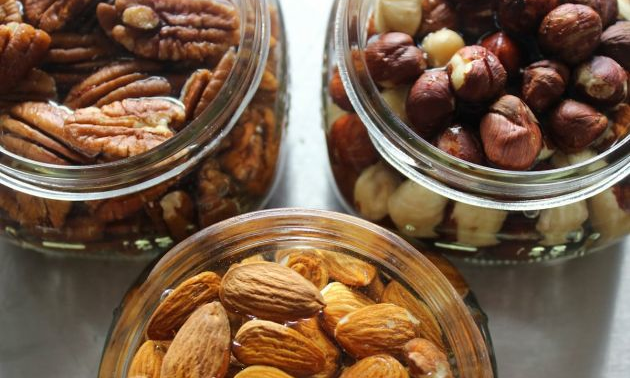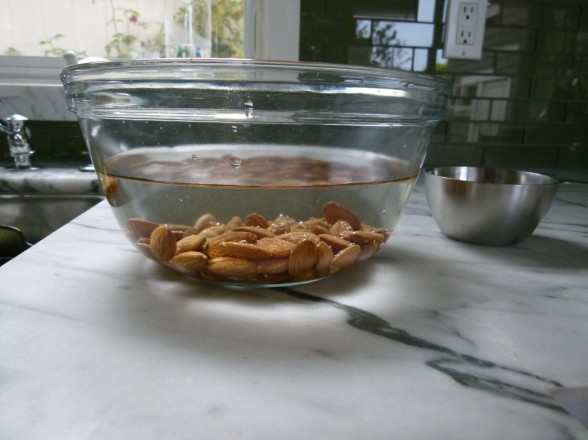 Per my last post, nuts and seeds should be soaked for the same reasons as grains and legumes.  Nuts and seeds also contain compounds that impair digestion, reduce mineral absorption and nutrient levels.  However, by soaking nuts and seeds in water, those anti-nutrients are neutralized, thereby resulting in a much more nutritious food.
Nuts can be soaked in plain filtered water or water with a pinch of sea salt for a few hours or up to 12 hours.  Once they have been soaked, drain and rinse the nuts before proceeding.  Soaked nuts can then be blended with fresh water and strained to make an easy nut milk.   Soaked, blended cashews become very thick, creamy and neutral in taste and can be used in many ways as a , including sour cream, heavy cream, and milk.
You can certainly eat soaked nuts without any further ado.  In fact, I rather like soaked walnuts, which taste a little juicier and less bitter than fresh.  But soaked nuts are a little soggy and can get moldy if not refrigerated and consumed within a couple of days.
You can dehydrate nuts in a dehydrator, which will dry out the nuts at a temperature of 115 degrees Farenheit or less in order to preserve any live enzymes, if the nuts were truly raw to start out with.  Keep in mind, most nuts in the US that are labeled "raw" have actually been pasteurized and heated to a point that destroys the live active enzymes and makes them "unsproutable." (Sprouting can occur only with a live food and takes longer, e.g., a few days, than just soaking.)  Truly raw domestic nuts, such as almonds, can be purchased directly from the grower, either online or at your local farmers market.  Otherwise, it is possible to buy imported, raw nuts from the supermarket.
If you don't have a dehydrator, you can still dry out soaked nuts in an oven at a low temperature, such as 250 degrees to get them a little crispy.  It is still advisable to store dehydrated or baked soaked nuts in the refrigerator to ensure they stay fresh for longer.
Consumers, as well as food manufacturers, have responded to the demand for soaked nuts and seeds.  If you don't want to do it yourself, there are now soaked, sprouted and dehydrated nuts available at many natural food stores, online, and at farmers markets.