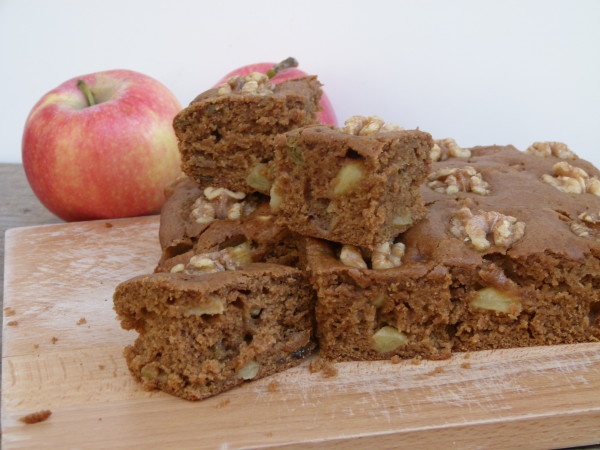 I just took stock of my pantry because baking season has officially begun.  It started slowly with a few batches of cookie dough for back to school lunches.  Then Mr. Picky's birthday rolled around last week and whoosh it's Rosh Hashana this Wednesday night already!  I don't need to tell you what is just around the corner, do I?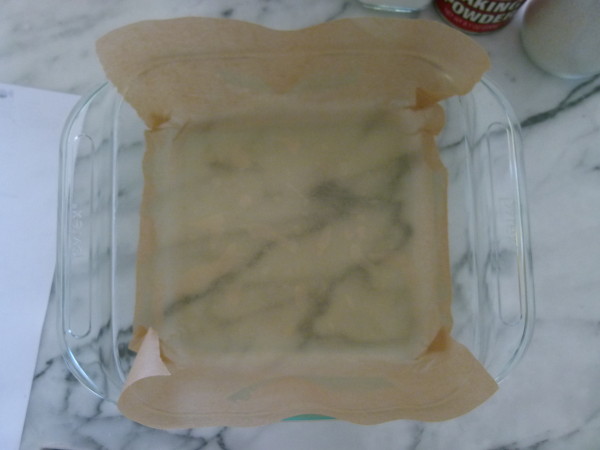 Thankfully, I share the Jewish holiday cooking with my mother-in-law and sister-in-law.  We each host a meal and cook whatever we want.  I have the first day of Rosh Hashana lunch, as well as the break fast on Yom Kippur evening.  The break fast is actually one of my favorite holidays to host because people literally starve themselves for 24 hours (no water either!) and then come to my house to eat.  I could basically serve anything and it would be a hit!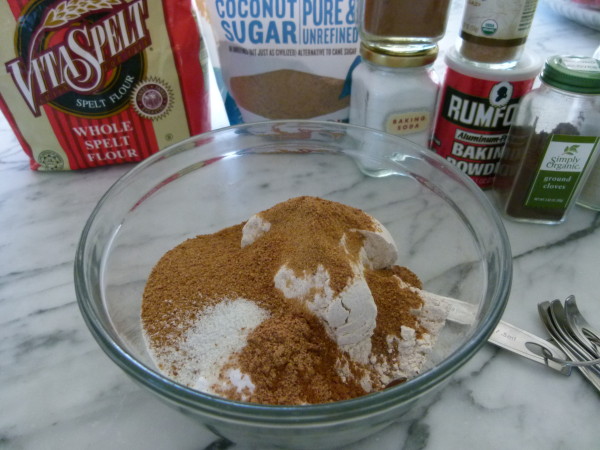 One of the nice traditions of the Jewish new year is eating seasonal foods.  Love that!  Apples are likely the most important food along with honey which symbolize the hope of a sweet year ahead.  I have been loving the new crops of local apples flooding the markets over the past month.  My kids particularly love Honeycrisp, Pink Lady (my personal fave), Granny Smith.  I use apples all over the place at this time of year — turned into applesauce, sautéed on top of pancakes and waffles, cooked into oatmeal, chopped in salads and folded into simple snacking cakes like this one.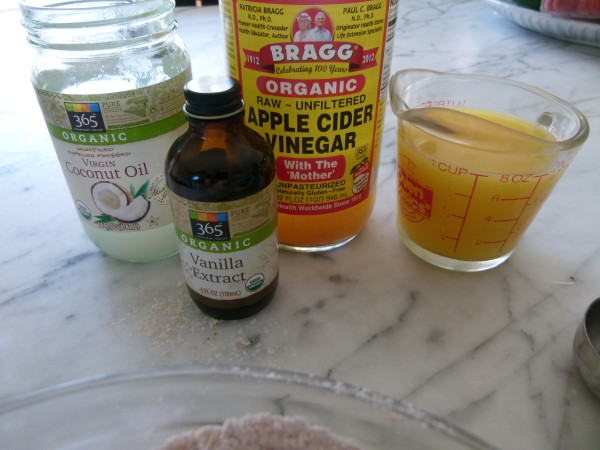 I saw a recipe a few years back for a Depression era chocolate cake called "Wacky Cake."  The cake didn't use any "expensive" ingredients like eggs, milk or butter and I think got it's name "wacky" because somehow the crazy recipe actually produced a moist, delicious cake.  There are a gajillion recipes for the classic chocolate Wacky Cake, but last year I decided to put a twist on the (vegan) recipe and use apples and spices instead.  Delicious!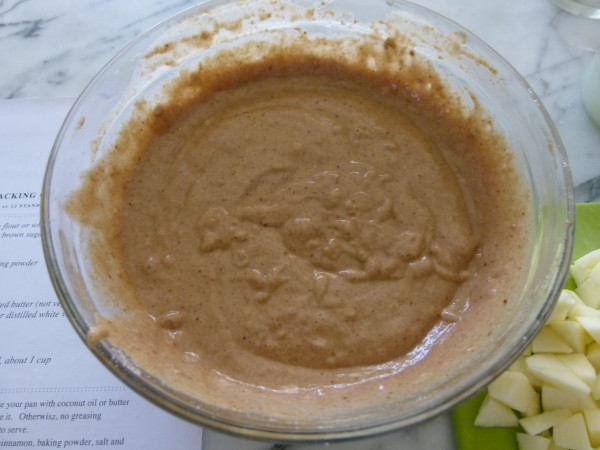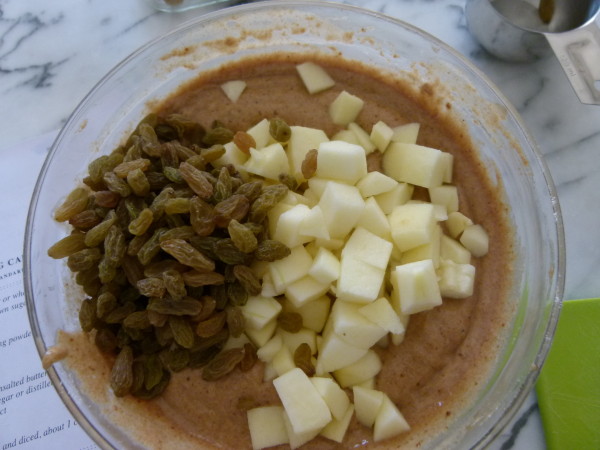 The result was a moist, fragrant and just sweet enough little cake that I think is just perfect for after school snacks, lunch box treats, brunch or anytime you need a seasonal dessert for a fall gathering, like Rosh Hashana!!  I make some sort of apple dessert every year for my luncheon, but I am very fond of this one because it is so darn easy and it freezes amazingly well.  It is also pretty clean: whole grain flour, minimal amount of unrefined coconut sugar, and very little oil (I use unrefined coconut oil.)  My entire family loves it!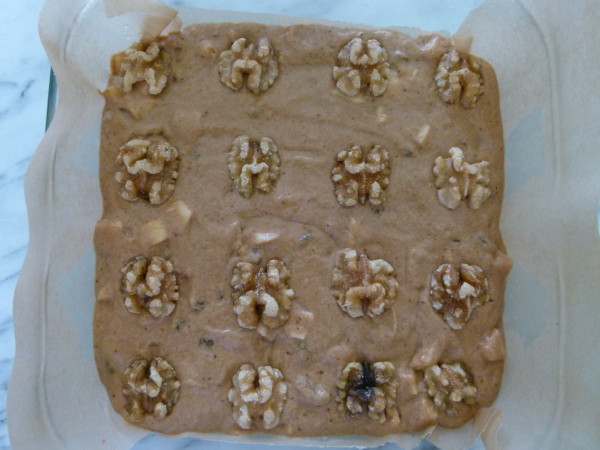 You can do different things with this easy cake.  You can double the recipe and bake the cakes in 9-inch round pans for a 2-layer cake.  I would use this vegan frosting or a classic cream cheese frosting to go between the two cakes and on top.  If you don't like raisins, leave them out.  Or instead of placing the walnuts halves on the top of the cake, chop them up and fold them into the batter.  Or make this into muffins.  For my do-aheaders, make this today and freeze it for the upcoming holiday (Rosh Hashana, Halloween, Thanksgiving — GASP!)  If you are celebrating the new year this week, may it be a sweet one!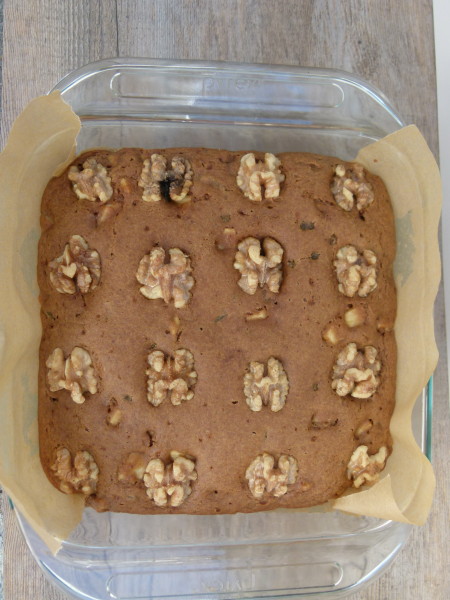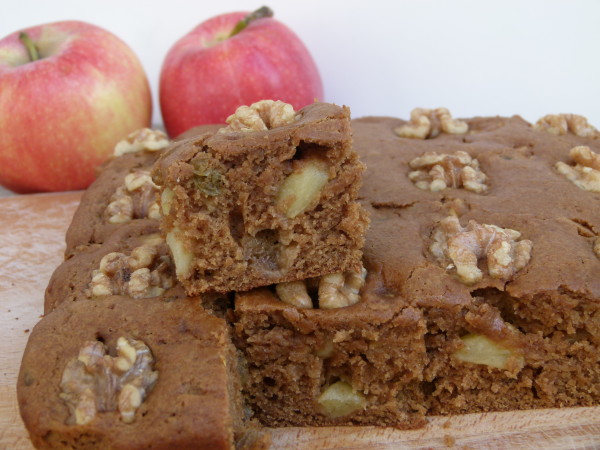 Vegan Apple Spice Snacking Cake
Serves:
makes 1 8 x8 cake or 12 standard muffins
Ingredients
1 ¾ cups whole wheat pastry flour or whole spelt flour
½ cup coconut palm sugar or brown sugar or cane sugar
1 teaspoon baking soda
1 teaspoon ground cinnamon
½ teaspoon aluminum-free baking powder
½ teaspoon sea salt
¼ teaspoon ground nutmeg
⅛ teaspoon cloves (optional)
¼ cup melted coconut oil or unsalted butter (not vegan)
1 Tablespoon apple cider vinegar or distilled white vinegar
1 teaspoon pure vanilla extract
½ cup water
½ cup orange juice*
1 large apple, peeled, cored and diced, about 1 cup
½ cup unsulphured raisins (optional)
16 raw walnut halves, if desired
Instructions
Preheat oven to 350 degrees. You can grease your pan with coconut oil or butter and line it with unbleached parchment paper if you want to remove it from the pan to serve it. Otherwise, no greasing necessary if you will cut pieces from the pan to serve.
Whisk together the flour, sugar, baking soda, cinnamon, baking powder, salt and nutmeg. Make a well (indentation) in the flour mixture.
Pour the coconut oil, vinegar, vanilla, water and orange juice in the well and stir until everything is just combined. Do not overmix!
Fold in diced apple pieces and raisins.
Pour batter into pan and smooth out top. If you want, evenly space walnut pieces over batter. Bake for 30 – 40 minutes or until a toothpick inserted in the center comes out clean.
Notes
*Or use all water and up the coconut sugar to ⅔ cup.  You can also add diced dates.