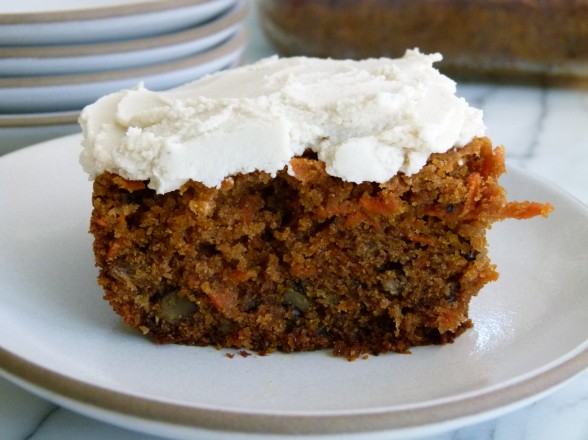 I was married almost 17 years ago, so I guess it's not crazy that my husband would have forgotten what flavor our wedding cake was.  I'm just surprised, because he was very involved in all decisions.  I know you're thinking that it sounds sweet to have your fiance interested enough in your wedding to have a say in everything, but trust me, kind of annoying.  Regardless, we were talking about our wedding cake the other day and my husband remembers it as carrot cake, which it was certainly not.  Of course, there's nothing wrong with carrot cake for a wedding cake, but ours was a simple white cake with chocolate chocolate-chip buttercream filling.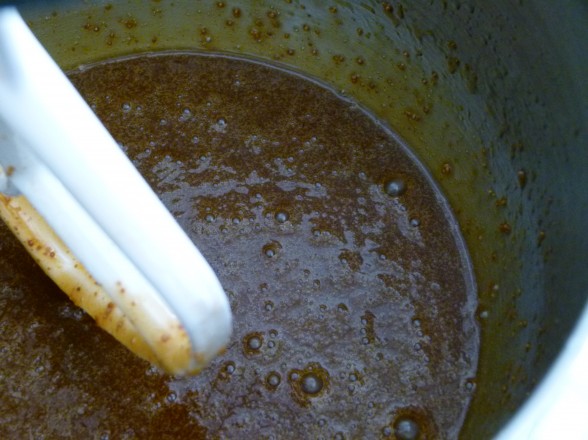 He probably thinks it was carrot cake because we both love it so much.  And we both agree that carrot cake should be moist and dense and chock full of carrots and raisins and walnuts.  I remember many a date when we shared a large slice of carrot cake for dessert.  You know the kind.  Two or three layers of sweet, nubby cake sandwiched between even sweeter, creamy, tangy icing.  Sounds great until you learn that a huge piece of bakery or restaurant carrot cake contains about a entire day's worth of calories.  And don't think they're using natural sweeteners, friends.  If I were 22 again and doing two hours of step aerobics every day, I could probably get away with it.  But not no more!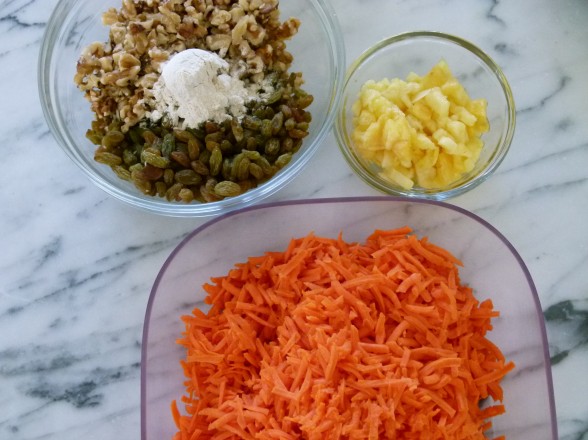 Fast forward two decades later when at least one of us is trying to consume desserts in moderation and bake them with less refined ingredients so we can make it to our 50th wedding anniversary and beyond.  Yes, that's why I make carrot cake in a 13 x9-inch baking dish instead of as a layer cake.  I think it's super delicious too, but for me at least, one square is plenty.  And before you think I'm no fun at all, don't think I'm skimping on flavor here.  This carrot cake delivers the same sweet, spiced goodness that you would expect from the traditional.  Ok, maybe not the same sweetness.  When I got motivated to come up with a higher quality carrot cake, I went to my trusty Ina, who uses a whopping 2 cups of sugar in her cake.  Although in her defense, so does everyone else.  In my recipe I use coconut palm sugar and much less of it.  Listen, there's a whole pound of carrots in this cake and carrots are sweet.  There are also raisins and even diced pineapple if you choose to use it.  And even if you don't frost this cake, it's plenty sweet.  Personally, I was happy as a clam with this cake unfrosted, but I knew my students would be expecting something more.  Of course I couldn't go with a typical cream cheese frosting, because they don't come to my kitchen for that.   So I am also offering you something very alternative, but perfectly yummy and thick and creamy and won't make you sick to your stomach after you eat it.  And it's vegan!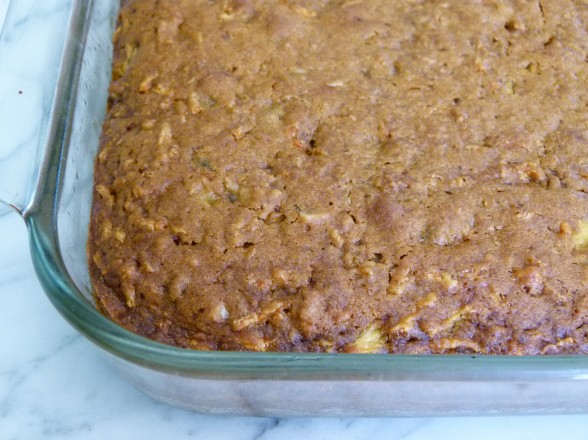 I'm thinking with Father's Day coming up, this would be a fun dessert to make.  You can even do it in a muffin tin for individual cupcakes.  There are lots of ways you can adapt this recipe to make everyone happy.  Drop the pineapple if you wish.  Use pecans instead of walnuts.  Add some nutmeg or cloves.  Make Ina Garten's cream cheese frosting if you don't believe me that this one is great.  Just don't ask me if you can make this cake without carrots because that question was already asked in my class last month and my answer is "no."  Instead you have my blessing to go make the white butter cake with chocolate chocolate-chip buttercream filling that you really want.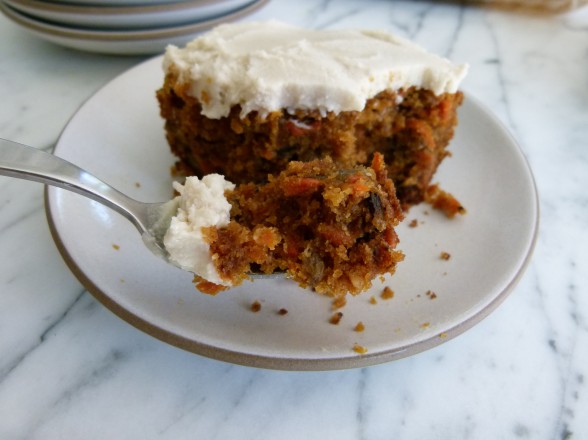 Whole Wheat Carrot Cake with Dairy-Free Frosting
Author:
Pamela, adapted from Ina Garten
Serves:
makes a 13x9-inch or 2 9-inch round pans
Ingredients
1 ¼ cups coconut palm sugar or granulated sugar
1 ¼-1 ½ cups unrefined oil (I use melted coconut oil, but olive or high-oleic safflower is fine, too)
3 extra-large eggs, at room temperature
1 teaspoon pure vanilla extract
2 ½ cups plus 1 Tablespoon whole wheat pastry flour, divided
1 Tablespoon ground cinnamon
2 teaspoons baking soda
1 ½ teaspoons sea salt
1 cup unsulphured golden raisins (or dark raisins if you prefer)
1 cup walnuts, chopped
1 pound carrots, shredded (about 4 cups)
½ cup fresh pineapple, finely chopped (or frozen, thawed)
Raw Cashew Frosting (optional)
Instructions
Preheat the oven to 350 degrees. Grease the bottom and sides of a 13"x 9" pan.
Beat the sugar, oil and eggs together in the bowl of an electric mixer fitted with the paddle attachment until thick and sugar has dissolved a bit. Add the vanilla and stir to combine.
In another bowl, whisk together 2 ½ cups flour, cinnamon, baking soda, and salt.
Add the dry ingredients to the wet ingredients. In a small bowl, combine the raisins and walnuts with 1 Tablespoon of flour and add to batter. Fold in the carrots and pineapple and mix well.
Pour batter into pan. It should be super thick. Bake for 45–55 minutes, or until a toothpick comes out clean. Allow cake to cool completely in pan over a wire wrack.
Notes
If you like things very sweet, you can increase the sugar to 1½ cups and the recipe will work fine. I also give a range for the oil. Use 1¼ cup if you plan to eat it all the same day it's made and if you like a lighter cake. Use 1½ cups if you like it a little heavier and if you want it to cake to stay moist for several days. I used 1½ cups in these photos and 1¼ cups in my classes.

Raw Cashew Frosting:

This is a lovely, just-sweet-enough frosting which you can use for lots of cakes and cupcakes. It is dairy-free and if you use maple or agave, it is also vegan. You cannot substitute another oil for the coconut oil, since that's what helps the frosting become firm and spreadable once it has been refrigerated. I use Grade A maple syrup here, which is less mapley than Grade B.

2 cups raw cashews, soaked in water for at least 5 hours

½ cup unsweetened almond milk or water (water is just as good)

¼ cup unrefined coconut oil, melted

3 Tablespoons raw honey, Grade A maple syrup or agave

¾ teaspoon pure vanilla extract

pinch or 2 of fine grain sea salt



Process all ingredients in a food processor, scraping down the sides if necessary, until perfectly smooth. This can take 5-6 minutes. Or use a high powered blender like a Vitamix for about 45 seconds. Refrigerate to allow it to firm up enough to a spreadable consistency. Keep refrigerated until ready to use.