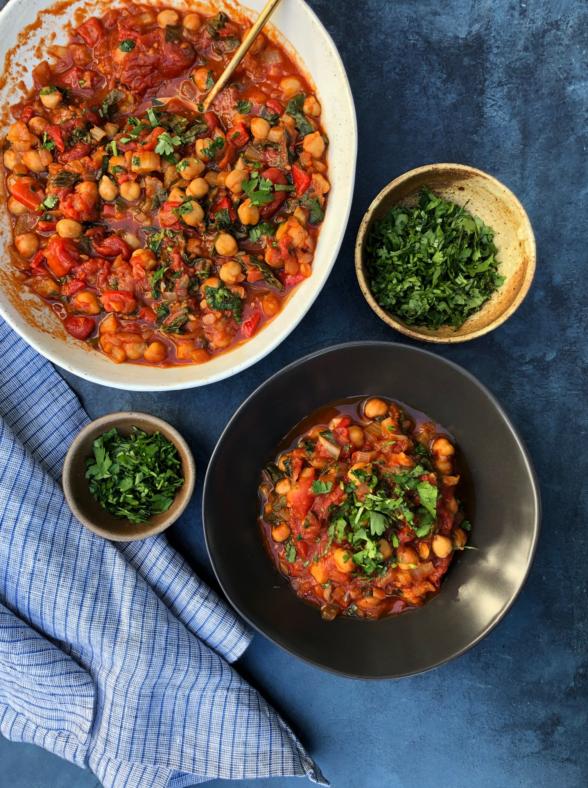 I am STILL purging the pantry/fridge/freezer!  Although my husband went to the market on Sunday and came home with tortilla chips and hummus to eat while watching the football games and I almost lost my mind.  "Do you NOT watch my Instagram???  Do you NOT understand my January goals of raising awareness of food waste and promoting the exercise of using what we have before purchasing food from the market??  I mean…this is so unacceptable!!!"  And then I realized I was not on a reality show, so I calmed down.  But I was irritated to be sure.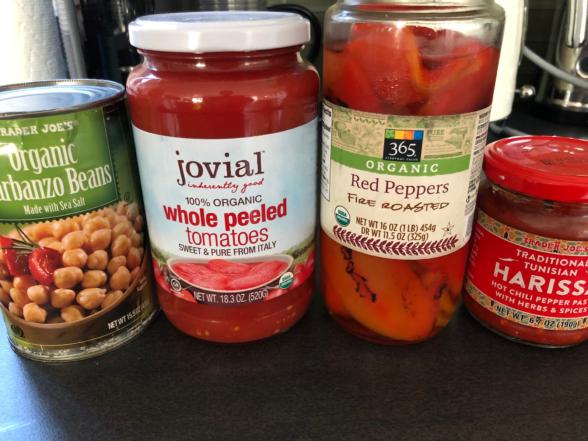 I spied a photo of a chickpea stew on Jovial Foods' instagram feed the other day and I knew it would be something my family would eat AND would likely be a great vehicle for using up what I had on hand.  Check and check!  I did make some modifications because that's the game I'm playing – what can I use?  I give myself more points the more creative swaps I make LOL!  So in this Jovial Chickpea Stew, I didn't have fresh bell pepper, but I did have jarred, roasted.  I didn't have a jalapeno, but I did have multiple hot sauces, including harissa (a Moroccan red pepper paste.)  I also swapped out some of the paprika for smoked paprika to enhance the smokiness of the roasted red peppers.  AND, I made use of the Swiss chard stems (which the recipe did not) by dicing them and sauteing them with the onions.  I was very pleased with both the flavor, consistency and healthfulness of this stew!!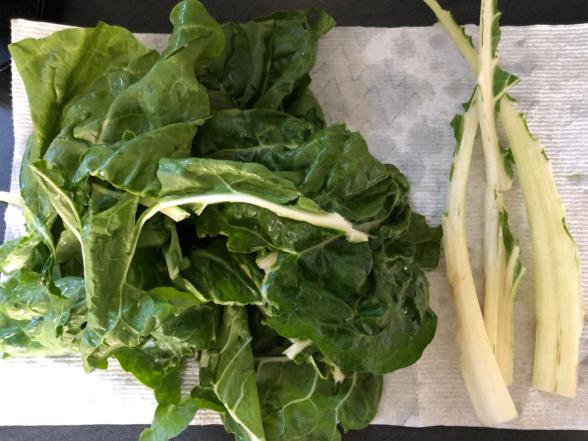 This is truly a stew which is thick and not very liquidy, but with the addition of more liquid, this could be a soup.  There are a hundred more ways to adapt this, including using white beans instead of chickpeas or a combo of beans and frozen mixed vegetables.  Personally, I would add more harissa to make it more spicy, but that's me.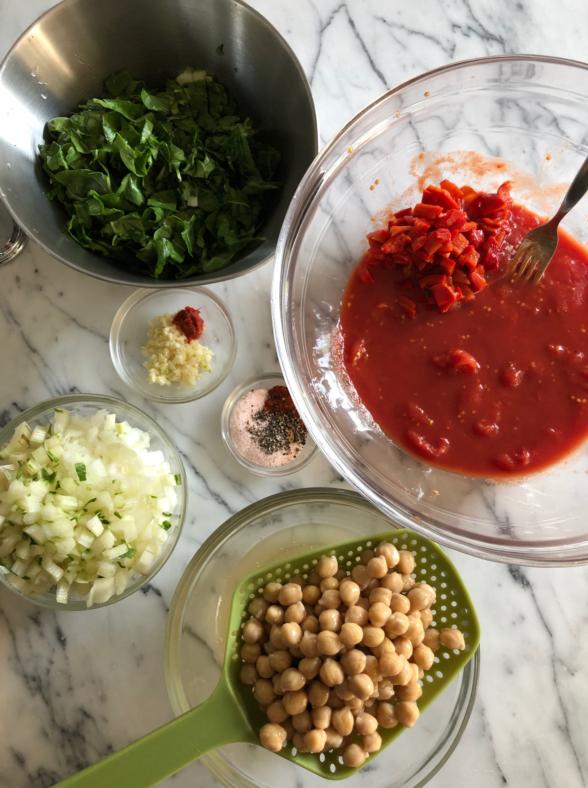 My husband thought this stew tasted like it was related to chili.  I thought it was almost Moroccan, but not really.  That said, you could stretch this to serve 4 people if you served it with bulgur, couscous, rice or cauliflower rice, and then you'd have a perfect plant-based meal.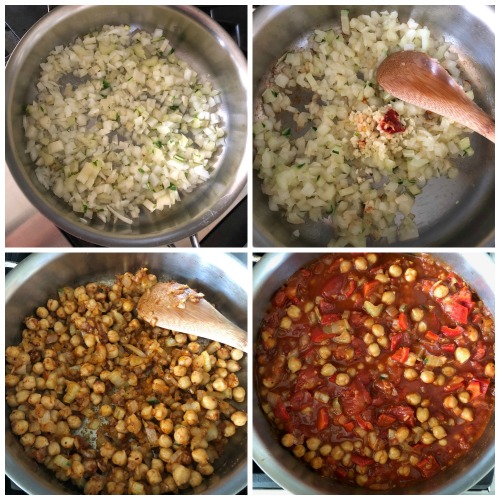 Many people are trying to eat more plant-based meals these days.  In fact someone commented on my Instagram today that "meat is outdated."  I thought that was really funny.  Many people find that cutting back on meat and taking a few days each week to go meatless actually makes them feel better.  I know that's why my husband has continued his plant-based lifestyle.  Maybe try this stew next Monday for a Meatless Monday!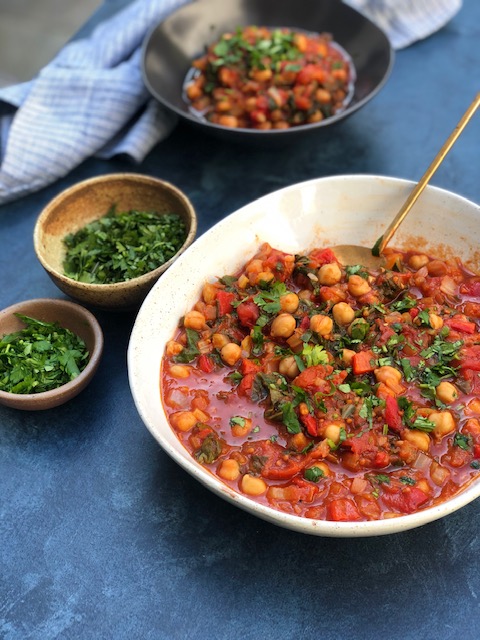 As always, I love seeing your creations on social media.  Don't forget to tag me @pamelasalzman #pamelasalzman so I can see your creations.  Stay warm and eat healthy!  xoxo
You can shop the tools I used for this recipe by clicking on the images below:

Tomato Chickpea Stew Recipe
Author:
adapted loosely from Jovial Foods
Ingredients
1½ cups of cooked chickpeas or 1 15-ounce can, including the liquid
1 18-ounce jar whole peeled tomatoes (I'm sure you can used diced tomatoes)
2 Tablespoons unrefined, extra-virgin olive oil
½ medium onion, finely chopped
½ bunch Swiss Chard (2-3 leaves), stems chopped, and leaves chopped and reserved
½ large red bell pepper or roasted pepper in a jar, diced
1 jalapeno pepper, stemmed and seeded, finely chopped or ½ teaspoon harissa
2 cloves of garlic, minced
1 teaspoon paprika
½ teaspoon smoked paprika
¾ teaspoon ground cumin
2 teaspoons sea salt (I prefer less salt. Start with 1½ teaspoons.)
Freshly ground black pepper to taste
2 Tablespoons chopped flat leaf parsley
2 Tablespoons chopped cilantro
Instructions
Drain the chickpeas over a medium bowl to reserve the cooking liquid. Set aside.
In a large bowl, crush the tomatoes with a fork or your hands. Set aside.
In a deep 10-inch skillet, heat the oil over medium heat. Saute the onion, chopped chard stems and bell pepper until tender and translucent, about 4-5 minutes. Add the jalapeno and garlic and saute until fragrant, about 1 minute.
Add the spices, salt and pepper, drained chickpeas to the skillet and continue to cook for 1 minute.
Stir in the, tomatoes, and ¼ cup of the reserved chickpea liquid. Lower the heat and simmer for 8 minutes.
Add the swiss chard and cook for 3 minutes, or until the leaves have wilted.
Turn off the heat and stir in parsley and cilantro. Serve immediately.
Notes
Jovial Foods actually has cooked beans in 13-ounce glass jars. 1 jar would be perfect for this recipe.